2019 Merchandise Program Revealed for Latest How to Train Your Dragon Film
Universal Brand Development announced a multi-category licensing and merchandising program to support the global release of DreamWorks Animation's How to Train Your Dragon: The Hidden World in 2019.
DreamWorks Animation's How to Train Your Dragon: The Hidden World will arrive in theaters worldwide in Q1 2019, landing in North American theaters on February 22, 2019.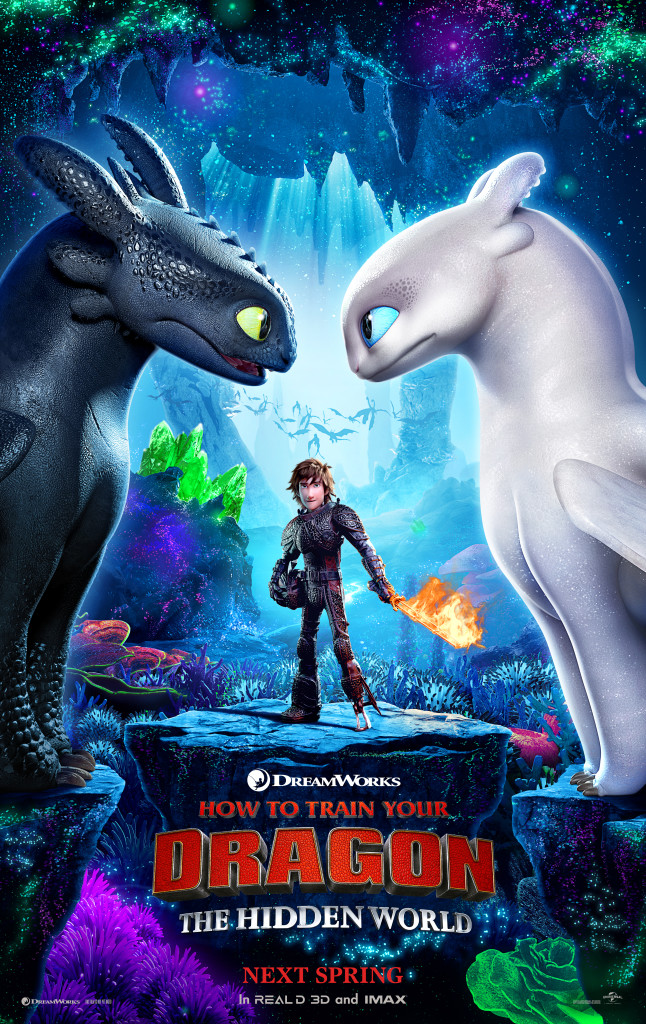 The cornerstone of the licensing and merchandising program includes global master toy licensee Spin Master, with a new collection inspired by the film. This includes toys, which feature glow-in-the-dark, dragon-glow effects and color-changing technology, and more. The toy collections range from action figures and dragons to specialty plush and costumes, as well as drones, electronics, activities, playsets, games and puzzles, and more. Playmobil, who has been a partner since 2017, will have a strong line to support key-story arcs from the DreamWorks Dragons franchise and film. Ravensburger will launch a collection of games and puzzles. Additionally, in the collectibles category, global licensee, Funko, will debut a line featuring Toothless and Light Fury, among others.
Returning publishing partners include Simon & Schuster, Readerlink, and Bendon in North America; Hachette in the UK and France; Editorial Planeta in Spain; Fabbri Editori in Italy; Panini Verlags and Blue Ocean in Germany; Scholastic in Australia; and AST License in Russia. The publishing program features storybooks, activity books, and early readers as well as a hard cover art book from Dark Horse, The Art of How to Train Your Dragon: The Hidden World, and the How to Train Your Dragon pop-up book from Insight Editions.
Worldwide video game publisher Outright Games is launching a new console game, DreamWorks Dragons Dawn of New Riders, which introduces new characters into and a new storyline within the popular DreamWorks Dragons universe. Developed by Climax Studios, DreamWorks Dragons Dawn of New Riders will be coming to PlayStation 4, Xbox One, Nintendo Switch and PC, and will launch early 2019 in Europe and North America.
A new mobile game, DreamWorks Dragons: Titan Uprising, is slated to launch globally on the App Store and Google Play early next year. Developed by top-mobile-game studio Ludia, DreamWorks Dragons: Titan Uprising is a match-three puzzle roleplaying game that lets fans hatch and nurture their own brood of dragons, from small-scaled babies to towering Titan Wings. Fans can visit www.dragonstitanuprising.com  now and pre-register to receive a Premium Draft Token at launch. This token gives all players a guaranteed Dragon, and a higher chance of summoning an Epic Dragon.
Fashion apparel for boys, girls and toddlers feature collaborations with international licensees, Aykroyd & Sons and H&M, as well as Hybrid, Bentex and SG Footwear in North America and DesignWorks in Australia. Additionally, at a key partner meeting in Moscow, Russian design label Sasha Kim for New Fashion debuted a first look at its 42-piece-film-inspired collection for boys and girls, Glow Like a Dragon, featuring crystals, elaborate silhouettes and glowing details. The collection launches at high-end retailers on January 21, 2019, with a mass-market collection to follow.
Additional partnerships by category include:
Toys: Basic Fun (U.S.); Bay Tek Games (North America); Bell Sports (US); Cardinal (U.S.); Disguise (US); Dynacraft (US.).; Funko (Global); Kangaroo (North America), KIDdesigns (EMEA, U.S.); Loot Crate (Global); Playmobil (Global); Posh Paws (EMEA); Ravensburger (EMEA); Rubies (Australia, EMEA); Sambro (EMEA); Snap Creative (Global); Spencer Gifts (North America); Spin Master (Global); Toy Factory (North America); Winning Moves (EMEA); X-Kites (North America); and Zinc (North America)
Apparel & Accessories: 361° (China); Accessory Innovations (U.S.); Accutime (North America); Bentex (North America); FAB (US); DesignWorks (Australia); Freeze (U.S.); GBG (EMEA, U.S.); H&M (Global) H2W (North America), Handcraft, Heys (North America), High Point Design (North America); Hybrid (North America); Jellifish (Canada), Leomil (EMEA); NTD (Canada); and SG Footwear (North America)
Publishing: AST (Russia); Bendon (North America); Blue Ocean (Germany) Editorial Planeta (Spain); Fabbri Editori (Italy); Insight (Global); Hachette (UK and France); Panini Verlags (Germany); Readerlink (North America); Scholastic (Australia); Simon & Schuster (North America)
Party & Stationery: Acco Brands (North America); American Greetings (North America); Amscan (Australia); DecoPac (North America); Inkology (US); Innovative (U.S.); Procos (EMEA); Retail Centric Marketing (U.S.) and Trends International (North America) and Unique Industries (North America)
Home: Pillow Pets (North America); FAB NY (North America); Franco Manufacturing Company (North America); Stor (EMEA); Tervis (North America); Thermos (North America); York Wallcoverings (North America); Zak Designs (North America), Jasco (North America), and Silver Buffalo (North America)
Consumables: ASO (U.S.); Bayer Healthcare LLC (U.S.); Bon Bon Buddies (EMEA); Finsbury Food Group Pic (EMEA); GBG Beauty (U.S.); Good2Grow (U.S.); Langer's, Luigi Zaini Spa (North America, EMEA); PEZ (North America, EMEA); and Radz (North America)
Product launch dates are as follows:
Global: December 1, 2019
North America: January 1, 2019
EMEA publishing: January 15, 2019
North America publishing: January 29, 2019