Nickelodeon kicks off the 20-year celebration of SpongeBob SquarePants with the "Best Year Ever" tribute beginning Friday, July 12, with the premiere of SpongeBob's Big Birthday Blowout, an original mixed live-action and animated special that leads up to the Paramount Pictures and Nickelodeon Movies theatrical, The SpongeBob Movie: It's a Wonderful Sponge, coming summer 2020.
Nickelodeon will also commemorate the series with a new product line by master toy partner Alpha Group that includes toys, collectibles, plush, and novelties. The range will feature a "Masterpiece Meme" line of vinyl figures, bringing to life fan-favorite viral memes such as Mocking SpongeBob (pictured), Imaginaaation SpongeBob, Surprised Patrick, SpongeGar and Handsome Squidward; and for the first-time ever, SpongeBob toys that incorporate Nickelodeon Slime. Select toys are available now on Amazon and will roll out to other retailers worldwide.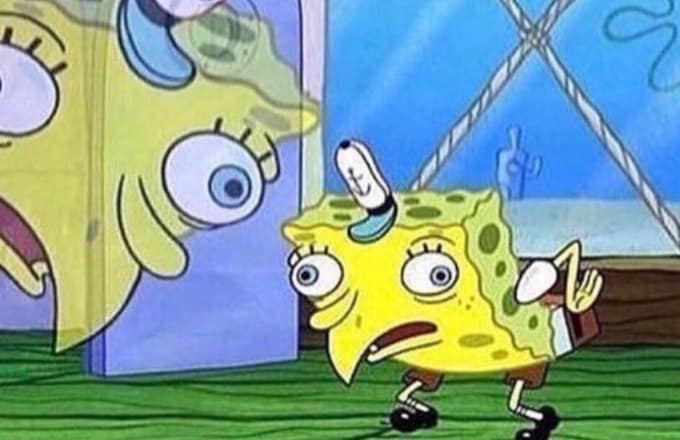 SpongeBob also launches into new categories in consumer packaged goods and health and beauty, including the first-ever range of SpongeBob cosmetics, as well as special-edition product. Nickelodeon will collaborate with lifestyle brand Cynthia Rowley for a SpongeBob wetsuit, international mixed-media artist Romero Britto, and launch a dedicated YouTube channel and mobile game.
The debut of an official global SpongeBob SquarePants YouTube channel, featuring the most iconic SpongeBob moments, music from the show, brand-new content, including the short-form series "Bikini Bottom Mysteries," which explores the secrets, scandals, and unsolved mysteries of SpongeBob SquarePants, and more. Themed content added weekly will include Tuesday Tunes, Throwback Thursdays and SpongeBob Saturdays.
Launch of a brand-new global mobile game, which will allow fans to share SpongeBob's experience of being a fry cook in Bikini Bottom. Brand-new short-form content across YouTube, Facebook, Facebook Watch, Instagram and Twitter, celebrating fans and their favorite episodes, cast moments, and more.
SpongeBob SquarePants is currently seen in 208 countries and translated into more than 55 languages. The series is created by Stephen Hillenburg. Marc Ceccarelli and Vincent Waller serve as co-executive producers. SpongeBob SquarePants is produced by Nickelodeon in Burbank.