Mattel, Shark Tank's Daymond John Team Up to Launch Silicon Valley-Inspired Game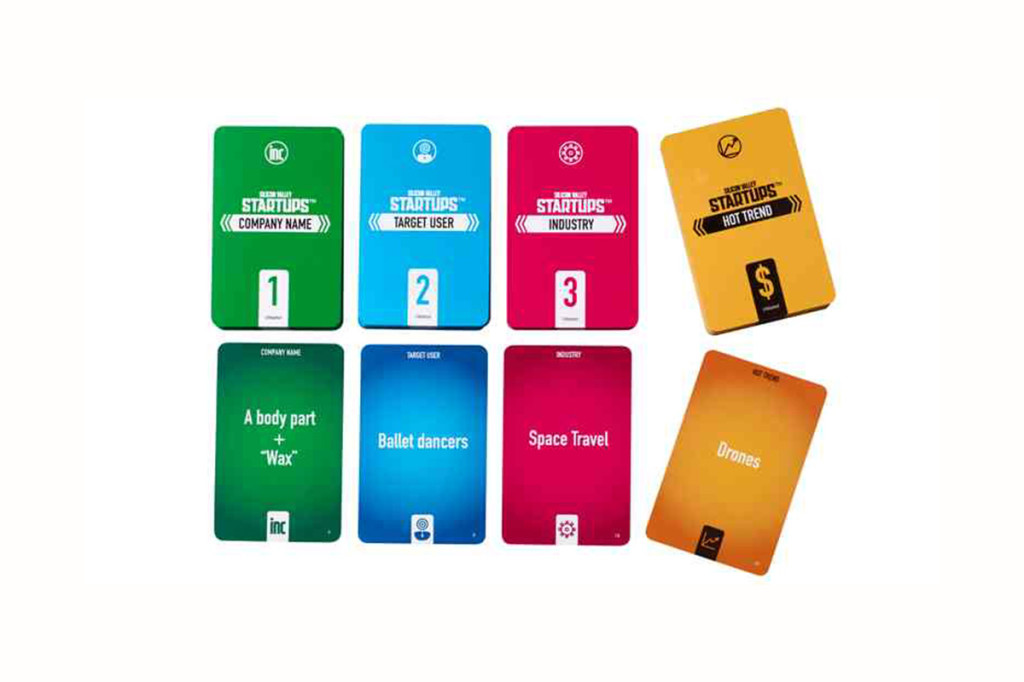 Mattel launches Silicon Valley Startups, a card game that pits "Entrepreneurs" against each other to pitch silly startup ideas to "Investors." With all pitch ideas decided through random card draws, players must use their best improvisation skills to win the game.
To celebrate the game play, Silicon Valley Startups is partnering with co-star and investor on ABC's Shark Tank, Daymond John, to launch the Silicon Valley Startups Contest. The contest invites potential entrepreneurs to pitch their best of the worst ideas for a shot at a $50,001 prize—one dollar more than the leading industry prize for disruptive startups. To enter, visit the Silicon Valley Startups Contest between now and December 20, 2018 for a chance to win.
Silicon Valley Startups is now sold at Target stores and online for $14.99 and will roll out to mass retailers nationwide in 2019.

Barbie Celebrates PUMA Suede's 50th Anniversary with Exclusive Doll, Apparel
In celebration of the 50th anniversary of the Suede, PUMA has teamed up with Mattel for a special shoe, apparel and accessory collection inspired by Barbie, complete with a PUMA Barbie doll sporting '90s-inspired streetwear.
The collection features an exclusive sneaker pack that includes the PUMA Barbie doll. It features sporty cutlines, bold pink logos, and oversized bows. The Suede x Barbie in Raspberry Pink and White also comes in a specially designed box with Barbie rocking the sport fashion look herself.
Two Barbie dolls are available, styled in the PUMA x Barbie racerback crop top, oversized PUMA x Barbie T7 fleece hoodie, and PUMA x Barbie T7 leggings with Suede x Barbie kicks.
To mark the launch, PUMA and Barbie have also teamed up for an art exhibition in Los Angeles featuring artists Krista Perry, Priscilla Witte, Gabi Levitt and Kii Arens. Their commissioned works inspired by Barbie was on display at Comunity in downtown Los Angeles. A special pop-up shop powered by Shoe Palace featuring the full collection was also be on site.
LEGO Introduces New AR Building Experience
LEGO Playgrounds, an app-based channel delivering experimental LEGO play experiences and scenarios, is now available in the App Store.
LEGO Playgrounds will enable fans to have direct access to constantly new digital play experiences, with an opportunity to unlock even more fun around their existing physical LEGO sets. LEGO Playgrounds will bring selected LEGO sets and experiences to life in mixed reality experiments and other playful scenarios directly in the App Store.
LEGO NINJAGO AR is the first to feature as a LEGO Playgrounds experiment. Using the LEGO Ninjago theme, this first playground uses AR technology to detect selected physical LEGO Ninjago Dragon Hunters sets and bring them to life with effects, animations, and interactions.
The game uses the multi-user support in Apple's ARKit technology, allowing two players to connect and play together in the same shared play space. Users can connect and team up with a friend to battle against the Dragon Hunters, share power-ups and 3D assets, create strategies to withstand the endless waves of Dragon Hunters and even compare high-scores with friends. LEGO Playgrounds is intended for all ages. However, the first LEGO NINJAGO AR playground is recommended for ages 9 and up, due to the game-play and storyline complexity.