Gym, Tan Laundry, Game Night: Jersey Shore Gets Board Game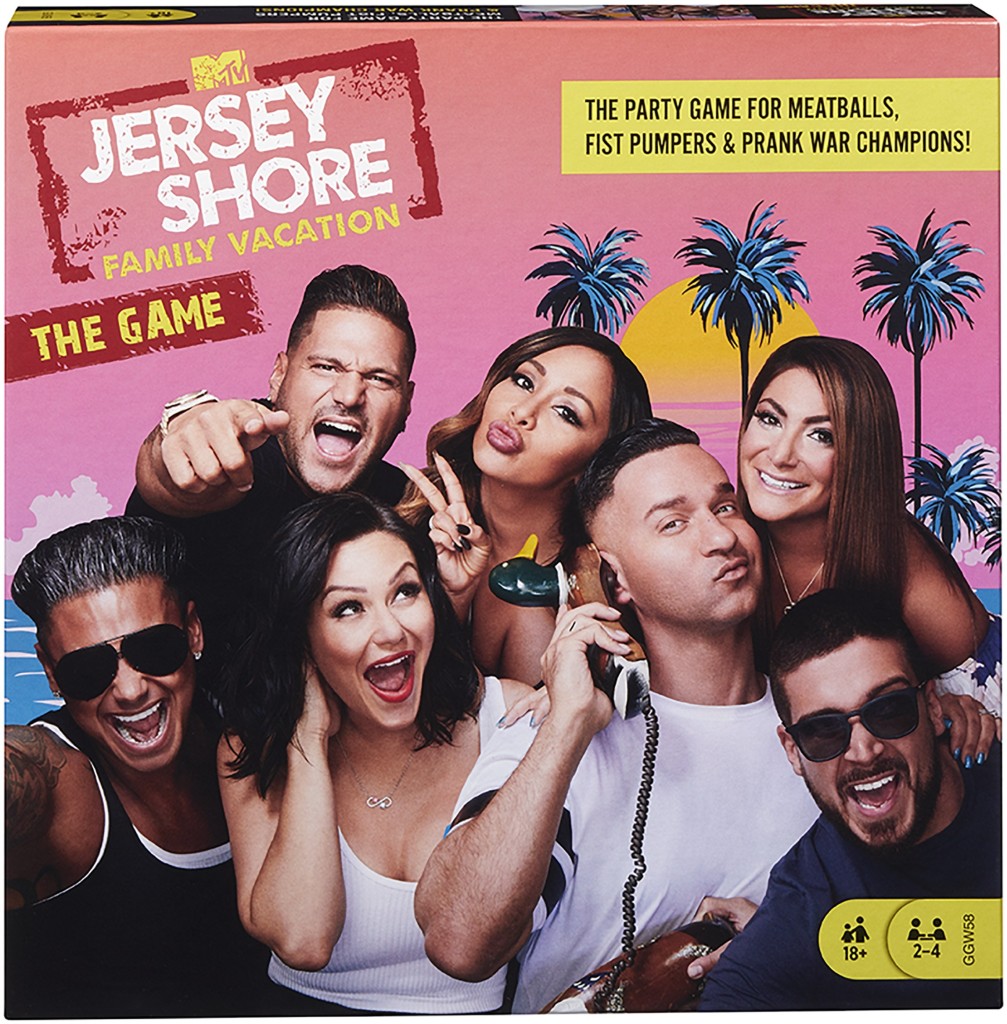 The Jersey Shore Family Vacation board game, inspired by MTV's highest rated show, is now available. Created by Mattel, the adult board game features trivia based on iconic moments and sayings from the series.
Designed in partnership with Viacom Nickelodeon Consumer Products, the game welcomes players into "The Family," and challenges them to participate in the action and drama that comes with the cast of Jersey Shore.
The gameplay references situations and phrases that fans of the show will be familiar with, including "Ron Ron Juice" and "Sunday Dinner" with bonus points when you complete the "Gym," "Tan" and "Laundry" triumvirate. The player with the most points after all the cards have been drawn is the winner.
The Jersey Shore Family Vacation board game will be available on Amazon.com this month.
IDW Publishing, Hasbro Join for Synergy, Celebrating Women's History Month
In recognition of Women's History Month, IDW Publishing and Hasbro have teamed up to create Synergy: A Hasbro Creators Showcase, a 48-page celebration anthology of fan-favorite creators and new talent working with many of the most beloved Hasbro characters.
The Synergy anthology features five brand-new stories: autobiographical works written by Mairghread Scott (drawn by Sara Pitre-Durocher, reuniting the creative team behind the Transformers: Till All Are One series) and Katie Cook (of the My Little Pony comic), plus original tales inspired by G.I. Joe, Transformers, and Jem and the Holograms.
In addition to storytelling, Synergy: A Hasbro Creators Showcase includes four new pin-ups, as well as a gallery of thirteen fabulous images from the IDW archives—dynamic illustrations that celebrate the women who have already made, or will soon make, an impact on the world of Hasbro for many years to come.
Tynker Junior Launches, Will Focus on Foundation Skills
Tynker announced the launch of Tynker Junior, a new iPad app designed specifically for early learners aged 4–7 who are just starting to develop foundational skills such as reading and writing. Tynker Junior is available exclusively on the App Store in the Kids section and includes three fun age-appropriate adventures with over 100 coding challenges.
With Tynker Junior, early learners focus on basic programming concepts such as sequencing, pattern recognition, loops, counters and events that help to establish foundational STEM skills. Tynker Junior uses picture-based block programming with characters to help kids develop animations, pursue adventures, and solve puzzles and challenges. This enables young children—who have limited motor skills and are still developing hand-eye coordination—to learn to code using big blocks, pictures, voiceovers and tap-tap-tap interactions, without words or drag-and-drop or any other actions they may find too tedious or overwhelming.
Tynker Junior was inspired by the Tynker programming language used by more than 60 million kids and in more than 80,000 schools worldwide to date. Tynker's graphical language and user interface have been redesigned for Tynker Junior to make learning to code easy for pre-readers, with word-free blocks, a tap-based interface with no dragging, friendly voiceovers, helpful hints, and a gentle progression of difficulty to motivate completion.
Tynker Junior currently includes three new adventures: Ocean Odyssey, Robots!, and Wild Rumble.