Promotions at All Baby & Child
All Baby & Child, Inc., announced the following hires and promotions.
DeAnna Mohr has been hired as advertising and sponsorship coordinator for All Baby & Child, Inc. She was most recently national accounts manager for American Exhibition Services (AES).
Taylor Hamman has been named logistics manager. She is responsible for exhibitor customer service and joins Jonathan Walton and David Rice in that capacity. Taylor was most recently employed by The Freeman Company as senior exhibitor service representative and by Convention Decorating Services (CDS) as exhibitor services manager.
Jacque Sternquist, currently director of marketing and store support for the organization's consumer Baby Product Experts program, has assumed the additional responsibilities of manager of attendee acquisition. In that role, she will research and procure attendees for participation in All Baby & Child events.
Sarah Binkley, currently the coordinator of the fall New Product Showcase, has recently assumed the additional responsibilities of exhibitor logistics manager for the organization's Spring Educational Conference and trade show as well as manager of the fall show's Modern Child pavilion.
All Baby & Child, Inc., (ABC) is the parent company of the ABC Kids Expo, Spring Educational Conference, and the Baby Product Experts consumer program.
Frankiewicz Joins Imagem Music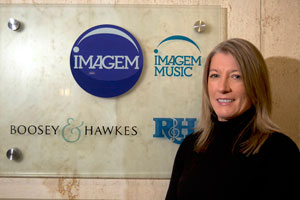 Kim Frankiewicz has been appointed managing director of Imagem Music UK, the pop music publishing arm of the Imagem Music Group.
Frankiewicz will report to John Minch, CEO of Imagem UK, and will begin her new role on March 1, 2012. She joins Imagem Music after 15 years at Universal Music Publishing, where she was vice-president of international.
ICSC Europe Hires Morrissey
The International Council of Shopping Centers (ICSC) announced that Michael Morrissey has been hired as managing director of ICSC Europe. In this role, he will be responsible for managing all of ICSC's conferences and initiatives in Europe, running ICSC's London office, and growing the membership in the region. He will assume this role with ICSC on May 14.
Prior to joining ICSC, Morrissey was the general manager for the International Federation of Air Line Pilots' Associations (IFALPA) where he was responsible for the finances, offices, and operation of the organization worldwide.