Executive Changes at Endemol Shine North America
Endemol Shine North America (ESNA) named Tamaya Petteway as senior vice-president of its newly formed Brand and Licensing Partnerships Division and announced that Kelly C. Hill joined the company as vice-president, licensing partnerships.
Petteway originally joined ESNA in June 2015 as SVP, brand integrations and partnerships. Hill, who will report to Petteway, joins ESNA from the National Hockey League, where she oversaw licensee product development.
"Combining the franchise management and brand operations under Tamaya's guidance in this newly formed division provides our partners with expanded creative resources across a multi-talented group," said Vivi Zigler, ESNA's president of digital, brand, and audience development. "Since joining Endemol Shine North America, she has proven herself a strong leader and a creative collaborator to our commercial partners."
During her time at ESNA, Petteway has launched brand partnerships with Olive Garden and MasterChef Junior (Fox), opened the new Biggest Loser Resort in Palm Springs (NBC), expanded partnerships with Metro PCS and Pitbull's New Years' Revolution (FOX), and more.
Prior to joining ESNA, Petteway served as vice-president, partnership marketing and development at Universal Music Group. From 2006–2014 she was with Core Media's 19 Entertainment, most recently as vice-president, brand partnerships, where she oversaw development, production, and the execution of branded partnerships, marketing integrations, and sponsorships across 19 Entertainment's properties.
As vice-president of licensing, Hill will be responsible for the development of creative licensing partnerships and live events while overseeing product development around the company's non-scripted, scripted, and digital series including MasterChef (Fox), MasterChef Junior (Fox), The Biggest Loser (NBC), Kingdom (DirecTV), Deal or No Deal, Steve Harvey (Syndication/NBCU), as well as Endemol Shine digital properties including Endemol Shine Beyond USA's Icon and Smasher networks.
Before joining the NHL, Hill served as the VP of worldwide licensing at Core Media Group (formerly CKX, Inc.), where she was charged with business and licensing development and worked across Core's properties worldwide, including Muhammad Ali and Elvis Presley. Hill has also served as the director of licensing for Pokémon USA, Inc., developing and managing the Pokémon licensing program in the U.S., Canada, Latin America, Australia, and New Zealand.
Kelia Tardiff, who was named VP business and brand development in April 2015 will continue to develop multi-platform brand partnership opportunities for the company's properties in her new role as VP, brand partnerships, reporting to Petteway.
Thomas Ferguson and Danielle Nicholson, who both joined the company in 2013 and were promoted in January to director, licensing partnerships, and will now report to Hill.
Vanessa McCullers also joins the company as director, brand partnerships, reporting to Petteway. McCullers joins from E!/Esquire Network, where she served as director of marketing solutions. Prior to that, McCullers held positions in brand- and marketing-related roles at networks including TMZ, OWN, and MTV.
Genius Brands Names Hershinger as CFO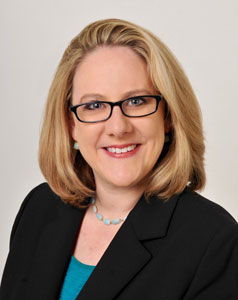 Genius Brands International, Inc., named Rebecca Hershinger as CFO, effective immediately. The announcement was made by GBI's chairman and CEO Andy Heyward, to whom Hershinger will report.
Hershinger initially began working with GBI in early 2014 through CFO Advisory Services, Inc., a corporation she founded that provided accounting and business advisory services to private and public companies, and then served as the company's CFO from October 2014 through June 2015, while living in Salt Lake City, Utah. Hershinger will relocate to GBI's Calif. Headquarters.
As CFO, she will be responsible for all of the company's corporate finance, accounting, and financial reporting functions. She will also play an active role for GBI with its investor relations and corporate development initiatives. Hershinger held finance and corporate development positions at Metro-Goldwyn-Mayer, Inc. She also served as an investment banking analyst for JP Morgan Chase & Co., covering clients in the entertainment, real estate, and hotels & gaming industries.
Diverse Marketing Hires Hodge
Diverse Marketing announced that Alex Hodge has joined the company as new key account division sales manager. She is located in the company's Dallas office overseeing 15 sales managers. Hodge has a diverse background in buying, management, analytics, and business development. She began her career as an independent representative in the tech industry. Past experience includes OrderMyGear, RuffleButts, Woot (subsidiary of Amazon), and Innovative Sales Group.