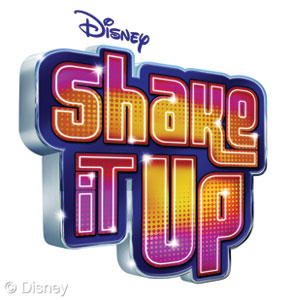 Disney has positioned itself as a leading network of tween sitcom successes, and now consumers can add Shake It Up to the mix of popular Disney Channel originals. But unlike past series, Shake It Up is the Disney Channel's first-ever dance-driven sitcom.
The series centers on best friends CeCe Jones (Bella Thorne) and Raquel "Rocky" Blue (Zendaya), who, thanks to the help of their well-connected friend Deuce, land dream jobs as background dancers for the fictional top teen dance show Shake It Up, Chicago! When the two aren't popping and locking to the latest dance grooves and vying to be the Wild Things lead dancers, they are dealing with backstage drama, "frenemies," and the daily trials of balancing a normal teenage life with newfound stardom.
The first Shake It Up merchandising program launches this fall for the back-to-school and holiday seasons. The program will include two fall collections from the D-Signed fashion line, exclusive to Target, as well as a line of Shake It Up dolls inspired by lead characters CeCe and Rocky as part of the new Disney VIP Doll collection. Disney Channel also launched a Make Your Mark: Ultimate Dance Off–Shake It Up talent competition, in which kids and tweens can show off their dance skills by uploading their own videos. The grand prize winner will get a dancer guest spot on the show this October.
The series was created by Chris Thompson (Laverne and Shirley, Bosom Buddies, and Action) and is executive-produced by Thompson and Rob Lotterstein (The War at Home and Ellen). Shake It Up airs Sundays at 8:30 p.m. EST/PST on the Disney Channel.



Mattel:

Mattel's new Disney VIP Doll collection will feature two Shake It Up dolls inspired by the show's lead characters CeCe and Rocky. The dolls' outfits and accessories will mimic the styles worn by the show's characters. Each doll also has a special code that unlocks the VIP website where girls can interact with the characters through activities and exclusive content. The dolls will be available at Toys "R" Us and Walmart stores this October.




Payless:

Payless launched a collection of Shake It Up court athletic shoes. The shoes feature a soft faux nubuck leather upper with sleep patent reinforcements; colorful graphics; sparkly laces; padded collar, tongue, and insole for comfort; and a non-marking, skid resistant outsole. The shoes are now available at Payless stores and Payless.com.

ivviva athletica:

ivviva athletica, a division of lululemon, is developing a line of Shake It Up-inspired multi-functional athletic wear for girls. ivviva garments offers features tailor-made for girls such as an emergency elastic hair tie built into the zipper. The Shake It Up line is set to launch February 2012.




Fantasia:

Fantasia has produced a number of accessories for Disney's D-Signed Shake It Up collection, which features looks inspired by the show's lead characters CeCe and Rocky.

Capezio:

Dancewear company Capezio is developing a line of fashionable dance and workout gear inspired by Shake It Up. The line seeks to fit into the lifestyle of the active tween girl and tie into the show through the use of bright colors and dance-related screens and silhouettes. It will launch spring 2012.