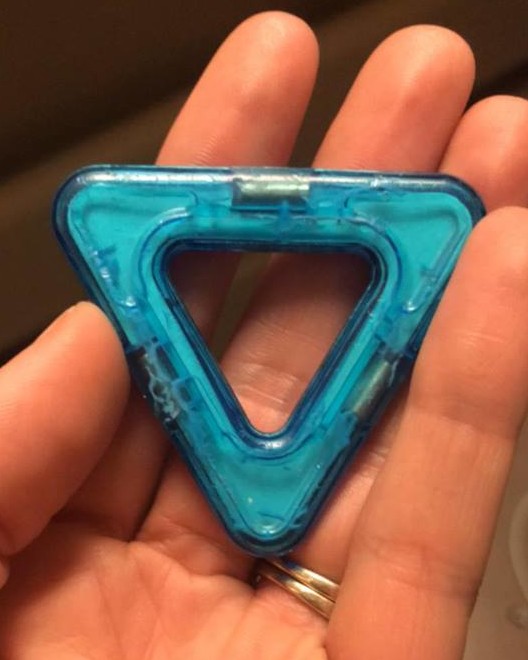 Last month, a Wisconsin mother's Facebook post went viral after her four-year-old son swallowed "13 tiny magnets" from a magnetic construction tile toy that broke open. Many jumped to identify the magnetic toy brand, and many incorrectly pointed to reputable toy brands.
The White family has since stated it was a IMDEN product, a knock-off brand, which—as many parents do—was assumed to be of the same toy-safe caliber as other magnetic toys on the market.
The issue has reignited a now decades-old debate regarding the safety of magnetic toys, but those in the toy industry are working to put the spotlight on the importance of educating buyers of these counterfeit toys.
Magformers has been fighting counterfeit versions of its own magnetic toys for years. Magformers fully encases its patent rotating magnets in the product and uses the highest quality plastics (HQABS) to ensure safety. Magformers are the only magnetic construction toy of its kind to meet all U.S. and international toy safety standards. Magformers U.S. released the following statement in response to the incident:
"Our thoughts and prayers go out to the White family…

U.S. toy safety standards are among the toughest in the world and federal law requires that every children's product subject to a federal consumer safety requirement be tested by a CPSC-accepted laboratory for compliance with the applicable federal children's product safety requirements. Magformers products meet all such requirements and we take great pride in ensuring all of our products are safe for users.

Magformers has an impeccable safety record, unfortunately, there are many counterfeit products on the market and parents should be aware of this when making their purchase decisions and taking an active role in ensuring safe and fun play. Since then, the issue has reignited a now decade old issue regarding the safety of magnetic toys."
Likewise, The Toy Association shares these sentiments.
"Our hearts go out to the child and his family as they deal with a counterfeit toy situation that they should have never been put in the first place. Toy safety is the U.S. toy industry's number one priority and one child hurt from a toy is one too many. The recent horrible incident in Wisconsin where a young boy was harmed by illicit product illustrates that counterfeit products are a safety concern and should not be sold anywhere, especially on online marketplaces. Often, when shopping on online marketplaces, consumers think they are buying from a reputable brand but are instead unknowingly buying from a third-party seller that ships directly to a consumer and bypasses federal safety laws. This marketplace system needs to be fixed so that no child is harmed by a product that is not meeting our strict standards.

Federal law requires all toys sold in the United States to comply with strict safety standards and all toys sold at reputable retailers comply with these requirements. Regardless of whether the product is bought in store or online, we expect that all toy companies and retailers selling in the U.S. be held to this same high standard to ensure that our children only have access to fun, safe toys.

The Toy Association urges consumers to be vigilant when shopping and to be sure they know the seller they are buying from. When shopping online make sure you are buying from a known seller, especially in marketplace situations. If a deal seems too good to be true or you do not know the seller, the product may be counterfeit or an imitation. These products likely will not have been tested for safety."
The product purchased on Amazon by the White family, which was also falsely listed as both age appropriate and "meets American Toy Safety Standards", has since been removed by the retailer.
Magnets attracts no matter where they are, so if swallowed they can attract to one another internally, resulting in potentially lifelong injuries—and even death. Magnets can burrow through intestinal walls (as in the case of this Wisconsin boy), creating blockages, and life-threatening infections. According to the Consumer Product Safety Commission (CPSC), there were an estimated 251,700 toy-related injuries treated in U.S. hospital emergency departments in 2017. Nonmotorized scooters contributed most to this figure.
For more information on toy safety, visit playsafe.org.