The online market for toys is intense. Kantar Retail projects that digital's share will grow to 28 percent by 2021. With more than half of all U.S. e-commerce sales taking place on Amazon, ensuring that your brand is properly portrayed and controlled on Amazon is becoming more and more important.
When used correctly, the Amazon Brand Registry offers a robust apparatus that enable you to more accurately represent and protect your brand.
What is Amazon Brand Registry?
The Brand Registry program identifies brands and their owners to Amazon, while also providing tools that allow brand owners to protect their trademarks. This helps improve the buying experience for customers by protecting against counterfeiters and hijackers, and creates personalized brand pages known as storefronts.
Benefits of Amazon Brand Registry
The registry has many valuable benefits for toy brands:
Ability to upload product videos alongside product images
Access to Amazon Headline Search Ads
Access to the Amazon Early Reviewer Program
Allows for brand registry and sole ownership of the Buy Box for it
Brand Registry uses predictive protection that attempts to ID and remove potential bad listings from hijackers or counterfeiters
Easy reporting and removal of hijackers and counterfeiters, with a dedicated Amazon team for submitting IP infringement claims
Exclusive access to Enhanced Brand Content for more developed product descriptions
Increased control over listing content, including product titles, details, and images; ASINs; and reducing matching errors during the listing process
Product pages with new designs and customizable details
Creates unique Amazon URLs for your brand
Benefit to Toy Brands
A growing concern that toy brands deal with on Amazon is competing against your own distributors, as well as other sellers. In order to provide consumers with unified brand experience and ensure that they are buying from you (or an authorized reseller), you need to win the Buy Box.
What is the Buy Box?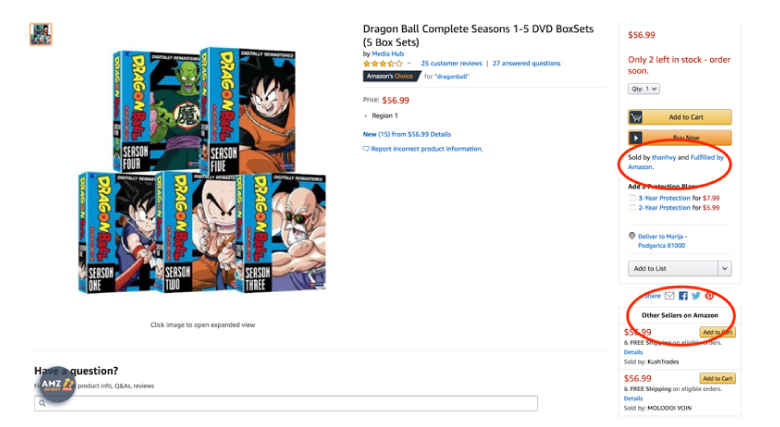 If multiple resellers or even Amazon are all selling the same product on Amazon, this creates a competition to win the Buy Box. The winner of the Buy Box, which rotates among eligible sellers based on Amazon's algorithm, gets the majority of sales of the product when a customer clicks on "Buy Now" or "Add to Cart". The Buy Box winner gets even more of the sales on mobile, due to the Amazon's mobile UX design.
Brand Registry Helps You Win the Buy Box
If your brand is registered under the Amazon Brand Registry program, then only you can list products for sale under your brand. This effectively locks other sellers out of trying to sell using your brands listing.
It's important to note that if you've already made an agreement with Amazon as a vendor, then you can't lock Amazon out of selling the same product.
Subject to the terms of your distribution agreements, this is a valuable solution to the common issue of having a distributor selling your toy to a brick-and-mortar entity. Particularly one that is then turning around and selling half its order on Amazon. You can become the exclusive brand-registered Amazon seller for that item.
Amazon Storefronts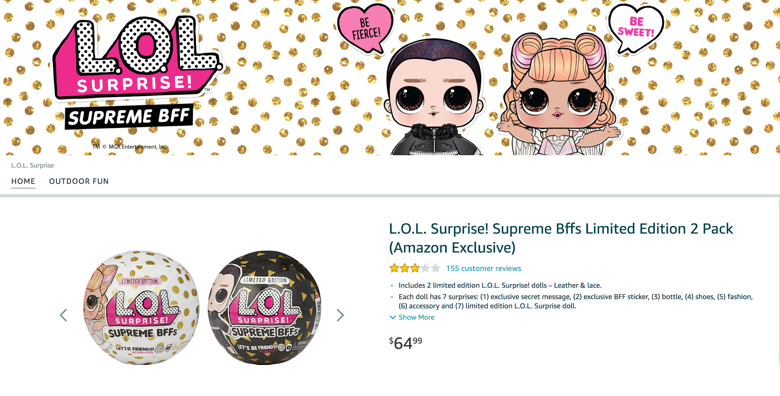 Another great benefit for toy brands is the ability to set up a custom store for your brand.
Think of it as your personal online boutique within Amazon. By creating a custom Amazon storefront you are able to show off all your products in their best light. You are also able to create an immersive experience that conveys the story of your brand, developing customer loyalty, and driving sales.
Registering a Toy Brand
Toy brands eligible for brand registry must have an active registered trademark in each country where they wish to enroll. The brand trademark must be in the form of a text-based mark or an image-based mark with words, letters, or numbers.
There are slightly different requirements for each country. Be sure to read the full guidelines, and be compliant before proceeding to sign up.
You'll also need to be able to prove you are the owner (or an authorized agent) of the trademark, and have an Amazon seller account.
To apply for Amazon Brand Registry, you can enroll here.
If you're an Amazon toy brand looking to increase sales and separate from the pack, there's no better place to start than Amazon Brand Registry. For more detailed information, check out our ultimate guide here.
This article is written by the JudoLaunch team. JudoLaunch is a team of self-described Amazon experts that provide software and service solutions to help Amazon sellers hit their revenue goals. To learn more about JudoLaunch, or  request a complimentary opportunity analysis with one of its Amazon experts, email hello@judolaunch.com.