Following its 50th anniversary celebration for Mister Rogers' Neighborhood and all the promotions that took place last year, the company has seen renewed interest in all things Mister Rogers.
The redesign of its Mister Rogers' Neighborhood legacy website earned it a Webby People's Voice Award this year, while the property's first-ever poetry book for kids, A Beautiful Day in the Neighborhood (illustrated by Luke Flowers) from Quirk Books, launched this spring. This fall will see the introduction of a new collection of books as the company also gearing up for the new Sony Pictures film starring Tom Hanks as Fred Rogers.
The anniversary activities around the brand last year also resulted in more momentum around Daniel Tiger's Neighborhood as well as the company looks to expand the series' footprint among new generations of parents and parenting influencers.
The Daniel Tiger for Parents app hit one million downloads in April (for iOS and Android), offering the series' strategy songs as well as supporting videos, tips and tools to help preschoolers develop important social-emotional skills and learn vital age-appropriate life lessons. In addition, three special new episodes premiered nationwide on PBS Kids from May 20-May 22 for the series addressing new preschool experiences and trademark musical strategies to tackle the issues.
"Fred Rogers' work is always an inspiration for us,"said Ellen Doherty, executive in charge of production for Fred Rogers Productions.
"He prioritized careful attention to how you speak to children. Putting the experience of the child first. And thinking about where children in your target audience are developmentally. These values are part of the shows we make now, including Daniel Tiger's Neighborhood and Odd Squad."
Product Highlights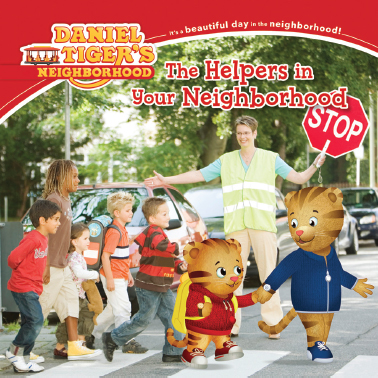 Simon & Schuester
In Helpers in your Neighborhood, Daniel Tiger leaves the Neighborhood of Make-Believe and visits the real world to help introduce readers to the helpers in their own neighborhoods. Illustrated using a combination of photographs of real-world helpers and illustrations of Daniel Tiger, the storybook focuses on Mister Rogers' teachings and strategies from Daniel Tiger's Neighborhood. It's available in August. Other upcoming titles include Daniel Goes to the Dentist, Mama Travels For Work, and Daniel's Potty Time.

Kahootz Toys
With Colorforms Dress Up Playset, Daniel Tiger fans can dress him up using a range of re-stickable shapes and accessories, providing multiple combinations that enhance learning through open-ended play and imaginative storytelling. It's available this fall.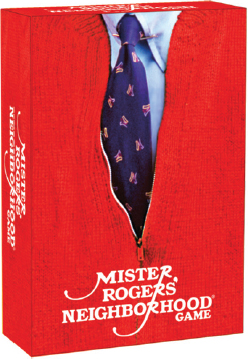 Buffalo Games
The Mister Rogers Neighborhood Game is a card-matching game for families with players ages 10 and up. It features illustrated images of the characters from the series such as Mister Rogers and Daniel Striped Tiger. The game launches exclusively at Target this month.

Jakks Pacific
The Daniel Tiger Vehicle Set is a two-pack vehicle set with pull-back action that has been recently updated. Both vehicles feature Daniel Tiger in the driver's seat: one in a cardboard box car and the other in a yellow convertible. The chunky cars are designed for preschoolers' small hands to grip. It's available now.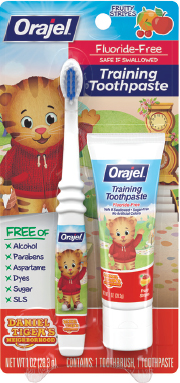 Church & Dwight
The Orajel Daniel Tiger's Neighborhood Training Toothpaste is a Daniel Tiger-themed toothbrush/toothpaste set for teaching children to brush their teeth. The non-abrasive toothpaste is fluoride-, gluten-, dairy- and sodium lauryl sulfate-free. It's available now.