When the owners are away, the pets will play. This was the premise that spawned Illumination's original 2016 animated comedy, The Secret Life of Pets. This summer, The Secret Life of Pets 2, picks up where the last film left off, centering on the film's leading canines, terrier Max (voiced by Patton Oswalt) and mutt Duke (voiced by Eric Stonestreet).
While the first film mainly focused on these two characters, the sequel features a couple intertwining story arches that draw in additional fan-favorite characters introduced in the original. This includes the posh Pomeranian Gidget (voiced by Jenny Slate), who tries to rescue Max's favorite toy from a cat-packed apartment, and the crazy-but-cute bunny Snowball (voiced by Kevin Hart), who starts believing he's a real-life superhero when his owner started dressing him up in superhero pajamas. These new storylines also introduce new characters to the mix. Max seeks guidance from veteran farm dog Rooster (voiced by Harrison Ford, making his animated fi lm debut) on a family trip, as the new changes in his life (the marriage of his owner and new baby in the family) overwhelm him with anxiety. Daisy (Tiffany Haddish), a fearless Shih Tzu, is also introduced as she seeks Snowball's aid in a dangerous mission, challenging him to be a true superhero.
The Secret Life of Pets 2 is produced by Illumination founder and CEO Chris Meledandri and his longtime collaborator Janet Healy, the team behind Dr. Seuss' The Grinch and the Despicable Me and Minions franchise and is written by returning Pets screenwriter Brian Lynch. The fi lm is directed by returning filmmaker Chris Renaud, who also directed Illumination's Despicable Me series and Dr. Seuss' The Lorax.
The film, which hits theaters June 6, will be heavily supported by Universal Brand Development's global, multi-category licensing and merchandising program. Consumer product began rolling out last month at retailers nationwide, covering categories such as toys, publishing, apparel and accessories, party goods and stationery, home goods, consumables, and more.
Just Play is on board as the master toy partner with an assortment of plush toys, figures, playsets and blind bags featuring the new characters alongside the returning favorites: Max, Duke, Snowball, Gidget, and more. Other toy partners include Funko with a line of Pop! figures; Ty with a collection of Beanie Babies plush; and Build-A-Bear Workshop with a line of fi lm characters, among others.
"Pets bring such happiness into our lives, and Illumination's The Secret Life of Pets 2 taps into the emotional connection between pets and their owners with humor and heart," said Lindsay Hollingsworth, vice-president global franchise, Universal Brand Development. "We designed the consumer products program for The Secret Life of Pets 2 to capture the playful personalities of the film's characters, enabling fans to bring the movie home with them through a wide array of toys and collaborations."
Featured Product: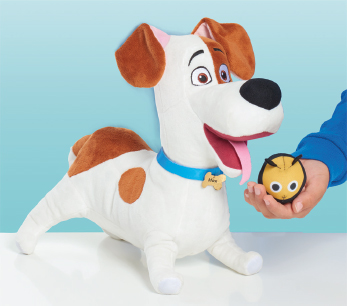 Just Play serves as the master toy partner for the new film. The toy maker rolls out small plush and figures featuring characters such as superhero Snowball; Hu the tiger; an interactive Meow Meow Gidget; Chat & Hang Plush Pals; and interactive Movin' and Chat Max, which comes with Max's favorite bumble bee toy (pictured).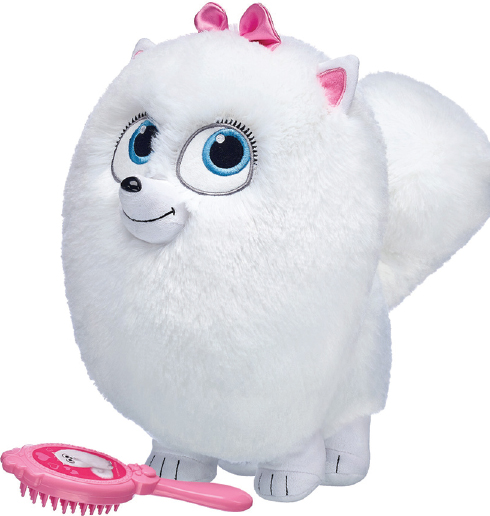 Build-A-Bear Workshop will offer buildable options of fan-favorite Secret Life of Pets 2 characters. This includes Snowball, depicted in his new superhero getup and an oh-so-fluffy Gidget, ready to groom and dote on (pictured).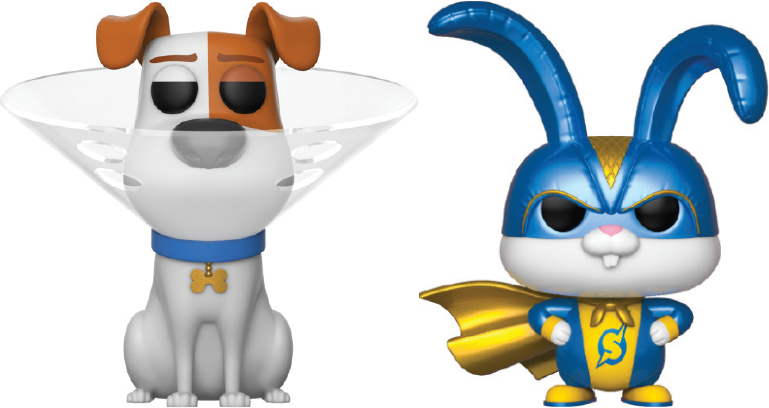 Funko offers up lead characters Max and Snowball in new looks from the fi lm. Max is depicted wearing the doggie "cone of shame," while Snowball has taken on his superhero persona. Each stylized POP vinyl stands at around 3.75-inches tall.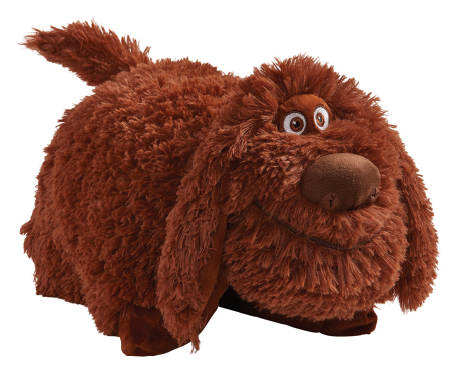 Plush pals by day, cuddle-ready pillows by night— now kids can snuggle up with their favorite pups from the world of the Secret Life of Pets, Pillow Pets Max and Duke. Each is made of high-quality super soft plush fabric and is BPA- and Phthalates-free. Duke even features his familiar shaggy appearance, just as seen on screen.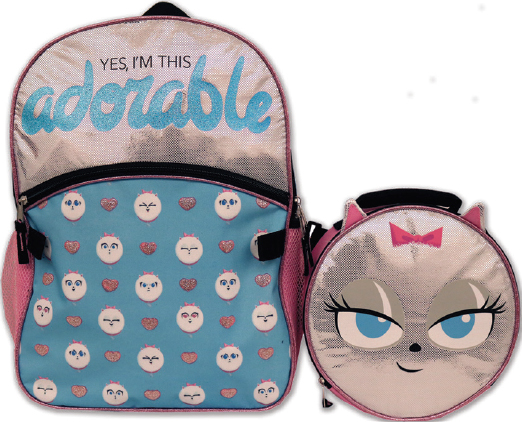 Accessory Innovations offers an assortment of backpacks and accessory gear for kids, themed to the animated fi lm. Pictured is a Kohl's exclusive 12-inch backpack featuring Gidget. A Target-exclusive Gidget back is also available and is sold separately.