by Deirdre Fanzo
Many food and beverage brands used to go hand in hand with favorite television and movie characters, and, of course, sports stars (read: Wheaties)—particularly for today's parents who grew up in the 80s and 90s. Whether it was on a cereal box or picked up at the drive-thru of a favorite fast-food joint, characters drove kids' food-fueled desires.
Today, entertainment and toy brands are much more aware of the role they play in influencing kids' diets, with many choosing to shy away from food and beverage partnerships in general—unless it's a healthy fit.
The Taste of Nostalgia
One area that's offered a renewed opportunity for food brands in the toy space is in the collectibles aisle. This is an aisle that continues to attract older toy collectors and fans, allowing food and beverage brands to tap into those same audiences that grew up on their brands—without fear of being perceived as marketing to kids.
Last year, Funko introduced its Funko's Cereal line. Hiding its fan-favorite figures inside its own themed boxes of cereal, Funko hits a sweet spot with this line that occupies both the old and the new.
Of the line, CEO Brian Mariotti highlights the importance of looking to the past to create something both familiar and new for today's consumers. "Funko has been committed to retro properties and things that brought us back to a simpler time for a while," he says. "People love breakfast cereal, people love these beloved pop culture icons, and people love our collectibles. Finding a way to combine those three into a very disruptive unique product like breakfast cereal with a collectible in it's just been great."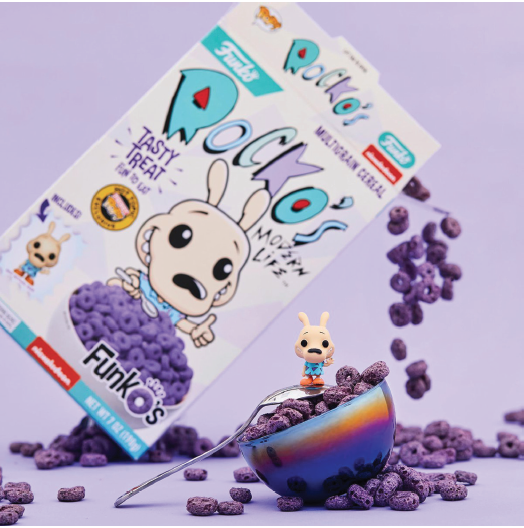 Since launching, the company has introduced a myriad of offerings, including original cereal brand characters from the Kellogg's library to classic TV and movie characters, such as Rocko's Modern Life, Beetlejuice, and DC Super Heroes. None were perhaps as sought out, though, as its Target-exclusive Golden Girls Funko's Cereal last fall. Originally priced at just $7.99 at the retailer, the rarity of the item inflated that price tag to nearly $100 on resale websites.
But food-themed collectibles don't just appeal to the nostalgic sensibilities of older generations, they also inspire a brand new generation of consumers.
A Pint-Sized Play on Groceries
The miniaturization of food is a trend that first took root in Japan, and it's one we've seen continue to inspire tiny food play in the toy aisles since then, fueled on by social media. First with lines such as Moose's Shopkins, Blip's Yummy Nummies and more recently in lines such as MGA's Num Noms, Basic Fun!'s Little Lucky Lunchbox, and Fashion Angels' 100% Extra Small Mini Clay kits. Now that trend has evolved into collecting not just tiny foods but real tiny food brands. The most recent example of this can be seen in ZURU's new 5 Surprise Mini Brands collection.
"We noticed that food play and miniature items were emerging as a trend across social media – in particular looking at the crazy trend of hamster cooking on YouTube," says ZURU's Senior Communications Manager Zeljana Unkovich. "We had also seen the program Little Shop work phenomenally well as a supermarket incentive program in South Africa and Australia and thought this would be perfect for toyification."
The Little Shop marketing campaign created by the global creative agency Unga made for the Dutch supermarket chain Albert Heijn, first launched in 2012, was so successful in just five weeks, 50 million miniatures were sold across the Netherlands whose population is under 17 million. The agency went on to create similar tailor-made campaigns for other retailers around the world, eventually teaming with Zuru.
Zuru worked with Unga to onboard brand partners and create tiny true-to-life replicas, right down to the mini (likely scannable) barcodes. While the line is not food and beverage brand specific, there are many from this category featured across the product range.
Moose Toys also introduces real-life food brands in the collectibles aisle this year via Shopkins. Shopkins have always been food-themed, but the decision to base the figures on real food brands rather than general food items is one that came out of the desire to evoke familiarity and fondness, as well as a sense of nostalgia, when looking at or playing with the toy.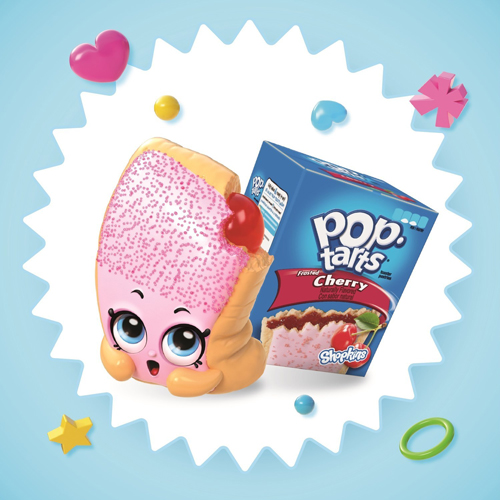 "The team had a vision to bring it back to where it all began in the grocery store, but in a new way: partnering with real brands that our fans recognize and love," says Kotomi Nanjo, the director of global marketing of girls' toys at Moose. "We felt that, for kids, Shopkins characters that looked exactly like a Cheez-It cracker, a Strawberry Pop-Tart, or a stack of Pringles would be absolutely magical. It's as if the entire contents of their lunch box came to life."
Appealing to the Senses
Now more than ever, food and tactile play encourage consumers to get more hands-on with their food—real or fake.
In the world of roleplay, kitchen playsets and accessories are getting updates that reflect today's parent's backsplash preferences and affinity for farmhouse sinks (thanks, Joanna Gaines). These toys also highlight how parents are prioritizing locally sourced and healthier food options for their kids. American Plastics introduced its My Very Own Market Cart, displaying shelving of fruits and vegetables. KidKraft launched its Farm to Table Play Kitchen last year and will follow up with its own food truck rolling out later this year.
Slime is also a tactile form of play that's began to play up its association with food themes. Cra-Z-Art's Nickelodeon Slime line now offers pre-made slimes with add-ins that offer the texture and smell of real-world treats such as watermelon or mint chip ice scream. ORB, meanwhile, introduced a new line Slime Café, which combines its scented Soft N Slo Squishies with slime for kids to make their own gooey faux foodie creations.
"Food themes are incredibly emotive as you don't just unlock visual senses but you can play around with touch and smell too," says Zuru's Unkovich. "It enables roleplay that lines up to their day to day lives but also push the boundaries into fantasy."