Summer is here, which means kids have more opportunities to get outside and play. It's also a great time to remind parents and caregivers of some simple precautions they can take to ensure both indoor and outdoor play is safe. As The Toy Association ramps up efforts to educate families about toy safety, we are encouraging toy companies and retailers to leverage our resources and help spread the word.
New Safety Brochure & Infographic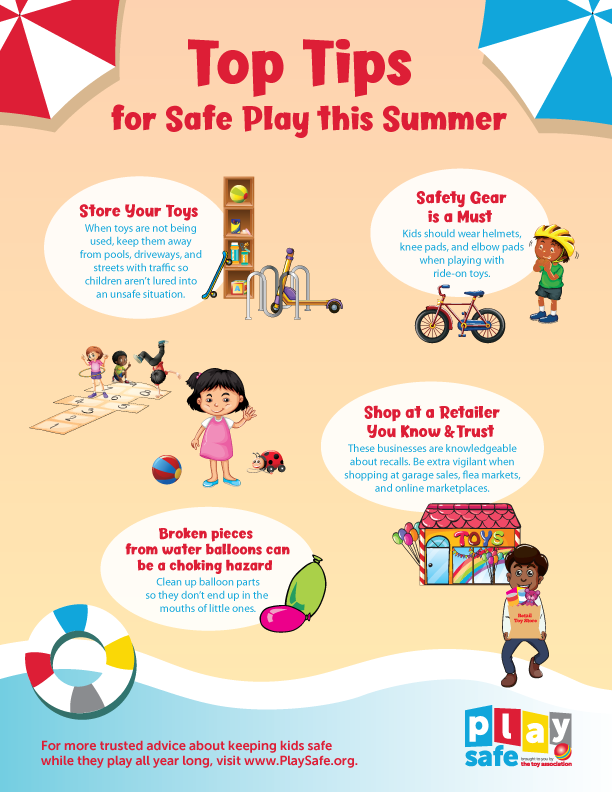 The Toy Association's new safety resources are easy to share online and in-store with families:
An infographic (shown) that is shareable across social media includes tips for safe outdoor play, including how to properly store toys and make sure water balloon play is safe.
A brochure called "Top 5 Tips for Fun & Safe Play" is easy for retailers to print and hand out to customers. It features safe shopping and toy selection advice, tips for battery safety, and underscores the importance of parental supervision during play.
"These free resources to make it easy for toy companies and retailers to share crucial safety information with their social media followers and customers," says Adrienne Appell, senior director of strategic communications at The Toy Association. "Given that children's safety is our industry's top priority, it is so important for us to work together to educate parents on how to ensure that every play date is a safe one."
The Toy Association has provided the brochure to state legislative offices in New York; additional legislators, educators, medical professionals, and others who work with kids and families can receive the brochure by request.
Retailers and toy companies that would like to use the safety infographic and/or brochure in their outreach efforts are encouraged to contact Kristin Morency Goldman.
Look for Us at ASTRA's Marketplace & Academy
Toy Association staff will present a safety seminar at the American Specialty Toy Retailing Association (ASTRA) Marketplace & Academy.
The presentation will highlight current toy standards and regulations, tips for safe outdoor play, and advice for parents related to counterfeits and connected toys.
"We're looking forward to connecting with independent and specialty toy store owners who interface with families on a day-to-day basis," says Appell. "Our goal is to provide them with the most up-to-date toy safety information so that they can effectively educate their shoppers."
Find More at PlaySafe.org
The Toy Association's primary, year-round safety resource is www. PlaySafe.org. It includes a ton of tips including guidance for choosing age-appropriate toys, advice for new parents, recent toy recalls, and everything else a parent or caregiver needs to know to make sure that their kids are staying safe while having fun.
"We're proud to offer PlaySafe.org as a trusted safety resource for families," adds Appell. "It is continually updated by our in-house safety experts to ensure that all the latest concerns are addressed. We encourage everyone in the toy industry – from manufacturers to retailers – to share PlaySafe.org and its many tips with consumers."
Questions about The Toy Association's safety program? Feel free to reach out to Adrienne Appell, senior director of strategic communications.
---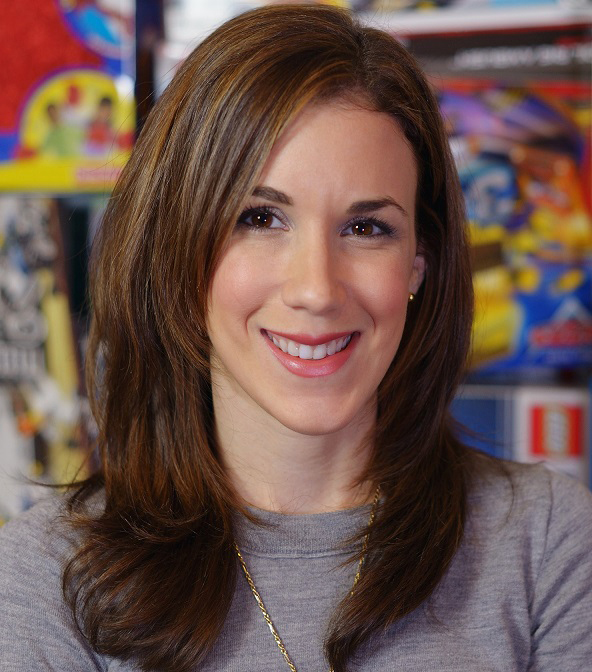 Kristin Morency Goldman is the Senior Communications Specialist for the Toy Association. She can be reached via email at kmorency@toyassociation.org.