By Ashley Rogers
Creating a sustainable business model in the toys and games sector—or any industry—is tricky enough as it is. As more toy manufacturers, retailers, and consumers evaluate ways to create and maintain a more sustainable world, the development of sustainable playthings and packaging is heating up.
Is It Sustainable?
"Not only is it becoming increasingly apparent that past practices for many manufactured toy goods are not sustainable in the long run, but consumers, especially younger ones, are weighing sustainability more heavily in purchasing decisions," says Alan Kaufman, senior vice-president of technical affairs for The Toy Association. "Consumers have also become more discerning and are turned off by 'greenwashing.' Not only must a product claim an environmental or sustainability benefit, but that benefit must be real and substantiated."
For toy companies, sustainability has a broad-based definition and can impact a product's life cycle from designing the initial product to evaluating the raw materials used, consuming natural resources efficiently, instilling renewable energy practices, managing waste, making environmentally-friendly packaging choices—the list goes on. The challenges come with finding what works for your business model, and doing so authentically.
Fitting Your CSR Model
According to Debra Joester, president of the full-service brand agency The Joester Loria Group, when it comes to sustainability for any company, it all goes back to a company's approach to corporate social responsibility (CRS) and where its focus is. "Is it sustainability? Is it volunteerism? Is it philanthropy?" she says. "There seem to be four to five buckets that companies hit on here and many aren't looking to pivot unless it's in keeping with the authenticity of a brand."
One company that's put sustainability at the center of its CRS is The LEGO Group. Last year, the first sustainable LEGO bricks launched, made from plant-based plastic sourced from sugarcane. The LEGO Group has partnered with WWF to support and build demand for sustainably sourced plastic, and has joined the Bioplastic Feedstock Alliance (BFA), an initiative of WWF, to secure fully sustainable sourcing of raw material for the bioplastics industry. The company plans to have 100-percent sustainable packaging by 2025.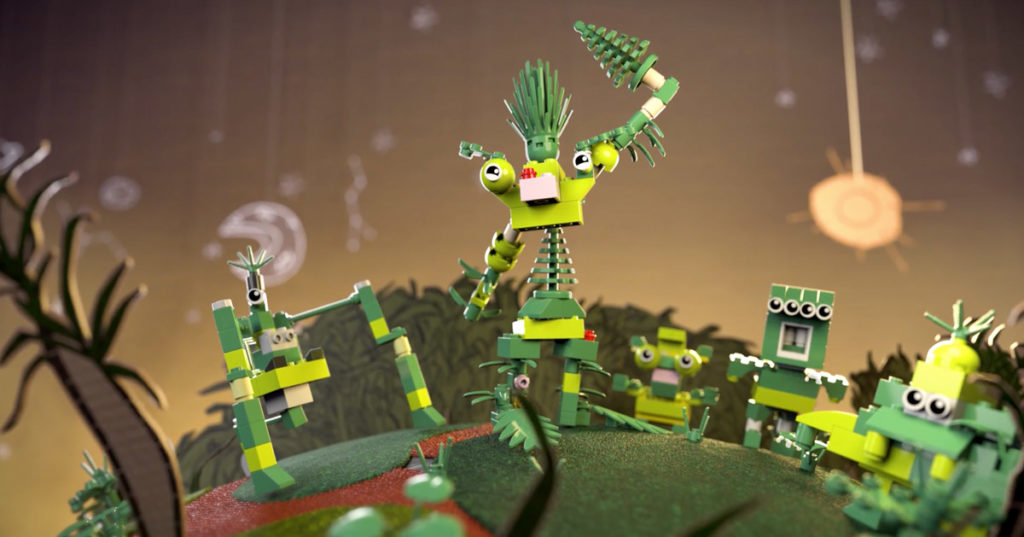 "We believe a strong CSR commitment is the right thing to do," says Tim Brooks, vice-president of environmental responsibility, LEGO. "We want to play our part in leaving the best possible planet for children to inherit and we believe we have a responsibility to minimize the environmental impact of our operations."
As Brooks adds, the majority of LEGO's packaging by weight is already cardboard- or paper-based, which is recyclable, sustainably sourced and certified by the Forest Stewardship Council. Last year, the company also introduced How2Recycle labels to its packaging to encourage consumers to properly recycle after use. "In the past four years we have reduced the average size of a LEGO box by 14 percent, improving transport efficiency, saving over 3,000 truckloads and 7,000 tons of cardboard each year. Our aim is that no LEGO packaging parts have to end up in a landfill," he says.
Unboxing a Sustainable Business Model
Unboxing plays a critical role in the overall play experience these days, and often times this can mean the generation of additional waste from the unboxing experience.
Skyrocket Toys is proving that doesn't have to be the case with the introduction of its new toy line, Blume (shown above), featuring dolls that sprout to life.
John Ardell, executive vice-president and CMO, says, "With Blume, we were able to turn the packaging into part of the actual toy and play pattern. Instead of shipping the doll in a cardboard package, we're shipping the doll in a pot that acts as the packaging, the structure for the amazing reveal, a playset, and a display stand for the doll. We are able to give the consumer more value and play, with less waste, helping our company to be more sustainable."
In addition to Blume doll, SkyRocket's Grumblies Miniacs collectible figures also ship in a case that kids can snap together to create a display stand for their characters so that every piece is used as part of the play.
"We're finding that more and more, kids and parents are focused on the environment and want to support products that make a conscious effort to reduce waste," says Ardell. "This effort can be achieved through a variety of ways including smaller package sizes that reduce the use of physical resources and shipping (both ocean freight and domestic freight), and through packaging that is more efficient for e-commerce and produces limited waste, such as packaging that is smaller and ships to the consumer in the product packaging that we provide."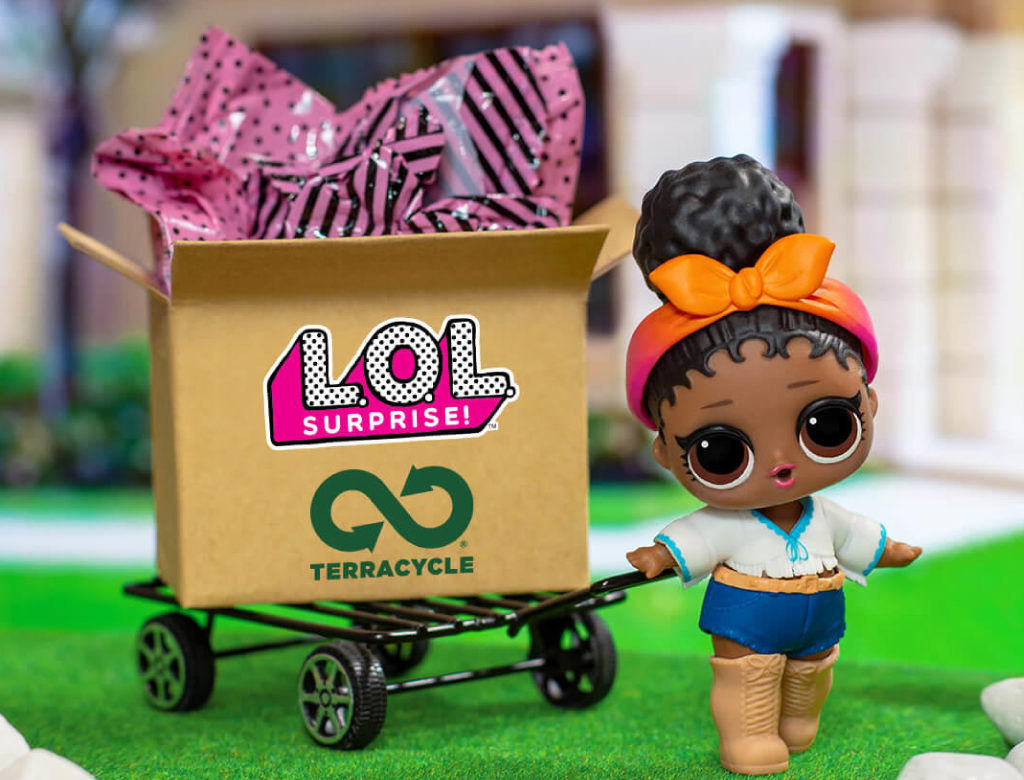 Other companies are also teaming up with recycling programs to help aid consumers in the proper disposal of the remains of the unboxing experience. MGA Entertainment, for example, partnered with Terracycle for an L.O.L. Surprise! recycling program that helps toy owners recycle their wrappers, bags, balls, trays, and more. The program kicked off in the U.S. in May, and rolls out internationally later this year.
Sustainable from the Start
While some toymakers are just starting to shift their focus to sustainability, PlanToys is a company that's had a CSR mandate in place since its start, bringing sustainability into the company on every level.
"PlanToys' style can be defined through…Sustainable Mind, Sustainable Material and Sustainable Manufacturing," says Kosin Virapornsawan, PlanToys' managing director. "This concept explains the way we work, care for people, and support the environment. We choose to use non-toxic materials. Our packaging is made of recycled paper, while printing is done with natural soy ink, which is biodegradable. In 1981, we also started producing toys by taking reclaimed rubberwood from expired rubber trees that were normally scheduled to be burned."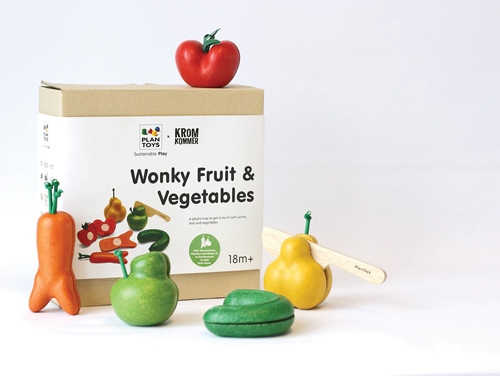 The company even used the leftover materials created through its daily rubberwood production to create a new material called PlanWood, which the company used to expand its product line to include water-friendly toys and sand toys. It also launched a new line this year using 100-percent natural rubber material and is investing in solar technology.
Sustaining Challenges
According to the Sustainable Brands e-newsletter, 80 percent of plastic toys end up in landfills, incinerators, or in the ocean. "The shift from petroleum feedstocks has been slower in toys than in some other products, primarily owing to the stringent safety and performance requirements to which toys are subject," says the Toy Association's Kaufman. "Plastics are an ideal material for toys as they are less likely than alternatives to create small parts, sharp edges, sharp points, or other hazards, and are well suited to withstand such rigors as the required drop test. Unfortunately, few commercially available bio-based polymers have yet been developed to the point where impact resistance, tensile strength, flexural modulus, and other key performance metrics are sufficient for toy use. I am hopeful that as development of these materials progresses, we will be able to recommend their use in some toy applications."
Joester adds that toys are likely lagging in sustainability largely because of this dependence on plastic. "Especially for smaller companies, the research and development of new manufacturing products, the impact of sourcing these materials, and the cost of replacing plastic with new more sustainable resources may not be practical if a higher price point at retail is necessary and if the playability, durability, and versatility of a product is compromised," she says.
With more than 80 percent of the Toy Association's membership made up of small- and medium-sized enterprises, many of these companies are interested in making their products, packaging, and manufacturing practices more sustainable, but simply don't have the bandwidth to do so on their own, says Kaufman.  And, this is where the Toy Association is offering some assistance.
The Toy Association has developed multiple member tools to assist SMEs, including white papers on more sustainable manufacturing, a database of packaging and product materials, and their associated environmental footprints to encourage selection of less-impactful materials. It's also created a tool to rate packaging designs on recyclability, material usage, and other factors and benchmark them against others in the industry producing the same product category.
As many toymakers continue to wrestle with concerns of brand authenticity and what works best for their budget and business model, one thing is certain: today's consumers are increasingly on the hunt for products that fit with their lifestyle. And that lifestyle is becoming much more focused on its impact on mother nature.