A toy display inside Gepetto's in San Diego, California, which has seen strong plush sales recently. "I guess because during this unprecedented time, everyone needed something soft and comforting!" says owner Brian Miller. 
After a more than one-year hiatus, toy industry trade shows are finally coming back live and in-person. 
While Zoom meetings or virtual expos and conferences have filled in the gaps in the meantime, manufacturers and retailers alike seem to share in the sentiment that nothing can quite replace the interaction and product demonstrations that a traditional trade show delivers. 
"I want to see the product, touch it, play with it," says Brian Miller who owns Gepetto's Toys in San Diego, California. "Even to see the packaging is an important part of my buying decision."
That's why for Miller and many other independent toy retailers, the American Specialty Toy Retailing Association's Marketplace & Academy — held in Minneapolis from August 5-8 — marks a much-anticipated trade show return. 
"The specialty toy industry has so much knowledge, education, and experience and we need a common link for us to share that with one another," Brice Elvington, owner of The Toy Shop in Florence, South Carolina, says of Marketplace & Academy. Elvington describes ASTRA as "the single most important and influential attribute to the success of our store." 
COVID-19 has affected each state differently. But regardless of location, toy stores like Miller's and Elvington's throughout the country have found a lot in common in the last year and a half— sharing the same challenges and devising similar solutions to keep their businesses suriving, and thriving, in an unprecedented time. 
A handful of retailers shared with TFE Magazine what it has been like to operate a small business in a pandemic — and the ways in which they think the industry has changed for the longterm. 
A hybrid approach to retail
Unsurprisingly, COVID-19 further accelerated an already ongoing consumer shift toward e-commerce. Even after state and local governments around the country lifted restrictions on non-essential businesses, many customers opted to continue ordering goods online rather than in-person. In February, CNBC reported that e-commerce accounted for 14% of total retail sales in the U.S. in 2020, compared to 11% in 2019. Americans spent $791.7 billion online in 2020, a more than 30% increase from the year before. 
Within the toy industry, several retailers whose business was primarily brick-and-mortar realized they needed to quickly expand — and in some cases develop entirely from scratch — their online presence. 
Ann Kienzle, owner of *play in Chicago, said that her business did not have a website before 2020. But with tight capacity restrictions in Chicago throughout most of the pandemic, it became a necessity so that customers could make purchases online. 
To complement the introduction of online ordering, businesses also introduced or expanded on their curbside pick-up options, took orders over-the-phone, and began delivering to homes. 
Elvington turned to social media to stay in contact with The Toy Shop's customers and their needs. Only a small portion of the store's sales happen directly through The Toy Shop's website, Elvington said — but customers have gravitated toward submitting orders via social media or email, and paying with the app PayPal. He added that because his business has ramped up its posting on platforms like Facebook and Instagram, it has attracted several new followers, even from outside its community. 
Though the pandemic forced many brick-and-mortar stores to act quickly in adopting an omnichannel approach, some merchants had already been heading in that direction — and 2020 helped to accelerate that process. 
For Liz Rosenberg's store The Toy Box in Amherst, Massachusetts, a website was already several years in the making pre-pandemic. But the importance of  getting the site up-and-running was "super-boosted" by COVID-19. 
The customer experience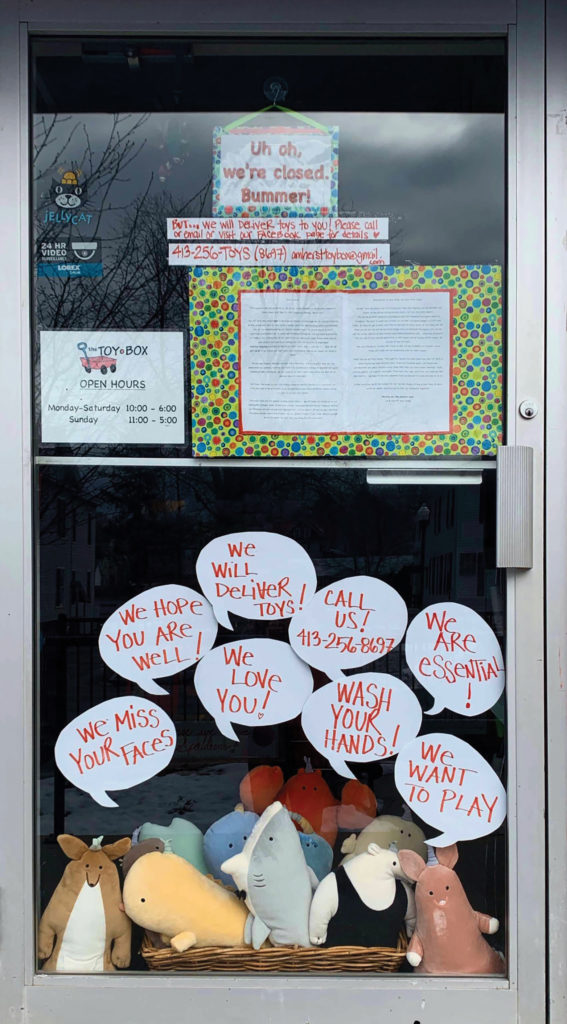 To keep shoppers coming into their stores, brick-and-mortar establishments often try to offer something that
many online-only retailers cannot — an experiential retail environment. From interactive displays to special in-store events, these businesses don't just sell product — they provide shoppers with an immersive retail experience. 
One of the challenges COVID-19 posed was how to rethink the unique experience of shopping at a toy store in a virtual or socially distanced format. 
"We pride ourselves on being very interactive, and having to take all of the demos off the floor at the start of the pandemic was difficult," Kienzle says. *play has since started to reintroduce those features "in a way that ideally makes a bit more sense and is more streamlined." 
In the early months of the pandemic, before non-essential businesses were permitted to re-open — albeit with mask mandates and social distancing guidelines in effect — some toy shops found ways to get creative with their decorating. When customers were unable to browse inside The Toy Store, in Lawrence, Kansas the staff poured its efforts into creating window displays that could be enjoyed from the outside. 
"Our display windows were over-the-top and they set the tone for our community despite not being able to come in," says The Toy Store owner Nick Guffey. 
At The Toy Shop, Elvington and staff made efforts to connect with customers in a way that would "meet them at their comfort level." This ran the gamut of private shopping appointments, shopping via FaceTime, and communicating over social media. 
The Toy Shop also teamed up with game companies, offering to play games over Zoom for families or teachers and their classrooms, and donated hundreds of educational games to children in the community. Elvington even enlisted his own children to participate in demo videos of age-appropriate games, an idea that he said was well-received by customers. 
"While all of these didn't result in direct sales every time, I think our community really appreciated the efforts of what we were trying to do," he said. 
Likewise, Rosenberg offered private shopping hours; and for clientele who couldn't come in to browse the aisles, she gave the option of shopping over FaceTime as well as phone consultations. The Toy Box also "used social media to introduce new product with toy-expert detail." 
A number of specialty toy stores also put their own spin on curated giftboxes. At *play, Kienzle launched themed kits, including a summer camp series and a New Year's Eve kit (consisting of dinner, drinks, flowers, and a game all from local vendors) as well as custom birthday, baby, and "thinking of you" boxes. The boxes, along with gift wrapping offered online, helped give customers "the personal shopping experience, without even entering the shop." 
Guffey says The Toy Store went "over-the-top" customizing gift baskets and their finishings to make them special for customers. "At one point we did buy chalk from the dollar store so the Easter baskets met our standard of quality," he recalls. 
Meanwhile The Toy Box began selling mystery bags, the contents of which were a surprise to the recipient and even to the person placing the order. 
"This aided the 'I want to send something, but I don't know what,' angst," Rosenberg explains. "With a few pieces of information, we were able to pull together a $25, $50, or a custom-dollar-amount of great appropriate surprises." 
Similarly, at The Toy Shop, Elvington hatched an idea for a "surprise delivery bag" program at varying price tiers, asking customers to email the store their orders, along with some information about their children. The store used its PayPal account to send invoices, which gave its limited staff more time to focus on selecting toys, filling bags, and preparing each day's delivieres. The program turned out to be a success, as "the orders literally came pouring in," Elvington says. 

Flying off the shelves
While the pandemic took a toll on many sectors, the toy and game industry was fortunate enough to come out on top. The NPD Group reported that U.S. toy sales rose 16% in 2020. In January to April of 2021, toy industry dollar sales further increased 27%. 
At the start, puzzles and games experienced a strong surge, with families looking for ways to pass the time together while remaining at home, keep their children occupied with screen-free fun, or supplement at-home learning with educational activities. Categories like outdoor and sports toys, and more recently plush, have also shown increased growth. 
So what are toy stores across the country seeing as their top sellers? 
Across the board, shop owners affirmed the popularity of puzzles, games, and outdoor toys. Fidget toys have also been in high demand lately, according to both Guffey and Elvington. 
Nick Tarzia of Stamford Toys in Stamford, Connecticut says many of his store's customers are going for LEGO sets. At the The Toy Store as well, Guffey says LEGO items under $100 are a favorite. 
Rosenberg and Guffey both reported that art supplies and sidewalk chalk have sold well too. 
At *play, Kienzle saw a surge in sales of social activism books, diverse dolls, and inclusive toys and books. 
Miller notes that to his surprise, "plush growth has been tremendous — I guess because during this unprecendented time, everyone needed something soft and comforting!"
Elvington also says that plush, along with books, have been "constant strong sellers" at his store in the last two years, adding that The Toy Shop's biggest demand is currently for children's clothing. 
In the midst of so many customers eager to buy, some retailers expressed struggles to get product stocked. 
As a cautionary measure, Rosenberg says she has been ordering "much greater quantities of the top sellers." Meanwhile, Kienzle says she tries to buy early and plan carefully. 
"We also did a a large 'shop early, shop often' push in 2020 to avoid the crush of December and the disappointment that we may not have had what [customers] had their heart set on," Kienzle adds. 
Miller shares that Gepetto's did not initially experience problems with product flow in 2020, a situation that is now starting to turn. 
"When the shut-down happened in March of 2020, we were sitting pretty with inventory going into our typically very strong spring season," Miller explains. "That carried us for months and once we started ordering again, manufacturers seemed to have stock that got us through 2020."
But as of March 2021, sales are picking up, and getting product  stocked is starting to pose a  "serious issue." 
"We are able to stock the stores sufficiently, but it has become a very time-consuming challenge sourcing product, following up on orders, and basically shaking every toy tree we can find," Miller says. 
Elvington believes that consumers are growing more accustomed to and informed about supply issues — be it at the toy store, the gas station, or the supermarket. 
As a result, he says, "most people are understanding and we've learned to adjust our ordering to account for many things being out of stock or on back-order." 
Tarzia echoes this sentiment, noting that if Stamford Toys is sold out of a product that a customer is seeking, "we always try to suggest alternatives that serve the same gift-giving purpose" 
Embracing the changes

With COVID-19 vaccines now widely available, independent toy retailers are noticing an uptick of in-store shoppers. 
"Since everyone is getting vaccinated now, walk-in shopping has picked up tremendously," Tarzia observes. "People are so happy to be out and about." 
And though their physical doors are now reopened, many toy merchants say their new ways of doing business are not going anywhere.
As Tarzia puts it, "COVID advanced retail five years into the future." 
When it comes to day-to-day store safety protocols, Guffey says The Toy Store will continue to provide hand sanitizer at the front door and keep its plexiglass sneeze guards in place through the end of 2021. 
And in the bigger picture, the digital-forward shift toward omnichannel retail that toy stores made suddenly and early-on was not just a temporary fix. 
"While most customers have returned to in-person shopping, we still want to be able to meet customers where they want to shop," Miller says. "Curbside, online, or by phone are here to stay."
This article appeared in the August 2021 issue of TFE Magazine.