While I don't know Brenda and Gordon Bortnick, of BGN Sales Group, as well as their daughter Nicole, I feel like I do because retailers and manufacturers have talked about them for years and always in the best possible way. They are highly regarded, to say the least. Industry aside, Nicole has the best Facebook posts. If I'm having a rough day, I'll check her posts for a laugh and often find great ideas for libations to ease my day.
How did your family first enter the toy industry? Who has been involved and who is involved now?
Nicole: While, Gordon worked in many different capacities in corporate retail, prior to becoming principal of the family business, he struggled to fit in that world. It was as a toy buyer that he was encouraged to 'come over to the other side' as an independent sales rep. Leaving a steady income with benefits brought with it considerable risk. However, with a few solid customers and landing Learning Curve at the height of Thomas [& Friends] sales, his life as an independent rep flourished. At that time, it was not uncommon for stores to have multiple feet of Thomas on the shelf. Sales were also enhanced by the Thomas play table that parents dreaded, knowing that there would be no quick escape from the store.
Around the same time that Gordon started working as a road rep, I began taking evening classes toward my MBA. (I lived at home rent free to cheer my family on!) When I had a spare moment, I could be found at Gordon's computer, surrounded by samples and piles of paper and catalogs, entering SKU after SKU as he dictated from pages of handwritten notes from his store visits that week.
During the day, I was employed at a telecom start-up in the HR department. Not unlike many startup companies, my role at work began to change from recruiting and hiring to processing layoffs and unemployment forms. Before long, I realized that I needed a change and that was when Gordon suggested I join him in the world of toys. I remember him saying "You can give it a try. If you don't like it, you can go back to the corporate world." That was 16 years ago.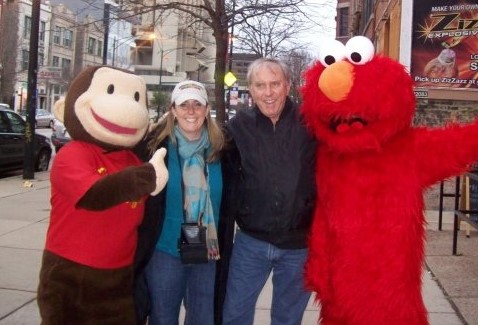 Before long, Gordon and I started to build our line package, expanding our territory from three to five states. At this point, we added independent road reps, some who are still with BGN today. At this point, we became a LLC and realized that we needed more support. Enter Brenda, aka Mom, and the "B" of BGN. Brenda decided to take a much-needed hiatus from her role as director of nursing of a home healthcare agency. Little did she know that her year off would turn into a full-time role as CFO, office manager, and "Keeper of the Peace" at BGN headquarters.
Recently, my partner, Mark, joined the family business in sales and support. Now almost every family gathering and meal morphs into a "work discussion." We are also very fortunate to be able to call our fabulous team of representatives family. They are a great group to work with and all play a role in the ongoing success of BGN.
Even our family dog, Foxy, is an important player in the business. She has been coming to the office every day for more than 12 years, and in true form she sleeps through most meetings only to show initiative at mealtime. I am still trying to figure out how to write Foxy off at tax time.
How has the business changed over the years?
Our business has changed several times over the years and continues to evolve. Road time seems less, and e-mails have replaced fax orders and orders dictated over the phone. We continue to build personal relationships with our retailers and vendors over the phone, via e-mail and Facebook, and at trade shows. On a great day, we get to meet one-on-one in the backroom of a shop and connect personally. The internet, cell phones, texting, and way too many e-mails can overload all parties—retailer, vendor and rep— making personal connections even more valuable.
Technology has thrown the door wide open for our competitors to penetrate all aspects of the sales rep industry. We need to be creative and make ourselves invaluable, because buyers have many more resources and purchasing options available thus sidestepping the rep. For this reason, it is critical that we build and maintain strong relationships with both retailer and manufacturer. We need to provide value, efficiency, and a personal connection. We constantly ask, "How can we make your day easier and more profitable?"
What advice do you have for others thinking of joining the family business?
Expect that there is often no off switch for work talk and distractions. It can invade all space and time, so embrace it. This way of life also provides freedom and independence.
Secondly, we are often harder on our family than an employer would be on other coworkers. Thus, everyone should have a 'Brenda' as "Keeper of the Peace" and some wine at the ready to neutralize a situation. In general, I feel that any family business can become a passion project of sorts. It requires trust and mutual goals in order to build a successful future together. All of those years ago, Gordon took a leap of faith as did Brenda and I. BGN.
"Just keep swimming, just keep swimming, just keep swimming, swimming, swimming." That's Dory-speak for keep on truckin'. Keep the faith, and keep your eyes on the prize.