DuneCraft was founded in Chagrin Falls, Ohio, in January of 2002, by Grant Cleveland, a serial entrepreneur with a background in accounting, finance, horticulture, and internet software development. The company's first offerings were terrariums designed to grow plants from seeds and have grown to include a full range of plant-related kits as well as science kits. Cleveland, who serves as CEO and president, talks about the growth of his company and its forays into licensing.
Chris Adams: To what do you attribute the rapid growth of DuneCraft—especially in this difficult economy?

Grant Cleveland: DuneCraft is lucky to have a broad appeal to a large and varied audience. As a result we have a number of different distribution channels, which smoothes our demand and lowers our dependence on any one particular sector. We also have created a new subcategory of themed terrariums and, as the first mover, we have benefited from much of the growth in this area. It also helps that we have developed more than 50 new novelty and impulse items that retail for $5 or less, which has added significantly to our top line.
C.A.: What is it about DuneCraft's products that gets people excited about something that is so basic as plants?
G.C.: We use our packaging to most importantly convey a mood or feeling. Of course, what the product is and its sales points should be there, but the surrounding elements and background art can evoke an emotion that excites consumers and entices them to buy. We are also combining the positive elements of growing a plant with engaging themes like dragons, fairies, dinosaurs, outer space, and more in our terrarium lines. Most importantly, we give the consumer everything they need to insure a great result that they will be proud of.
C.A.: Why do you think the hydroponic line is doing so well?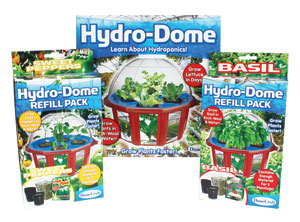 G.C.: Hydroponic gardening is very green in that it uses less resources and yields more output. On a basic level, it is also very interesting to grow a plant without soil. Our kit is the only one on the market that is truly a hydroponic kit with a flood plain, versus a wick and capillary self-watering system. It is also the only kit on the market that comes with an aeration pump. We are aggressively expanding the line with Hydroponic Flytraps and six Hydroponic refill kits.
C.A.: Does the fact that you are selling living things present any challenges?
G.C.: The fact that we sell seeds does not present an issue. However, you cannot import them from China. Since DuneCraft makes everything domestically this does not present an issue. The seeds do need to be properly acquired, stored, assembled, and labeled. They are essentially dormant and viable for years so there is not a true expiration issue.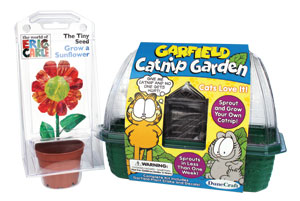 C.A.: How do you choose what licenses will fit well with DuneCraft products? Why is Garfield a good fit?
G.C.: I think that different licenses work differently for different categories at different times. For us, it has been a process of trial and error. I think it has been challenging to get licenses to work effectively in our themed terrarium category and even in our general science kit offerings. So far, our best license has been Eric Carle. Nickelodeon did not work for us because it limited the appeal of our products by age too much. Our items can attract buyers from the age of 5–100, so when we put a preschool property on it, it lowered the age range to 3–5, and the intensity in that bracket did not make up for the loss of the age range. So that is why we are excited about Garfield. It is the world's most syndicated cartoon and appeals to a broad audience.