ERPLY (www.erply.com) is a tool for managing retail operations, which is hybrid cloud software. It can be used on both MACs and PCs. The company says it has all the benefits of web-based software without the downfalls of software—meaning ERPLY stays functional even when there is no internet connection.
Nancy Lombardi: What is ERPLY?

Kris Hiiemaa: ERPLY (www.erply.com) is a tool for managing retail operations. Whether it's a large chain, a small business, or even home-based business, users can implement this multi-functional program to alleviate paperwork and streamline operations. With a customizable, easy-to-navigate interface, ERPLY helps users get organized, save time, and sell both online and offline.
N.L.: How does one use it? Is it used via the web? Is it installed on a computer?
K.H.: ERPLY is hybrid cloud software. This means that it has all the benefits of web-based software (scalability, central management, low cost) without the downfalls of software—meaning ERPLY stays functional even when there is no internet connection. All accounts are accessed and maintained via the web. Our offline POS (which allows sales to be taken independently from web connectivity) is a windows client that is installed locally on a computer. This allows clients to keep data locally and synchs with the ERPLY cloud either in intervals (if internet lag is the issue) or when the internet is re-established (if internet is down) to maintain accurate records.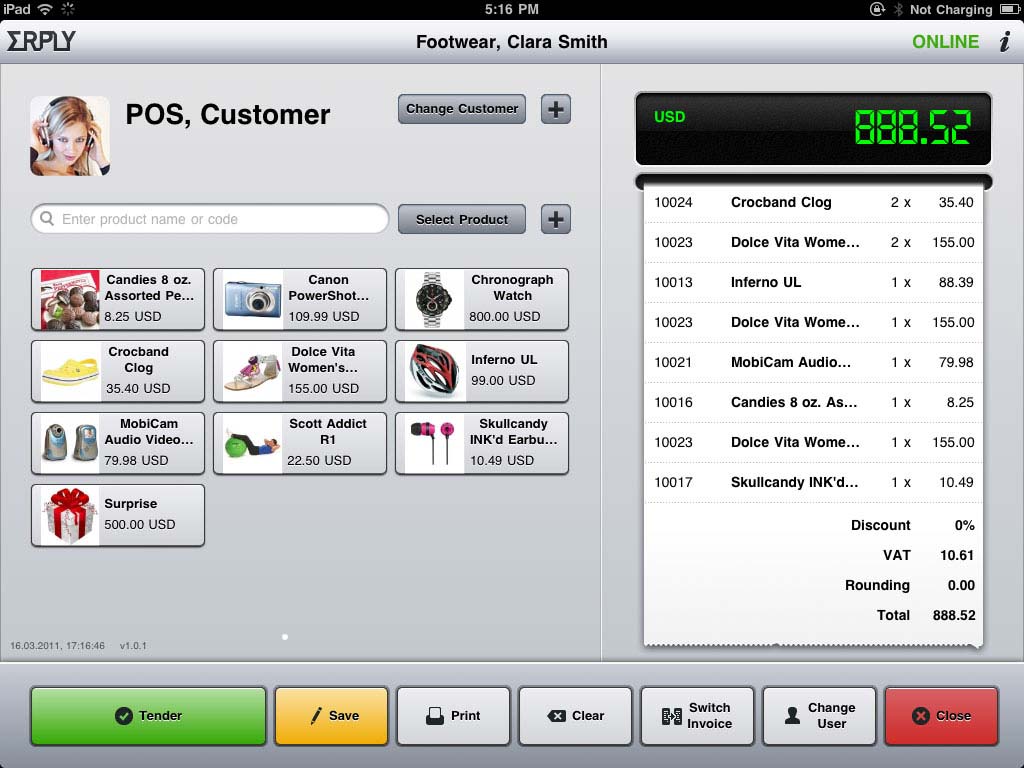 N.L.: Will it work on devices such as the iPad? Does it work on both the Mac and the PC?
K.H.: Since ERPLY is cloud based at its core; it has very minimal hardware requirements. Customers can use either a Mac or a PC. (This solves a major issue that existed with traditional retail POS systems prior to the emergence of cloud technology). ERPLY also has an iPad app available for download via the Apple App Store, that supports credit card processing on the iPad and the printing of receipts. This provides customers with full mobility and the flexibility to process sales from essentially anywhere.
N.L.: What type of business is the target audience for this product?
K.H.: There are many different verticals utilizing ERPLY today—from salons and spas to cafes and car shops. However, our target market is retail, and we bring a wide variety of attractive functionality to this sector. Within retail, customers range from small "mom and pops" all the way up to the enterprise level.
N.L.: Who are your competitors and what sets ERPLY apart?
K.H.: Our competitors are the technologies of the past: cash registers and traditional license-based software. In the web-based POS space, there are several competitors, and ERPLY differentiates itself with its variety of exclusive features. For example, ERPLY is the only cloud-based system that will remain fully functional even when the internet goes down—enabling retailers to enjoy all the benefits of the cloud while eliminating the only potential drawback of a web-based system.
Benefits of ERPLY vs. tradition POS or cash registers:
No barrier to entry with affordable plans for small operators
Freedom to use any hardware—even pre-existing one.
Central management and access to information—no matter where you are.
Real time reporting
True central management across locations
Benefits of ERPLY vs. other web-based software:
Offline POS feature—maintain full usability even with no internet connection
Open source API–allows customers to integrate ERPLY with other programs such as e-shops, accounting software, and more (to name a few: Magento ecommerce, PrestaShop, QuickBooks, and Xero accounting).
Full inventory management. No more double checking e-shop sales vs. physical store to send orders and maintain accurate inventory. Using ERPLY all ecommerce sales are automatically sent to ERPLY with invoice created, and inventory pulled—just confirm and you are good to go.
N.L.: How much customization is available for users?
K.H.: Customers can mold ERPLY to fit their unique business needs. They can assign rights to specific users, build their own custom reports using our report generator, create and run their own business promotions and coupons, and even loyalty programs. Our team of consultants assists customers to mold ERPLY to their needs.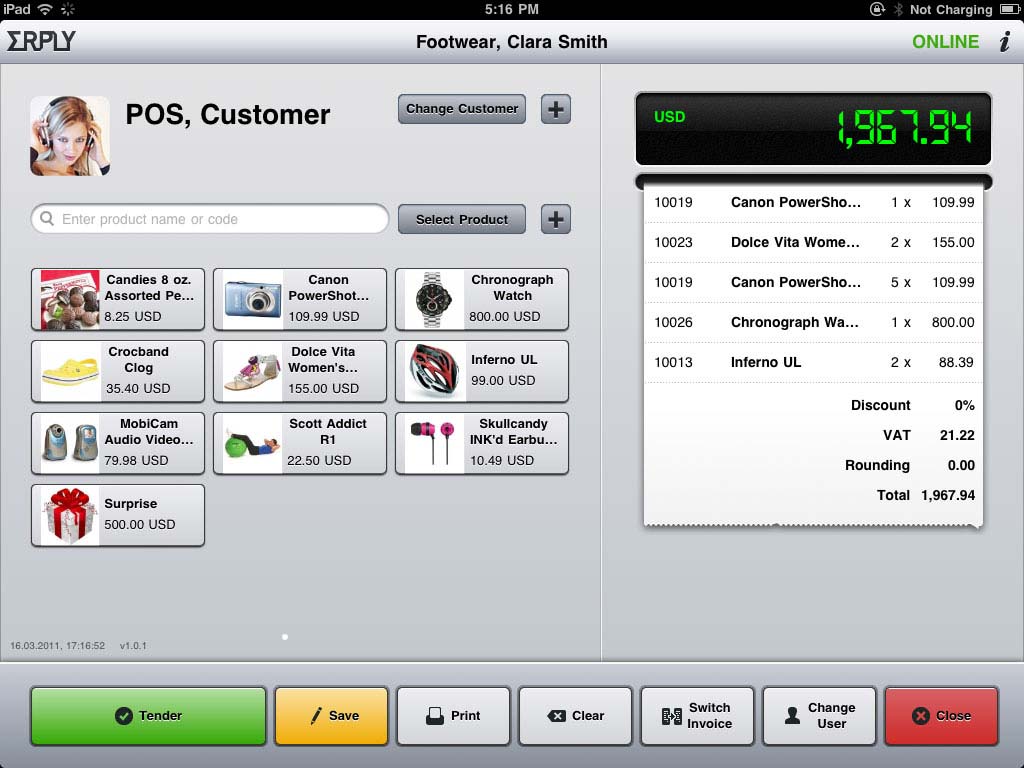 N.L.: What type of backup is in place for a user?
K.H.: All accounts are hosted on ERPLY's application server. Backups of each account are maintained on two backend/database replica servers for fail-over capabilities. ERPLY's offline POS client allows the customer to continue processing sales when internet connection is down, essentially providing another backup.
N.L.: How does the pricing work? On the website there seems to be $70 per month fee and then a jump to $225 per month. Is there something in between? What do customers get for the monthly fee?
K.H.: We do acknowledge that every business has its own unique needs. For this reason we have empowered our sales team with the flexibility to modify pricing on a case-by-case basis, and so we are able to work with clients to tailor the monthly plan to their needs.
Included in the monthly fee is the latest edition of ERPLY's software with full functionality; full account configuration and setup; 24/7 tech support help desk; Unlimited free automatic upgrades—no need to purchase new editions as they are released; offline POS client—downloaded to local POS registers to function independently from web; full network monitoring and a SLA of 96.8 percent; account data back up on three mirror servers.; access to API, to integrate with other platforms.
N.L.: What type of support do customers get for set-up and continued use?
K.H.: Set up of each customer's account is included in the price, and support is either done in person at the client's location or remotely (most of our customers choose to receive support remotely as it is more convenient and efficient). We team assist customers in all aspects of setting up the system and getting it ready to go live at the store(s). 24/7 helpdesk phone and email support is included in the price as well.