Jakks Reports 2Q Results
Jakks Pacific, Inc., reported results for the company's second quarter and first six months ended June 30, 2011. Net sales for the second quarter of 2011 were $131.9 million, compared to $123.3 million reported in the comparable period last year; and net sales for the six months were $204.3 million, compared to $200.6 million in 2010. Net income for the second quarter was $4.2 million, or $0.16 per diluted share, compared to $3 million, or $0.11 per diluted share, reported in the second quarter of 2010. The net loss reported for the six-month period was $6.3 million, or $0.23 per diluted share, compared to a loss for the first six months of 2010 of $2.2 million, or $0.08 per diluted share, which included a tax benefit adjustment of $4.9 million, or $0.18 per diluted share. Excluding the tax benefit the 2010 six month loss would have been $7.1 million or $0.26 per diluted share.
Operations used cash of $14.6 million for the first six months of 2011 with inventory and accounts receivable at seasonal highs, and as of June 30, 2011, the company's working capital was $372.8 million, including cash and equivalents and marketable securities of $247.1 million.
"We are pleased to announce that our board of directors has authorized a regular quarterly cash dividend of 10 cents per common share, payable to holders of the company's common stock," said Stephen Berman, CEO and president of Jakks. "The first such quarterly dividend of 10 cents per common share is payable October 3, 2011, to shareholders of record as of September 15, 2011. The adoption by Jakks' board of a quarterly dividend policy reflects the company's history of generating substantial cash flow and its strong balance sheet, as well as the board's confidence in our long-term outlook, and demonstrates its commitment to enhancing shareholder value."
Monsuno to Air on Nicktoons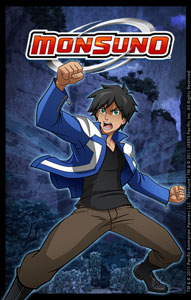 Jakks Pacific, Inc., Dentsu Entertainment USA, and FremantleMedia Enterprises (FME) announced a global content distribution deal with Nickelodeon for worldwide broadcast rights to the new original animated entertainment franchise Monsuno.
The Monsuno series (52 x 30 min) is a boys' action adventure platform where kids discover, command, and battle creatures with destructive potential. A race to harness the power of Monsuno ensues between a group of heroic kids and the evil forces focused on destroying the Earth.
Targeting boys 6–11, Monsuno will be supported by a Jakks Pacific toy line featuring innovative, kid-controlled action figures, accessories, playsets, collectibles, electronics, and integrated roleplay.
Nickelodeon will launch the series to audiences on owned channels in the United States, Latin America, the United Kingdom, key European and Eastern European territories, Australia and New Zealand, India, Southeast Asia, Russia, and Africa. The Monsuno series will first launch in the U.S. on Nicktoons and in select English speaking countries.
Jakks Pacific is the creator of the Monsuno property and master toy licensee for the line, which is expected to hit U.S. retail shelves to coincide with the U.S. TV series premiere anticipated for spring 2012. The Topps Company has signed on to produce Monsuno trading card games, confectioneries, and related products.
Serendipity 3 to Get Licensing Program
Alloy Entertainment (AE), the creators and executive producers of such hits as Gossip Girls, Vampire Diaries, and Pretty Little Liars, recently hired Sarah DuBois Miller to spearhead licensing efforts for New York City's famed Upper East Side dessert spot Serendipity 3 as well as existing and future AE properties. Initial target product categories for Serendipity 3 include confectionary, health and beauty, publishing, kitchenware, novelties and, of course, dessert.
Serendipity 3 has locations in New York City, Las Vegas, and Boca Raton—together boasting over two million Frrrozen Hot Chocolates—the company's signature dessert—consumed a year. Serendipity 3's fourth location is expected to open at the M Street and Wisconsin Avenue intersection in Washington D.C.'s Georgetown neighborhood. By the end of 2011 another location will open in Miami and 2012 holds plans for international locations in places such as Dubai, China, and Singapore.
Serendipity 3 already has some items on the market. Williams Sonoma's branded Frrrozen Hot Chocolate mix has more than $250,000 in sales per year, according to AE. Additionally Serendipity 3's other branded products such as mugs, candles, books, and even fragrance, have more than $2 million worth of sales per year, says AE.
Pocoyo to Air Weekends on Nick Jr.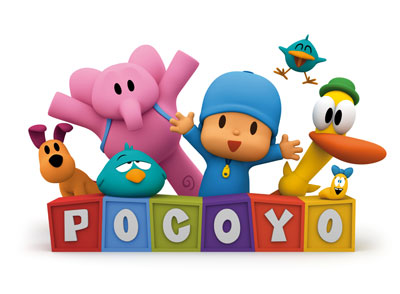 Pocoyo will now be featured in a new half-hour timeslot during the weekends on Nick Jr., Nickelodeon's 24-hour commercial-free, educational preschool network in the U.S. Starting this Saturday, Pocoyo will air on Saturday and Sunday at 1:00pm ET/10am PT, complementing the current weekday broadcasts.
The toy line, from Bandai America, is currently available at retailers across the U.S. Additionally, a series of new Pocoyo DVDs are available from NCircle Entertainment at retailers nationwide.
Pocoyo's online virtual world, www.pocoyoworld.com, has attracted more than 11 million unique visitors. There is also a Pocoyo app, Pocoyize, which allows users to create their own Pocoyo-style avatar. Approximately 12 million people have Pocoyized to date. The official Pocoyo website has amassed more than 27.5 million content downloads.
Phineas and Ferb Face Off for NHL Apparel
The National Hockey League (NHL) and Disney Consumer Products have revealed plans to co-brand merchandise featuring characters from Disney Channel's animated series, Phineas and Ferb, in the 2011­–12 NHL season.
The Disney and the NHL collection will include apparel, headwear, home products, and collectibles featuring characters from Phineas and Ferb wearing NHL and team-branded merchandise. NHL and Disney licensees will deliver the new products to retail stores throughout North America in fall 2011, just in time for the new school year and the 2011–12 NHL season.
Phineas and Ferb airs on Disney Channels and Disney XD channels in 169 countries and in 35 languages. In Canada, it airs on Family Channel, a premium, commercial-free network and member of the Astral family.