Saban Signs MEGA for Power Rangers Construction Toys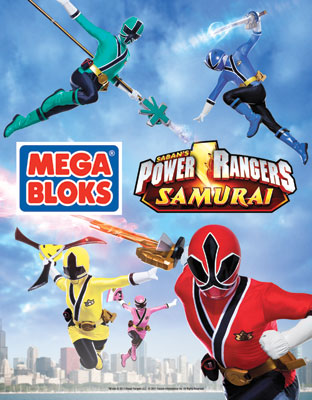 MEGA Brands, Inc., announced that it has entered into a multi-year global licensing agreement (excluding Asia) with Saban Brands to develop construction toys based on the all-new kids' action series Power Rangers Samurai.
The MEGA Bloks product line, launching in spring 2012, will complement the new Nickelodeon series and will feature vehicles and playsets.
Smart/Tangoes USA Partnership Formed
Smart, the Belgian manufacturer of SmartGames IQ-building single-player games, brings its line of logic games directly to the U.S. by entering into a strategic marketing partnership with San Francisco's Rex Games, creators of the Tangoes product line, to create Smart/Tangoes USA.
Having sold to U.S. retailers through distributors in the past, the company says it wanted to establish its own U.S. operations in order to deliver maximum margins and marketing support to U.S. retailers. According to Smart USA's president, Jim Whitney, Smart's product line has dramatically expanded in the past two years, with sales in more than 80 countries and the introduction of the SmartMax magnetic construction system.
An extensive product line is now available for retailers.
TRU's Solar Power Initiative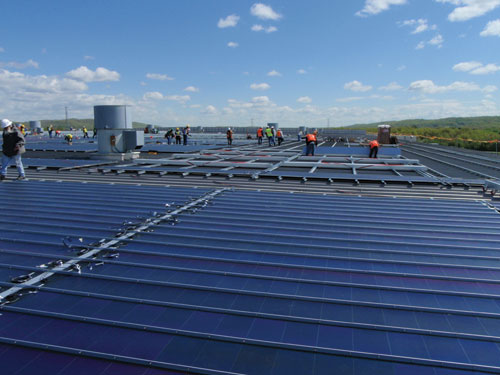 Toys "R" Us, Inc., announced plans to add the largest rooftop solar power installation in North America to its distribution center in Flanders, NJ. Staging for the system is currently underway and construction will conclude this summer. Upon completion, the 5.38 megawatt on-site solar mechanism will occupy 869,294 square feet and is estimated to generate 72 percent of the electrical needs for the Toys "R" Us facility.
This solar power installation will cover nearly 70 percent of the distribution center's 1,281,000-square-foot roof and will consist of more than 37,000 ultra lightweight UNI-SOLAR brand photovoltaic solar panels, manufactured by United Solar, a wholly owned subsidiary of Energy Conversion Devices. Depending on weather conditions, the system is expected to produce approximately 6,362,000 kilowatt hours of electricity each year. Generating the same amount of electricity using non-renewable sources would result in the release of an estimated 4,387 metric tons of carbon dioxide, the equivalent emissions from 860 passenger vehicles or that of the electricity used to power 532 homes annually, according to Toys "R" Us.
Constellation Energy, a leading supplier of power, natural gas, and energy products as well as services for homes and businesses across the continental United States, will build, own, and maintain the rooftop solar power system. Toys "R" Us will purchase the electricity generated by the system from Constellation Energy through a 20-year power purchase agreement.
The Toys "R" Us facility in Flanders, NJ, is the largest of the company's 10 national distribution centers and covers over 1.5 million square feet, in addition to the roof, which spans 32 acres.
Beyond the solar project in Flanders, TRU says it is making a number of sustainable upgrades to its existing stores around the country and incorporating renewable and energy efficient features into its new locations.
Innovation First Continues to Defend Hexbugs in Court
Innovation First International announced numerous victories in its fight against a global surge of knock-off and counterfeit products that imitate the company's Hexbug Nano brand toys. The company continues to be successful in courtroom litigation, having resolved yet another lawsuit filed last year, this time against the UK-based company 50 Fifty Gifts (UK) Ltd, its principal Ali Mafi, and affiliated entities.
Since the launch of its aggressive campaign last year, the company reports more than 1,000 successful enforcement actions to date worldwide. Across Europe, Spin Master Ltd., the European distribution partner for Hexbug serves as a key ally in the fight against knock-off producers, leveraging its extensive network of investigators, enforcement agents, and legal teams.
"The toy industry is notorious for breeding copycats of hot products, and we know that retailers become a part of the problem when they place knock-off artists' products on store shelves. This practice stifles innovation, and we won't hesitate to file suit against retailers or anyone else in the supply chain who infringes on our intellectual property," said Tony Norman, president and CEO of Innovation First International, in a statement.
It's Happy Bunny Gets New Team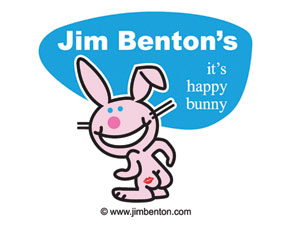 CopCorp Licensing announced the appointment of Munich-based Team! Licensing GmbH to manage the licensing program for Jim Benton's It's Happy Bunny in Germany, Austria, and Switzerland.