HIT, Red Toolbox Create Line for Bob the Builder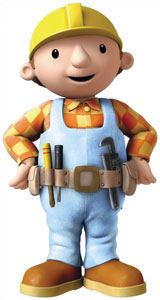 HIT Entertainment has entered into an agreement with Red Toolbox to develop a line of tools for children inspired by Bob the Builder. The products made their trade debut at the National Hardware Show, which is taking place this week in Las Vegas. The line will be available at home improvement and mass retailers later this year. This is the first license for Red Toolbox.
The Bob the Builder Red Toolbox line offers a set of real tools specially designed to suit a preschool child's grip, accompanied by a selection of projects for teaching and applying various skills. Specific items include hammers, goggles, gloves, and helmets in bright colors featuring favorite Bob the Builder characters.
Langer Juice Features Pocoyo in Promotion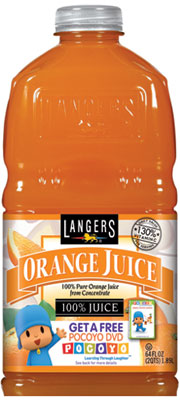 Zinkia Entertainment, the creators of Pocoyo, are partnering with Langer Juice Company for a nationwide promotional campaign for August 2011 that provides consumers with the opportunity to receive a free Dance, Pocoyo, Dance! DVD (via a mail-in offer) with the purchase of every 10 Langer juice bottles.
Langer Juice will ship 1.5 million of these specially labeled bottles to nationwide retailers. The agreement also includes exposure for Pocoyo on the Langer Juice website home page as well as Facebook and Twitter pages.
Fundex, Tyson in Summertime Deli Promo
Fundex recently announced that it is partnering with Tyson Deli in their Summertime Sweepstakes program starting May 30–August 12, 2011. Promotional signage will be featured in approximately 4,000 retail delis nationwide, with a sweepstakes element as well as exposure online.
Fundex Games will be offering a summer-fun focused $500 Family Fun prize pack in Tyson's online sweepstakes element of the company's promotion. Coupon books will be distributed at approximately 4,000 grocery stores, and will feature Fundex's outdoor game Bagball at a $10 discount. Fundex products will also be incorporated into Tyson Food displays at grocery stores nationwide. The sweepstakes, coupons, and product information will be featured on www.DeliAnytime.com. Additional support for the promotion will be developed through Fundex's social media outlets.
Chuggington, Ty's Toy Box Partnership
Brand-Xpand announced a licensing partnership between its retail site TysToyBox.com and Ludorum for an online store devoted to Chuggington merchandise. The new store will showcase personalized Chuggington clothing, accessories, and décor that consumers can customize with any name. The complete line of personalized Chuggington soft and hard goods will include such products as playsets, water bottles, T-shirts, sweatshirts, backpacks, and more. Personalized Chuggington products can be purchased exclusively at Chuggington.TysToyBox.com.
Brand-Xpand is a leading provider of e-commerce retail strategy and services for the licensing industry and currently operates TysToyBox.com, among other e-commerce sites. The full line of Chuggington products and categories will be made available at TysToyBox.com in the near future, according to the company.
New Licensees for Animal Planet
Discovery Communications announced three new North American-based deals with Toy Island, a division of Techno Source, Animal Feet, and Cosrich Group for Animal Planet. The deals were brokered on behalf of Animal Planet by its North-American licensing agent, The Joester Loria Group.
Toy Island will create Animal Planet-branded 3-D and traditional puzzles, stickers, and sticker books, trading cards, and games. Created for children ages 4 and up, items will be available at mass retailers.
Animal Feet is developing a collection of children's and adult plush slippers featuring animals from around the world for fall 2011. They will be sold at independent specialty stores and specialty chains, in mail-order catalogs, and at zoos and aquariums across the U.S.
Cosrich Group, Inc., will produce an eco-friendly children's line of Animal Planet bath products. Animal Planet bath foam soap, bubble bath, body wash, and shampoo will also be developed. After the initial fall 2011 launch, the collection will expand distribution in 2012 into department stores, mid-tier, and specialty chains, warehouse membership clubs, supermarkets, and e-commerce sites.
A portion of the proceeds from the products will benefit the principal partners of R.O.A.R (Reach Out. Act. Respond), Animal Planet's national campaign that acts as a voice for animals.