Time to Play's Facebook Photo Contest; Get Involved FREE of Charge
Starting June 1 and running all month, TimetoPlayMag.com (that's us!) will be hosting a Kids & Their Favorite Toys photo contest on our Facebook page (facebook.com/timetoplaymag). Supported by Facebook ads and social media outreach, the contest will solicit photos of children from their parents posing or playing with their favorite toy. The public will vote for their favorite picture, with a chance to vote once per day encouraging repeat visits.
Here is how toy manufacturers can get involved free of charge. We hope to see your products represented in parents' submissions. We encourage you to tell your own fans and followers about the contest, reminding them to submit photos at facebook.com/timetoplaymag starting June 1.
The winner will receive a huge prize pack worth $375, including a $50 Sears gift card, a Fisher-Price Kid Tough See Yourself Camera, a Razor eSpark Scooter, a Nerf Super Soaker Hydro Cannon, a Mega Bloks Hello Kitty Big House playset, and a Blastos! Mini Bubble Blaster.
Five runners-up will receive a Fisher-Price Kid Tough See Yourself Camera and a Blastos! Mini Bubble Blaster (an estimated $75 total value).
The winning photos will be displayed on TimeToPlayMag.com's blog, posted to our Twitter feed, and, of course, featured on our Facebook page.
Team Hot Wheels Sets Record at Indy 500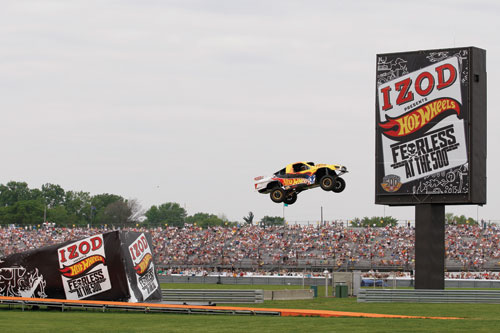 Mattel announced that as part of IZOD Presents Hot Wheels Fearless at the 500, Team Hot Wheels Yellow Driver Tanner Foust successfully landed a ramp-to-ramp distance jump of 332 feet. Foust, a three-time X Games gold medalist and professional stunt driver smashed the previous world record by 31 feet at the 100th anniversary of the Indianapolis 500 over this past Memorial Day Weekend.
Spectators at the Indy 500 watched as driver Tanner Foust sped down a 90-foot ramp, suspended on a 10-story high door (100 feet tall), and flew across the infield of the Indianapolis Motor Speedway.
Foust is a professional stunt driver with a record number of top finishes. In addition to being a three-time X Games gold medalist and two-time Formula Drift champion, Foust is also an on-air host for Top Gear USA on History. He recently became the first American ever to win a round of the FIA European Rallycross championship in his Rockstar Energy Drink Ford Fiesta. His professional stunt driving credits include Fast and Furious: Tokyo Drift, Dukes of Hazzard, Bourne Ultimatum, Iron Man 2, and the remake of Red Dawn.
Uglydoll Goes to the Movies
It was reported last week by deadline.com that Illumination Entertainment chief Chris Meledandri has acquired rights to turn the Uglydoll property into an animated feature film. Universal Pictures and Illumination will develop the film based on the global line of Uglydoll characters.
Larry Stuckey (who wrote Meet the Fockers) will write the script. Meledandri will produce, and Uglydoll creators (husband-and-wife team) David Horvath and Sun-Min Kim will be executive producers through their existing company, Pretty Ugly LLC. The feature film is expected to open up the property for wider media opportunities.
The Passing of Ned Strongin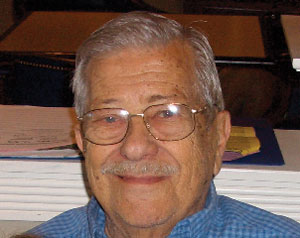 Ned Strongin, a prolific toy designer/agent whose career spanned several decades, passed away in Corona del Mar, Calif., in early April.  He was 91. The following obit describing his prolific career was recently sent to us.
Strongin was involved in the creation, design, and licensing of a wide variety of toys, games, and dolls, including Connect 4 (his most commercially successful game), Weebles, Giggle Wiggle, and the Wiggly Giggly Ball.
Phil Orbanes, president of Winning Moves Games who had a long relationship with Strongin and worked with him to license Giggle Wiggle to Hasbro Games, said in a statement, "Ned was regarded in the toy and game industry as one of the three post-World War II 'fathers' of external toy and game inventions, along with Marvin Glass and Eddy Goldfarb."
Additionally, Ron Weingartner, partner of toy consulting firm Weingartner Associates said, "Ned's New York City studio on Broadway was always a go-to stop in search of new game ideas. You could count on strong concepts from his creative design staff presented by Ned himself. He had a real love for the toy and game industry."
Another well-known and successful Strongin invention was the Wiggly Giggly ball (not to be confused with Giggle Wiggle), which was licensed in 1997 to HandsOnToys, Inc. It sold over 2 million units. President Andrew Farrar said the success of this licensed invention from an outside inventor, "opened the floodgates in the inventor community for HandsOn, letting the inventors know we were a great manufacturer who knew how to partner with inventors and help them succeed. Ned always had a great deal of sparkle in his eyes and playfulness about him." The item went on to become a successful iteration as a dog toy.