TRU to Carry the Kindle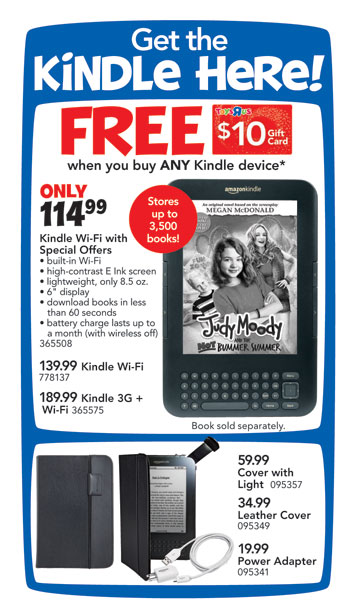 Toys "R" Us announced that starting this Sunday, July 31, stores in the U.S. will begin to offer an assortment of Amazon Kindle portable readers, as well as Kindle accessories. Models that will be available at Toys "R" Us stores include Kindle Wi-Fi in graphite, Kindle 3G + Wi-Fi in graphite, and Kindle Wi-Fi with special offers.
Toys "R" Us will also carry a variety of accessories and cases, including the Amazon Kindle leather cover, Amazon Kindle cover with light, and Amazon Kindle power adapters.
TRU will support the rollout of Kindle products through a comprehensive marketing campaign, including print promotions and in-store signage. Kindle will be featured by Toys "R" Us in circulars that are inserted into newspapers nationwide, on Sunday, July 31. To celebrate the launch of the Amazon Kindle at Toys "R" Us stores, customers purchasing any Kindle will receive a free $10 TRU Gift Card from July 31 through August 6, while supplies last.
Small Potatoes to Launch on Disney Junior
Small Potatoes, the newest short-form preschool series from Little Airplane Productions, is set to premiere Tuesday, September 6 in the U.S. and will air daily on Disney Channel's Disney Junior programming block for kids 2–7 and their families. This series premiered on CBeebies in the spring. The series has also had successful launches on ABC in Australia and Canal+ and Piwi in France.
Each episode contains one Small Potatoes music video and two comedy sketches. The members of the band are Ruby, the diva; Nate, the artist; Olaf, the caretaker; and Chip, a quirky little spud.
Little Airplane's three-time Emmy Award-winning musical director, Jeffrey Lesser, produces all the music for Small Potatoes. The series was created, directed, and executive produced by Josh Selig, founder and president, Little Airplane Productions.
In conjunction with the U.S. launch, SiriusXM's Kids Place Live will air a one-hour radio special. Titled Small Potatoes, Deep Roots, it introduces America to the band and covers their history. The radio special will air five times leading up to the television show's launch on Disney Junior, with the premiere radio broadcast on Friday, September 2 at 9:00 pm (EST) and 6:00 pm (PST) on Kids Place Live, channel 78.
Although the show has yet to hit the airwaves in the U.S., Small Potatoes has already become a phenomenon on Facebook.
Voltron to Be a Feature Film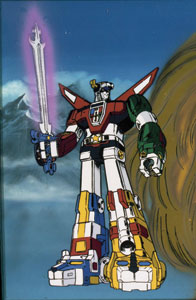 Relativity Media announced that it has optioned the feature film rights for Voltron from World Event Productions, and will adapt the live-action big screen version from the 1984 cult-classic animated series Voltron: Defender of the Universe. The project was brought to Relativity through their deal with Atlas Entertainment's Charles Roven and Richard Suckle, whose company will run the project.
In Voltron, an elite battle force defends the fate of mankind in this action adventure. Five young warriors are responsible for the future of the galaxy when they become pilots of a battalion of ultra-high-tech Robot Lions, powerful vessels with the ability to join together to form a fearsome mega-weapon known as Voltron.
A release date for the film has not yet been announced.