TOMY Acquires Boon/Keen
TOMY International announced it has acquired substantially all of the assets of Boon, Inc., and Keen Distribution LLC (known together as Boon/Keen). Boon/Keen is a privately held, developer, marketer, and distributor of mother, infant, and toddler products.
Boon premium branded feeding, bath, décor, and organization products feature convenience with an innovative modern design. Keen Distribution serves as the exclusive U.S. marketer and distributor for Bumbo International, manufacturer of the Bumbo Baby Seat, and products from UK-based, The Gro Company.
Boon/Keen's products generated net sales over the past 12 months of approximately $23 million, according to the companies, with sales growth expected in the second half of 2011 and in 2012. TOMY International funded the acquisition with approximately $20 million from its existing cash, and will continue to drive the company forward. Boon/Keen's senior management will retain approximately 20 percent carry-over ownership. Other terms of the transaction were not disclosed.
Uniqlo, Coca-Cola Partner for T-shirt Contest
Uniqlo has announced that Coca-Cola will be the inspiration behind its eigth annual, UT Grand Prix T-shirt design contest. Using T-shirts as a blank canvas, Uniqlo is asking people around the world to create designs inspired by Coca-Cola, a brand with a design legacy spanning 125 years. The winning 10 designs will be sold at Uniqlo's stores around the world for spring 2012.
Would-be entrants are encouraged to draw inspiration from the enduring role Coca-Cola has played at the forefront of youth culture in everything from fashion to art and music. Ten winners will be selected in total, with the prizes split out across four categories. The overall Grand Prize winner will receive $10,000. They will also receive a limited edition copy of Coca-Cola by Assouline, a book celebrating the brand's most iconic photographs, advertisements, designs, and memories from the worlds of film, fashion, art, and social history. Released this year to mark the 125th birthday of Coca-Cola, this collector's edition is hand-bound with color plates in a linen clamshell and retails 
for $650.
American Girl Dolls Debut, Benefit New Orleans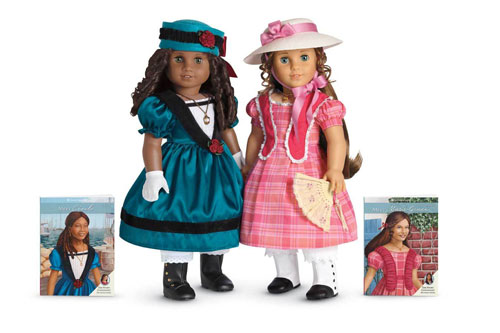 Mattel announced that its American Girl division is introducing two different historical characters, Cécile Rey and Marie-Grace Gardner, in one six-book series set in 1850s New Orleans. American Girl says this type of introduction is a first for the company. The new characters—one African American and one Caucasian—show the power of friendship and community as they reach across the boundaries of race and class to help their families, friends, and city during a time of great need. To celebrate Cécile and Marie-Grace's debut and the musical tradition of New Orleans, American Girl has partnered with 13-year-old Kate Connick and her father, musician and actor Harry Connick, Jr., to create an original song called "A Lot Like Me" with all proceeds benefiting the Ellis Marsalis Center for Music in New Orleans.
The song will be available exclusively on iTunes starting this month with all proceeds from song downloads benefiting after-school programming at the newly founded Ellis Marsalis Center for Music in New Orleans. Located in the heart of Musicians' Village in the Upper Ninth Ward, the center provides classrooms, rehearsal space, a recording studio, and a state-of-the-art performance hall.
Cécile's stories are authored by Denise Lewis Patrick, and Marie-Grace's books are written by Sarah Masters Buckey. The stories—starting with Meet Marie-Grace and Meet Cécile—weave together in one six-book fiction series, offering readers alternating perspectives of both characters' experiences.
The Cécile and Marie-Grace dolls, books, and accessories were available pre-order starting on August 8, 2011, at americangirl.com, and at all American Girl retail locations. The new line officially launches in all American Girl outlets on August 30, 2011.
Christian Louboutin Seeing Red Over Court Ruling
It has been widely reported that shoe designer Christian Louboutin has lost the court battle to protect his trademarked red-bottom soles.
U.S. District Judge Victor Marrero ruled in New York that it was unlikely that Louboutin could defend an "overly broad" trademark, which claims the lacquered red sole as a feature of its mark that was granted in 2008 by the U.S. Patent and Trademark Office. Louboutin tried to stop the sale of red-bottomed shoes by competitor Yves Saint Laurent.
According to reports, the judge drew an artistic analogy, sayings that "Picasso couldn't legally prevent Monet from using a particular hue of indigo." The judge added that granting Louboutin exclusive use of the color red could hinder manufacturers of other items.
It has also been reported that Christian Louboutin's red-bottom soles are Pantone-18 Chinese Red.
Disney Reports Q3 Results
The Walt Disney Company reported earnings for its third fiscal quarter and nine months ended July 2, 2011. Diluted earnings per share (EPS) for the third quarter increased 15 percent to $0.77, compared to $0.67 in the prior-year quarter. Diluted EPS for the nine-months ended July 2, 2011, was $1.93 compared to $1.60 in the prior-year period.
EPS for the current quarter included restructuring and impairment charges totaling $34 million primarily at Studio Entertainment. Excluding these charges, EPS for the quarter increased 16 percent to $0.78 compared to $0.67 in the prior-year quarter.
Media Networks:
Media networks revenues for the quarter increased 5 percent to $4.9 billion and segment-operating income increased 11 percent to $2.1 billion.
Operating income at Cable Networks increased $168 million to $1.8 billion for the quarter due to growth at ESPN and, to a lesser extent, higher equity income and an increase at the worldwide Disney Channels. These increases were partially offset by a decrease at ABC Family.
Operating income at broadcasting increased $41 million to $250 million driven by lower programming and production costs and higher advertising revenue at the ABC Television Network. Decreased programming and production costs reflected a lower cost mix of programming in primetime due to a shift in hours from original scripted programming to reality programming and the benefit of cost saving initiatives at news and daytime. Higher advertising revenues at the ABC Television Network reflected higher rates, partially offset by lower ratings, while decreased advertising revenue at the owned television stations was due to lower political advertising.
Parks and Resorts:
Parks and resorts revenues for the quarter increased 12 percent to $3.2 billion and segment operating income increased 9 percent to $519 million. Results for the quarter were driven by increases at domestic parks and resorts, Disney Cruise Line, and Hong Kong Disneyland Resort, partially offset by decreases at Disneyland Paris and Tokyo Disney Resort. The decrease at Tokyo Disney Resort was driven by the impact of the March 2011 earthquake in Japan.
Higher operating income at domestic parks and resorts was driven by higher guest spending and, to a lesser extent, attendance, partially offset by increased costs. Increased guest spending reflected higher average ticket prices, daily hotel room rates,  food, beverage, and merchandise spending. Increased costs reflected labor cost inflation, higher pension and healthcare costs, marketing and sales for new guest offerings, and expansion costs for Disney California Adventure at Disneyland Resort.
Higher operating income at Disney Cruise Line was due to increased passenger cruise ship days due to a full quarter of operations for the Disney Dream, partially offset by the related incremental operating costs.
Studio Entertainment:
Studio entertainment revenues were essentially flat at $1.6 billion and segment-operating income decreased 60 percent to $49 million. Lower operating income was primarily due to a decrease in worldwide theatrical results, partially offset by lower film cost write-downs.
Lower theatrical results reflected the strong performance of Toy Story 3 and Iron Man 2 in the prior year compared to Cars 2 and Thor in the current year. The decrease in revenues due to the performance of these titles was largely offset by an increase in revenues from the strong performance of Pirates of the Caribbean: On Stranger Tides, which was released in the current quarter, compared to the ongoing performance of Alice in Wonderland, which was released in the second quarter of the prior year, and Prince of Persia, which was released in the prior-year third quarter. This revenue increase was partially offset by higher costs for Pirates of the Caribbean: On Stranger Tides including production cost amortization and marketing and distribution costs. The majority of the marketing and distribution costs for Alice in Wonderland were incurred in the second quarter of the prior year.
Consumer Products:
Consumer products revenues for the quarter increased 13 percent to $685 million and segment-operating income increased 32 percent to $155 million driven by an increase at merchandise licensing. These results reflect the strong performance of Cars merchandise and higher revenue from Marvel properties.
Interactive Media:
Interactive media revenues for the quarter increased 27 percent to $251 million and segment operating results decreased by $21 million to a loss of $86 million. Lower segment operating results were driven by the inclusion of Playdom, including the impact of acquisition accounting, partially offset by an improvement in the console game business.
The improvement reflected higher unit sales and lower marketing costs. The increase in unit sales was driven by the performance of LEGO Pirates of the Caribbean and Cars 2 in the current quarter compared to Toy Story 3 and Split Second in the prior year. These increases were partially offset by higher cost of sales reflecting fees paid to the developer of LEGO Pirates of the Caribbean.