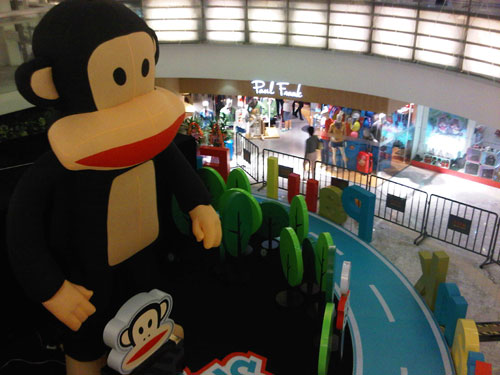 Saban Brands announced that it opened its first flagship store in Asia last Friday, September 9. Saban is working in partnership with Shanghai Romma, a subsidiary of Jun Yao Corp., the companies plan to launch at least 60 additional Paul Frank Stores throughout China over the next five years.
Saban's Kirk Bloomgarden, senior vice-president, international licensing, spoke exclusively with aNb Media a few weeks prior to the store's opening. Saban is expected to make an official announcement about expansion plans throughout China later this week.
The Paul Frank store is located in the Joy City Mall in Xidan, Beijing. The Grand Opening of the Paul Frank Store Beijing included a fashion show and musical celebration for customers with Shanghai Romma and Saban Brands executives as well as local dignitaries in attendance, according to Saban Brands.

To date, Saban Brands has established Paul Frank Stores throughout Asia, in Thailand, Taiwan, Singapore, and Malaysia. The brand is also featured in department stores in Korea. The brand had strong awareness and a strong licensing program in Asia before Saban acquired the brand, according to Bloomgarden.
Shanghai Romma is the master apparel, accessory, and retail partner for Paul Frank in China. It will open a minimum of 60 stores over the next five years in this fast-growing economy, according to Bloomgarden.
"Shanghai Romma will create a full line of apparel for tweens to young adults," he says. "There was a soft launch this summer and the full launch is taking place this fall and into the winter."
The stores will be fully dedicated to Paul Frank with licensed goods primarily from Shanghai Romma as well as additional select licensees.
For a complete list of Paul Frank's licensees in Asia, click here: