Chapek Named Disney Consumer Products President; Company Reorganizes
Disney announced that Robert Chapek has been named president of Disney Consumer Products replacing Andy Mooney who resigned last week. Chapek was most recently president of distribution for The Walt Disney Studios.
With this announcement, Chapek will oversee a newly formed companywide consumer products organization, which will consolidate retail and licensing across Disney's lines of business including Walt Disney Studios, Pixar, Marvel, Media Networks, Interactive Media, and Consumer Products.
In support of the changes, Alan Bergman, president of Walt Disney Studios, will assume Chapek's former responsibilities of theatrical and TV platform distribution of studio movies.
Since November 2009, Chapek has led The Walt Disney Studios' distribution, developing strategy, and overseeing the delivery of all motion pictures and television content, across the theatrical exhibition, home entertainment, pay TV, digital formats, and other new media. Chapek oversees the development of various new technologies including next generation high-definition Blu-ray Disc, in home 3-D solutions, and interoperability solutions such as KeyChest and digital distribution.
Prior to joining Disney, he worked in brand management in the packaged goods industry with the H.J. Heinz Company and in the advertising business with J. Walter Thompson.
TRU Announced Q2 Results
Toys "R" Us, Inc., reported at the end of last week financial results for the second quarter ended July 30, 2011. Highlights for the toy retailer include:
Adjusted EBITDA was $162 million, an increase of 16 percent over last year, and a record for the company's second quarter.
Net sales were $2.6 billion, an increase of 3 percent. This includes the benefit of foreign currency translation of $116 million along with net sales from new locations. Comparable store net sales were down 2.2 percent for both the domestic and international segments.
The core toy and learning toy categories continued to be strong, generating net sales growth of 15 percent and 11 percent, respectively over last year. The entertainment category (which includes video game hardware and software) was down 13 percent, reflecting overall softness in the video game industry. Excluding the entertainment category, net sales increased 5 percent. Internet sales continued to be strong.
Gross margin dollars were $1,025 million, an increase of 7 percent, including foreign currency benefit of $48 million. Gross margin, as a percentage of net sales, was 38.7 percent, an increase of 1.3 percentage points.
Selling, general, and administrative (SG&A) expenses were $885 million, compared to $855 million in the prior year. Excluding the impact from foreign currency translation, which increased expenses by $41 million, SG&A expenses declined $11 million. The prior-year period was impacted by a one-time lease accounting charge of $16 million in the domestic segment, which contributed to the year-over-year change.
Operating earnings were $48 million, an increase of 109 percent over last year.
Interest expense declined $8 million.
Net loss before income taxes improved by $34 million to a loss of $62 million, compared to $96 million in the prior year due to improved operating performance and lower interest expense. Net loss after income taxes declined by $20 million to $34 million, reflecting the effect of less favorable taxes due to significant one-time tax benefits in the prior year.
In the domestic segment, operating earnings grew by $15 million, from $57 million to $72 million. Operating earnings in the international segment grew by $12 million, from $39 million to $51 million.
"We are pleased with our operating business performance in delivering solid results this quarter," said Jerry Storch, chairman and CEO, Toys "R" Us, Inc., in a statement. "In significantly improving our operating earnings and reporting our best-ever second quarter adjusted EBITDA, we continue to demonstrate that we are focused on maximizing the benefits of our investments, and executing on our key strategic initiatives to improve the customer experience."
He added, "In the context of this uncertain economic environment, we believe our team has taken the right steps to position the company well for the remainder of the year, which includes our peak selling season. We are excited by the differentiated merchandise assortment we will offer shoppers in the months ahead and the plans we have in place to provide value, knowledgeable service, and added convenience to consumers."
Turner Europe Acquires LazyTown
Turner Broadcasting System (TBS) Europe announced at the end of last week that it acquired Latibaer, the Icelandic entity that owns and operates the LazyTown brand.
The announcement comes with an immediate commitment to produce a new series of the Icelandic kids TV series known and aired in more than 100 countries in more than a dozen languages. Under the terms of the deal, LazyTown's creator and star Magnus Scheving remains CEO of Latibaer and retains his management team, and the series production stays in Iceland. The announcement follows Turner's consolidated preschool expansion across Europe, Middle East, and Africa, with the roll out of its preschool channel Cartoonito across the region earlier this month.
The acquisition is immensely exciting both strategically and creatively," said Jeff Kupsky, president TBS Europe, in a statement. "With the great fit between our existing assets in the preschool genre, and the retention of the unique talent that is Magnus Scheving, we're ready to expand the LazyTown brand and will immediately be starting production on a new series. This will be supported by Turner's successful 360 franchise management approach which will include consumer products and digital extensions."
For Turner, which also operates the TNT and CNN brands as part of a growing and diverse channel portfolio, the move is the fourth strategic investment within the last year in the EMEA region. It follows on from the recent acquisition of MMG and investments in TeePee Games and Starlounge, as part of its commitment to taking entrepreneurial businesses to the next level of development, with growth plans beyond Turner's existing footprint over time.
Mind Candy Enters the Music Business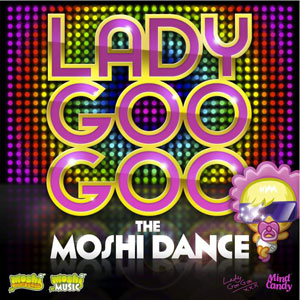 Mind Candy, creators of Moshi Monsters, announced that it is launching its own music label to back its characters' musical exploits. The label is a result of the success of Lady Goo Goo, heroine of the Moshi Monsters.
Lady Goo Goo's debut single, "The Moshi Dance" will be available for download on iTunes on September 18. The official single is being launched on the heels of Lady Goo Goo's success on YouTube, where the "The Moshi Dance" video is getting one million views per month, according to Mind Candy.
In addition, the label is working with a lot of other tongue-in-cheek acts such as Dustbin Beaver, 49 Pence, Broccoli Spears, Hairosniff, and Avril Le Scream from whom future releases are expected. There is also a Moshi Music album planned for release later this year.
Lady Goo Goo is an animated sensation and heroine of the Moshi Monsters. The site now has more than 50 million registered users worldwide, according to Mind Candy.
For more information, visit moshimusic.com/ladygoogoo or her Facebook page facebook.com/LadyGooGooOfficial.