LEGO Introduces Life of George; Game Combines App with LEGO-Brick Play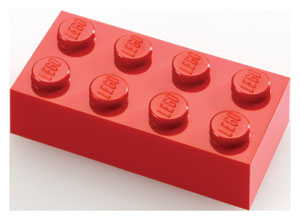 The LEGO Group announced this morning that LEGO Life of George, its first product to combine digital and physical play for a hands-on LEGO gaming experience will be available October 1. Featuring patent-pending brick recognition software, powered by EyeCue, the game challenges players to build models, and place them on a play mat that acts as a "green screen" to capture the image and receive a score based on accuracy and speed. Players can purchase the LEGO Life of George set for $29.99 from LEGO Stores and shop.lego.com and download the free Apple iOS compatible gaming application.
LEGO Life of George is a 12-level game that can be played in novice or expert mode. Each level showcases an adventure from George, around whom the game revolves, and is comprised of models of varying difficulty based on the number of bricks needed and the building techniques required to replicate them. Builders are challenged to physically recreate the virtual models from George's photo album using the LEGO bricks included with the game; once they have successfully completed all 10 models the next level will be unlocked.
In addition to Game Mode, which can be played alone or against one competitor in a pass-and-play format, a Creation Mode called "My Life" enables users to design and capture their own models in the app's virtual scrapbook.
Techno Source and Character Options Expand Partnership
Techno Source, a division of LF Products, and UK-based Character Options announced a partnership whereby Techno Source will distribute selected lines of Character Options' best-selling products in the U.S. market. The partnership deepens the companies' existing nearly decade-long relationship, under which Character Options has distributed many of Techno Source's products in the UK, including its electronic Rubik's games.
Techno Source will bring to market a number of Character Options' original and licensed toys for preschoolers to young adults under its own Techno Source and Toy Island brands. The first product to launch under this partnership will be a Scooby-Doo toy line, as part of a licensing agreement with Warner Bros. Consumer Products, through which Character Options holds the master toy license for Scooby-Doo in the UK and U.S. The Scooby-Doo products, which include figures, play sets, vehicles, plush, and goo, will be available at mass and specialty retailers beginning spring 2012.
TRU Relaunches Imaginarium

Toys "R" Us announced a redesign for Imaginarium that will be translated throughout all its offerings. The new logo gives a fresh look to the specialty learning brand and encourages consumers to "Just Imagine," while the introduction of 50 new products promote childhood development by stimulating visual, auditory, and manual senses. The redesign launches this fall in learning and arts and crafts shops throughout all Toys "R" Us stores nationwide, and online.
The 2011 additions to the Imaginarium line bring the total assortment to more than 100 unique products that span five classic categories—Discovery, Pretend, Harmony, Express, and Creativity.
Little Airplane Productions to Introduce Toot Town at MIP Jr.
Little Airplane Productions announced details of its latest project Toot Town, a 52 x 11' live action series with no dialogue, which will be pitched to broadcasters at MIP Jr. in October.
Created by 10-time Emmy Award winner Josh Selig, Toot Town is a musical world where people and vehicles are one. The characters in Toot Town express themselves entirely through music, movement, and sounds. There is no language, narration, or text on screen in this series.
Little Airplane Productions says that all choreography and dance on the series will be overseen by internationally acclaimed modern dance company, Pilobolus. The music for the series will be produced by the Emmy-award winning musical team at Little Airplane Productions.
The curriculum for the series was written by Dr. Laura G. Brown (Wonder Pets, 3rd & Bird) and it focuses on music, movement, and dance as well as problem solving and coping skills.
Poof-Slinky Acquires Scientific Explorer, Fuzzoodles
Poof-Slinky, Inc., announced earlier this month that it has acquired the Scientific Explorer and Fuzzoodles product lines, and other related assets, from Elmer's Products, Inc. Both product lines, formerly assets of Elmer's Giddy Up division, have extensive North American and international distribution.
The Scientific Explorer line consists of a wide range of multi-faceted kits that introduce hands-on science in a fun, easy format. Fuzzoodles, an activity line made up of fluffy, colorful noodles that bend and twist, were introduced in 2010 and promoted through television, print, and social media outlets.
Cepia Premieres Quest for Zhu Movie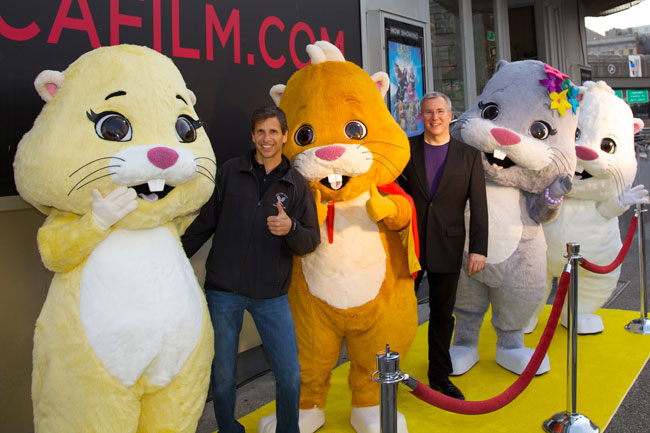 Cepia (with a little help from TimetoPlayMag.com) screened its direct-to-DVD film Quest for Zhu at New York's Tribeca Cinemas on Monday afternoon. The ZhuZhu Pets were outside the theater for kids—and even some adults—to snap some pictures. Jim Silver and Chris Bryne (shown here) welcomed kids and bloggers to the movie.