Sony Signs Licensees
Sony Pictures Consumer Products announced a host of new licensees for its properties. Ripple Junction has been signed for men's, women's, and juniors' T-shirts and sweatshirts and Halloween costumes for Fifth Element, Stand by Me, and Stepbrothers. Items are expected to be available in early 2012 across all channels of distribution.
Changes has been signed for men's and juniors' T-shirts, wallets, key chains, belt buckles, bandanas, and dog tags for Easy Rider. Items are expected to be in all channels of distribution in the U.S. and Canada in the spring. American Classics has been signed for men's, women's, and kids T-shirts for Joe Dirt, which are expected to be sold across all channels of distribution in the U.S. and UK in early 2012.
Schoolies Explores Licensing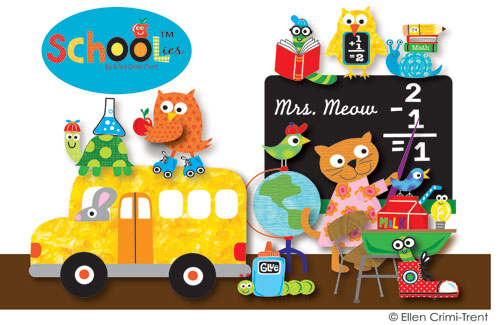 New preschool brand Schoolies by Ellen Crimi-Trent, expands its presence with a comprehensive line of books to be published worldwide by Priddy Books, a division of Macmillan Children's Publishing Group. Spencer the Owl and his friends, initially launched through a successful mobile app last year, will come to life with a broad range of books, including activity books, 8×8 readers, Let's Go learning books, flash cards, e-books, and more. The initial line is planned to include four Schoolies book titles plus flash cards, set to launch July 2013 in time for back-to-school.
Schoolies is exploring brand expansion into toys, interactive games, school supplies, apparel, bags, accessories, and more. For licensing inquiries, contact TK Brand Group at info@tkbrandgroup.com.
Life Is Country Licensed Line Debuts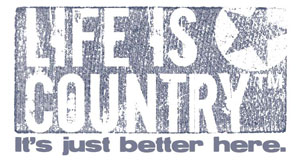 Two Town Studios, a full service art licensing and brand development agency, and Soft As A Grape announce the January 2012, introduction of a new line of apparel products based on the Life Is Country collection.
The products will include men's and women's T-shirts, golf shirts, sweats, hoodies, children's apparel, hats, totes, and more. In addition, licenses have also been granted to Thirstystone Resources for a full line of coasters, carsters, and trivets; LazArt for metal home and wall décor; and TF Publishing for a 2013 wall calendar. For information about licensing The Life Is Country line, contact Jim Marcotte at Two Town Studios at jim@twotownstudios.com.
Act III Licensing for Themed Slots
Act III Licensing announced that it has brokered a deal with WMS Gaming, Inc., for The Princess Bride-themed slot. This adventure mirrors the movie as players are lead through the Fire Swamp, up the Cliffs of Insanity and emerging in the Pit of Despair and features a wide variety of movie clips incorporated into game play. As the latest edition to the I•Play family, The Princess Bride slot offers a simple interface designed to enhance bonus rounds operated through player selection to more fully engage players with their gaming experience.