Blue Box Acquires Infantino
Blue Box Holdings Ltd. has acquired Infantino, which was previously owned by the Step2 Holding Company.
Infantino is a leading infant products brand with a 20-plus year brand heritage, making it a recognized and trusted brand in the category. Infantino's product categories include developmental toys, activity gyms, playmats, infant carriers, travel accessories, and feeding products. Infantino's products are currently sold at leading retailers such as Babies "R" Us, Target, Walmart, Amazon.com, BuyBuy Baby among others.
The acquisition will allow Blue Box to continue building on its position as a vertically integrated infant, toddler, and toy products company. Blue Box's current portfolio of international brands includes B kids, bbi, and Elite Force. Blue Box plans to supplement Infantino's existing infrastructure with its own product development, sourcing, and international distribution capabilities.
Quam Capital Limited served as financial advisor to Blue Box and Manatt, Phelps & Phillips, LLP acted as its legal counsel. Wunderlich Securities, Inc. and ROTH Capital Partners, LLC provided financial advice and Morgan, Lewis & Bockius LLP acted as legal counsel to Infantino.
Paul Frank Launches Holiday Pop-Up Shop in NYC
Paul Frank launched its first pop-up shop in New York City, open now through January 30, 2015. Located at the Paramount in Times Square, the Paul Frank store is a one-stop shop for all-new Paul Frank favorites, including apparel, accessories and New York City-themed gifts.
The Paul Frank pop-up will offer guests an immersive brand experience with weekly interactive DIY beauty and holiday events, such as make-your-own tote bags to nail art to karaoke nights and coffee tastings. A full calendar of dates, times, and details for each of these events can be found at www.paulfrank.com/newyork.
Visitors can also participate in two digital activations featuring Julius the monkey. Using Blippar's image-recognition app, shoppers can enter the in-store photo booth and be transported into an interactive experience in the back of a taxi with Julius at the wheel. Smartphone users can also interact with Julius to view and purchase merchandise through an animated vending machine directly from their mobile devices.
The shop will also feature an on-site PJ Donation Station benefiting Covenant House New York, the nation's largest privately funded agency serving homeless, runaway and at-risk youth. When shoppers purchase one pair of pajamas to donate to Covenant House, they will receive a discount to purchase their own pair at 50 percent off. The donation period will begin the week of Thanksgiving and continue through the end of 2014.
For fans located outside of New York City, select items from the Paul Frank store are now available for purchase online at Shop.PaulFrank.com.
KISS to Rock Macy's Thanksgiving Day Parade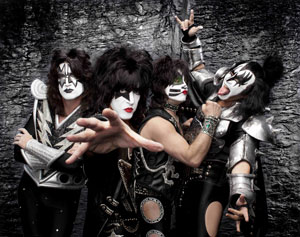 Epic Rights secured the participation of KISS in this year's 88th Annual Macy's Thanksgiving Day Parade, marking the rock group's first appearance in the historical event. The special performance by KISS will be led by more than 600 cheerleaders from around the country paying tribute to the band with a rocking KISS medley.
mun2 to Rebrand, Relaunch as NBC Universo
NBCUniversal will rebrand its Spanish-language cable network mun2 as NBC Universo, taking effect on Super Bowl Sunday XLIX (February 1, 2015).
The network (and Telemundo's sister company) is scheduled to air the Super Bowl in Spanish while the NBC broadcast network airs the game in English.
The move aims to further align NBCU's Spanish-language properties with its English-language properties. As part of the network's rebranding, NBC Universo will gain a new logo that incorporates NBCU's iconic peacock.
Skylanders Head to Macy's Thanksgiving Day Parade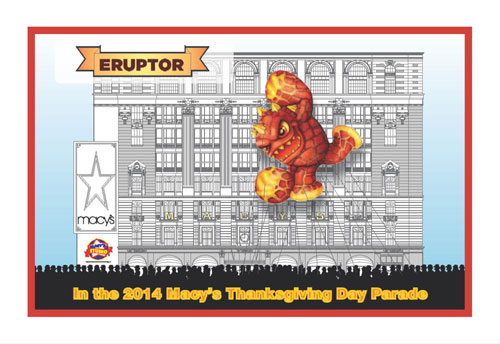 Skylanders will appear in the Macy's Thanksgiving Day Parade for the first time. Fan-favorite Skylanders character Eruptor will join the collection of balloons in the parade. To re-create Eruptor's smoldering physique, artists used more than 40 gallons of florescent paint and five barrels of glitter. The live broadcast of the Macy's Thanksgiving Day Parade will begin at 9 a.m. across all time zones on NBC.