Rosetta Stone Launches New Literacy Program for Kids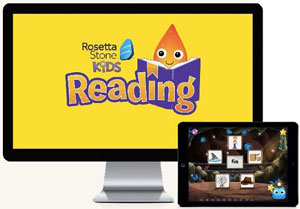 Rosetta Stone introduced a comprehensive digital literacy product designed to help young children learn to read. Created in partnership with the literacy experts at Lexia Learning (a reading technology company Rosetta Stone acquired in 2013), Rosetta Stone Kids Reading is designed to help kids ages 3–7 get a jumpstart on their education by developing core literacy skills at home. Like Rosetta Stone's language-learning solutions, the product features adaptive technology that responds to the individual learner's various strengths and weaknesses, providing immediate, targeted instruction when they struggle with new skills.
Rosetta Stone Kids Reading's research-based approach to instruction covers five critical reading skills: phonological awareness, phonics, fluency, vocabulary, and comprehension. The 10-level, curriculum-based program includes 600 units of learning material and 50 activities and games. The program is also equipped with a parent's corner for monitoring the progress of up to four learners through every stage of development.
Rosetta Stone Kids Reading expands on the world of the Lingos, first introduced in Rosetta Stone's mobile app Lingo Letter Sounds, to help kids learn key reading skills. The Lingos, which are colorful, animated characters who love to read books and tell stories, lead children on a series of skill-building adventures, including sounding out words, matching rhyming pairs, and boosting reading comprehension.
Available online and for iOS and Android tablets, the first lesson of each level of Rosetta Stone Kids Reading is free to access. Customers have the option to purchase digital subscriptions at $19.99/month or $99.99/year, each providing full access to content in 10 distinct lesson levels.
Babies 'R' Us to Host Baby's First Christmas Events
Babies "R" Us (BRU) is helping parents celebrate baby's first holiday season with a series of Baby's First Christmas in-store events. On select Saturdays in November, from 10–11 a.m., BRU stores nationwide will offer activities such as story time, photo opportunities, and make-and-take ornament crafts. Attendees will receive the all-new BRU Baby's First Christmas Gift Guide, which features a curated assortment of items sorted by baby's age and developmental stage. The events will also include giveaways and raffle prizes from top baby product manufacturers.
Three events will be held based on when baby was born:
• November 8 for babies born in December 2013; January, February, and March 2014
• November 15 for babies born in April, May, June, and July 2014
• November 22 for babies born in August, September, October, and November 2014
BRU will also host a Baby's First Christmas Twitter Party. Those who follow @BabiesRUs on Twitter can join the conversation on Tuesday, November 11 at 9 p.m. EST, during a chat led by @CoolMomPicks, using the #FirstHoliday. Participants can ask questions, receive expert advice, and share their own insights and tips for the holidays as part of the online celebrations.
UK's The Beano, ASOS Team for Menswear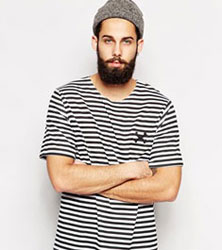 DC Thomson Consumer Products announced the first-ever The Beano menswear line launches exclusively on fashion online store ASOS this month.
Developed and manufactured by British design firm N16 Vintage, under the brand name 'Reclaimed Vintage,' which specializes in working with vintage garments, the line celebrates the best of British and taps into the trends of punk heritage, 80s rebellion, and boyish nostalgia while uniting with The Beano's rebellious and menacing spirit.
Made for young men, the line includes T-shirts, shirts, and outerwear, which are either vintage inspired or original reclaimed garments that feature iconic imagery and details drawn from The Beano archives. The range includes a selection of 16 pieces, which includes a Russian military Breton tee with original labeling, a vintage denim shirt with embroidery detailed pocket, a long line signature black-and-red checked shirt, and a bomber jacket with all-over comic strip print.
Studio 100 Film, Shout! Factory Bring Maya the Bee to America
Shout! Factory secured exclusive U.S. and Canadian distribution rights from Studio 100 Film to Maya the Bee—Movie, including theatrical, home entertainment, digital distribution, and broadcast for cross-platform releases. Shout! Factory has planned a strategic rollout of the film in select theaters, video-on-demand, subscription video-on-demand, electronic-sell-through, television, and in all packaged media through Shout! Factory Kids in 2015.
Maya the Bee—Movie is a German/Australian co-production of Studio 100 Media and Buzz Studios in association with Flying Bark Productions. Directed by Alexs Stadermann, it is produced by Patrick Elmendorff and Thorsten Wegener (Studio 100 Media) and Jim Ballantine and Barbara Stephen (Buzz Studios). Studio 100 Film is a 100 percent subsidiary of the international children's production and distribution company Studio 100 Media based in Munich, Germany.