Disney Unveils Plans for New Initiative, Imagicademy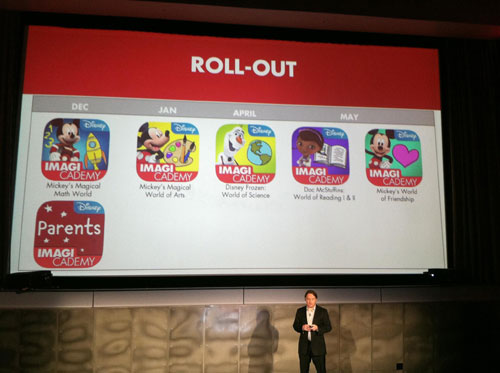 The Walt Disney Company unveiled full details behind its new learning brand, Imagicademy, this morning at an event at the Intrepid Sea, Air & Space Museum in New York City. Event speakers included Bob Chapek, president, Disney Consumer Products; Jeff Sellinger, senior vice-president of Disney Learning; and Andrew Sugerman, executive vice president of Disney Publishing Worldwide.
On December 11, Disney Publishing Worldwide will roll out the program especially designed for kids and powered by imagination, creativity and technology. The program, created along with a panel of academic advisors, will be geared toward ages 3–8 and encompass key learning subjects, including math, creative arts, science, language arts, and social skills. Disney is taking a comprehensive and integrated approach to the program in order to engage kids through a suite of connected products, from children's apps to print to toys, say Sugerman.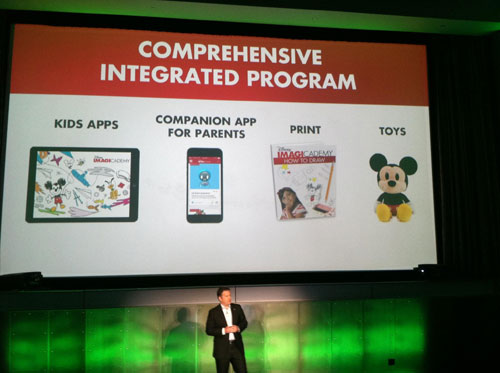 The integrated program will include 30 plus app-based experiences – five of which will be available on December 11. Apps will feature key Disney properties including, Mickey Mouse, Disney's Frozen, Doc McStuffins. The first apps to launch this month include an iPad exclusive app Mickey's Magical Math World and the Imagicademy Companion app for parents.
The companion app lets parents follow their child's progress as well as give them "digital high-fives" for their work. Each app is free to download, but games within the app will be $4.99 to unlock each, or $19.99 to unlock all five games.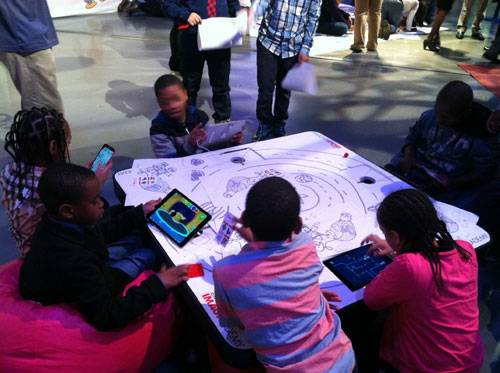 In addition, celebrity mom and co-CEO of ModernMom Brooke Burke has come on board as a guest curator, who will be tasked with helping develop the online community of Imagicademy parents.
Physical products and learning toys will launch in time for back-to-school 2015, featuring brands at the intersection of technology and play, including Smart Toy, Kid Designs, Wonder Forge, and Mercury Active.
Scholastic Offers Preview of Annual Kids & Family Reading Report
In an advance sneak preview of its fifth annual Kids & Family Reading Report, Scholastic has released new data on What Kids Want in Books. The national survey of children ages 6–17 and their parents explore attitudes and behaviors around reading books for fun. In the preview of the full report, kids share what they look for when picking out books to read for fun. According to 70 percent of kids ages 6–17, books that "make me laugh" rank highest on the list across all ages. Among the different age groups:
• Children ages 6–8 are more likely than older children to want books with characters that "look like me."
• Children ages 9–11 are more likely than younger children to want books that "have a mystery or a problem to solve."
• Children ages 12–14 are more likely than older children to want books with "characters I wish I could be like because they are smart, strong, or brave."
• Children ages 15–17 are more likely than younger children to want books that help them "forget about real life for a while."
In addition, 73 percent of children ages 6–17 agree with the statement, "I would read more if I could find more books that I like."
The Kids & Family Reading Report will be available in January 2015. The Kids & Family Reading Report is a biannual report from Scholastic and managed by YouGov. Results are from a nationally representative survey of 1,026 parents of children ages 6–17, plus one child ages 6–17 from the same household, conducted August 29, 2014 through September 10, 2014. For more details and an infographic on the report, visit www.scholastic.com/readingreport.
Retailers Report Increased Sales for ASTRA's Neighborhood Toy Store Day
The American Specialty Toy Retailing Association (ASTRA) announced that nearly two-thirds of ASTRA stores participating in Neighborhood Toy Store Day on November 8 reported an increase in their year-over-year same store sales. Twenty-five percent posted growth of 20 percent or more.
ASTRA's outreach to national media outlets, coupled with outreach ASTRA retailers made in their local markets using resources provided by ASTRA, also resulted in mentions of the event by several hundred media outlets around the country and across multiple platforms, including print, radio, broadcast, Facebook, Twitter, and blogs. Of the ASTRA retailers who reached out to the media in their markets, 82 percent reported success in using the event to secure local media and blogger coverage.