The World of Eric Carle Taps Team! Licensing for Germany
The Joester Loria Group (TJLG), global licensing agent for The World of Eric Carle, appointed Team! Licensing to build the brand in Germany, with a focus on The Very Hungry Caterpillar. The Munich-based licensing agent will further develop the brand based on Carle's best-selling children's picture books. Already, a number of key product categories have been licensed with very successful programs from Schmidt Spiele, Geda Labels, Klaus Herding GmbH, and Gerstenberg. Team! Licensing is actively seeking partners in the baby segment to create new ranges of product for fans of the Very Hungry Caterpillar that draw on the unique style and appeal of the brand. It is also set to expand the program into currently untouched categories such as food, baby accessories, and retail partnerships.
Marvel Adds New Guardians of the Galaxy Merchandise
Following Marvel's Guardians of the Galaxy's box office success, Disney Consumer Products will launch a power-packed lineup of new merchandise including toys, apparel, accessories, electronics, home goods, collectibles, and more timed to the film's DVD and Blu-Ray release on December 9.
The new Marvel's Guardians of the Galaxy product lineup will be led by an array of new toys and collectibles including KIDdesigns' Dancing Groot toy. Other key products include Funko's POP! Marvel: Dancing Groot Bobble-head and Fabrikations Guardians of the Galaxy—Rocket Raccoon collectible, Mattel's Hot Wheels Star-Lord and Rocket Raccoon Character Cars, Just Play's Rocket Raccoon Plush, and Dragon's Marvel's Guardians of the Galaxy Star-Lord Model Kit.
Marvel will also ramp up the franchise's apparel offerings with T-shirts for kids and adults from Mad Engine, C-Life, Hybrid-Jem Sportswear, and Freeze and boys' pajamas from AME. New accessories to hit retail include ThinkGeek's Marvel's Guardians of the Galaxy jewelry line, watches from MZ Berger and Accutime, and BBC Rocket Raccoon slippers. For Gamora and Nebula fans, Marvel is also responding with tees from Her Universe and other product. Rounding out the new offerings are party goods from American Greetings, home goods from Jay Franco, and drinkware from Vandor.
Shopkins to Enter New Licensing Categories
Moose Toys announced new licensees for Shopkins in the U.S. and Canada. The new deals were brokered by The Licensing Shop, Inc., and licensed product includes publishing, board games and puzzles, plush, novelty candies, backpacks, cold weather gear, bed, bath, beach, novelty toys and trading cards, back to school, stickers, novelty lighting, drinkware, and storage.
DHX Media Signs Broadcast Partners for New Inspector Gadget Series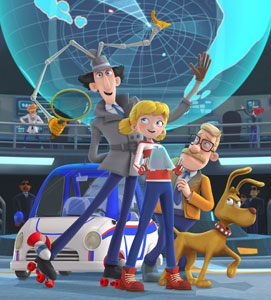 DHX Media announced numerous broadcast deals for Inspector Gadget, its brand-new CGI series, which is an update of the classic kids' cartoon.
Turner Broadcasting has taken the series for its Boomerang channels across EMEA, Latin America, and Asia Pacific.
Inspector Gadget was commissioned by TELETOON in Canada and will premiere on the network in 2015.
Genius Brands Signs New Partners
Genius Brands International (GBI) will collaborate with Downtown Bookworks to publish a new line of books based on the television and online series, Warren Buffett's Secret Millionaires Club. The first title, How to Grow Your Very First Business, will release in spring 2015, with sales and distribution handled by Simon & Schuster.
In addition, GBI has also teamed with LeapFrog Enterprises to launch the first Baby Genius and Warren Buffett's Secret Millionaires Club content to the LeapPad line of kids' learning tablets, including LeapPad3 and LeapPad Ultra XDi.
Kids can discover how Secret Millionaires Club began in the Secret Millionaires Club: New Beginnings app or go on a globetrotting adventure to learn basic business principles in the Secret Millionaires Club: Rhythm and Responsibility app.
In the Baby Genius Mozart & Friends app, sing, dance and learn along to two Baby Genius musical videos or explore numbers and the alphabet. In Baby Genius' A Trip to the San Diego Zooapp, kids can go on a musical, magical safari through the Wild Animal Park or watch the birth of their first giant panda, Xiao Liwu. Apps will be available for digital download through the LeapFrog App Center.