Elephanta Joins Goliath Group
The Goliath Group has made a strategic investment in the New Zealand-based toy distributor Elephanta.
This will combine the strength of Elephanta's established expertise, reputation, and knowledge of the local New Zealand toy market with Goliath's international resources, efficiencies, and product development.
Elephanta will continue to operate with its existing staff and premises. Andrew Lee, the current general manager for Goliath and Crown & Andrews in Australia, has been appointed to general manager for both Australia and New Zealand, while Sunil Dahya will stay on as chairman of Elephanta.
The Goliath Group previously acquired Pressman in the U.S., Crown & Andrews in Australia, and Modelco in France.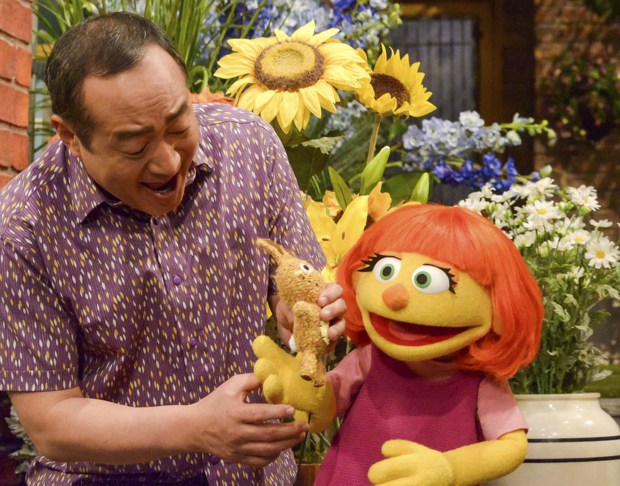 Meet Julia, Sesame Street's First Autistic Muppet
Sesame Workshop announced a new phase of its autism initiative, Sesame Street and Autism: See Amazing in All Children, welcoming Julia, a Muppet with autism, to the broadcast and signaling a continuing commitment to the autism community. Julia, introduced last year in digital form, comes to life as a Muppet in addition to a broad release of resources designed to serve autistic children and their families and increase awareness and understanding of autism.
New digital videos, books, and ebooks add to the See Amazing library, with the collection available in both English and Spanish. Sesame Street's "Meet Julia" special episode will air in a joint premiere April 10 on HBO and PBS Kids in the United States and around the world on Cartoonito UK, Australia's ABC, and Mexico's Televisa, with worldwide rollout planned within the year.
"Bringing Julia to life as a Sesame Street Muppet is the centerpiece of all of our new materials to support families of children with autism," says Sherrie Westin, EVP of global impact and philanthropy, Sesame Workshop. "The response from the autism community to See Amazing in all Children has been extraordinary, and we are committed to continuing our efforts to promote understanding and acceptance of autism, as part of our mission of helping all children grow smarter, stronger, and kinder."
Sesame Workshop has worked for more than five years in consultation with more than 250 organizations and experts within the autism community to address the increasingly prevalent condition. One in 68 American children is diagnosed with autism, and nearly every family is affected in some way. Among the many creators and contributors behind See Amazing in All Children, Stacey Gordon, who performs the role of Julia, and Christine Ferraro, the writer of the "Meet Julia" episode, both have close family relationships that helped them bring this character to life.
Meisheng Purchases $19.3 Million Stake in Jakks Pacific
Jakks Pacific has agreed to sell 3.7 million shares of the company's common stock to Hong Kong Meisheng Culture Company Ltd. (Meisheng) for a total purchase price of $19.3 million. The transaction is subject to approval by the shareholders of Meisheng's parent company (Meisheng Culture & Creative Corp., Ltd.), and regulatory filings in China by Meisheng.
"As a manufacturer of kids' consumer products and toys, as well as a producer of animated content, we appreciate the significant and broad possible new opportunities the Chinese market represents," says Stephen Berman, Jakks chairman and CEO. "We are pleased that Meisheng has made the investment decision to acquire an equity stake in Jakks. This should fortify our existing relationship as joint venture partners in two jointly owned companies – one that distributes JAKKS products in China and the other that develops new animation content owned by JAKKS and Meisheng. We expect the expanded relationship with Meisheng will put us in an advantageous position to realize greater opportunities in China.
Upon closing of Meisheng's share purchase, Xiaoqiang Zhao, executive director of Meisheng and chairman of the board of its parent company, will join Jakks Board of Directors.
Meisheng announced in February that it acquired 1.4 million shares of the company's common stock in open market transactions. In addition to the joint venture companies established by Meisheng and Jakks, Meisheng's parent company has, for many years, been a manufacturer for Jakks.
Fandango to Launch Online Merchandise Shop
Fandango announced the debut of Fandango FanShop (FandangoFanShop.com), its first-ever online merchandise store, offering a curated collection of unique and exclusive wearables, collectibles, experiences, and events tied to theatrical releases and beloved movie franchises. Launching in April, FanShop's initial offerings will feature gear from the highly anticipated movies Guardians of the Galaxy Vol. 2, Wonder Woman, Despicable Me 3, and others.
"At Fandango, we are building a digital ecosystem dedicated to super-serving movie fans with all of their needs throughout a film's life cycle," says Fandango President Paul Yanover. "With Fandango FanShop, we will immerse and activate fans at home and on mobile devices with new merchandise, experiences and related content they'll want to share, beginning at the first trailer drop, building excitement for theatrical, and then extending through the home entertainment release."
Leveraging its ongoing movie fan research, Fandango seeks to differentiate FanShop from other merchandise sites and apps by curating select products and experiences that are handpicked by studios, filmmakers, and fans. New merchandise and experiences will be introduced throughout a movie's life cycle, so there is always something new for fans to discover. In the coming months, FanShop will also feature dedicated hubs for beloved franchises.
Fandango plans to promote FanShop across the company's digital network, and connect consumers directly to the store to peruse and purchase merchandise. In the near future, fans will be able to purchase movie tickets and merchandise in the same transaction on Fandango, and buy merchandise with Digital HD movies on FandangoNOW, the company's video on-demand service. Fandango also plans to offer movie ticket and merchandise bundles as special promotions, gifts with purchase, and other events. Some of the movie ticket bundles will also include promo codes for merchandise on FanShop.