Bay Tek Games Acquires DBG
Bay Tek Games (BTG) has acquired the boutique licensing and branding firm Dimensional Branding Group (DBG). The acquisition is a step in Bay Tek's broad-based strategic evolution from designer and manufacturer of amusement games to a multi-platform entertainment company. DBG, which is positioned in entertainment, interactive and digital brand channels, has extensive experience and expertise within the toy, publishing, corporate, and game environments. Both companies are expected to benefit through economies of scale and from the combined marketing, creative services and infrastructure resources and efficiencies resulting from the agreement.
DBG was formed in 2000 by Larry Seidman. Together with partner, John Leonhardt, DBG has achieved growth in domestic and international licensing markets. The agency focuses on licensing out, and consulting services for a high profile and developing brands by helping and expanding each client into entertainment placement and new brand extension opportunities.
Some of DBG's past and current clients include Whac-A-Mole, Skee-Ball, Jenga, Sony PlayStation, Temple Run, Angry Birds, Miniclip (8 Ball Pool, Agar.io, and Bowmasters), Chronicle Books, King Kong, Talking Tom, Big Wheel, Jam City (Cookie Jam, Panda Jam), Malibu, Beautyrest, John Wayne, and Marlon Brando among others.
Dimensional Branding Group will become a division of Bay Tek Games, which is part of a collective group of companies referred to as the Village, eight synergistic companies that have common ownership and represent three different fields of expertise: innovation, manufacturing, and community involvement. DBG will continue to be based in the San Francisco Bay Area.
American Girl Unveils 2018 Girl of the Year Luciana Vega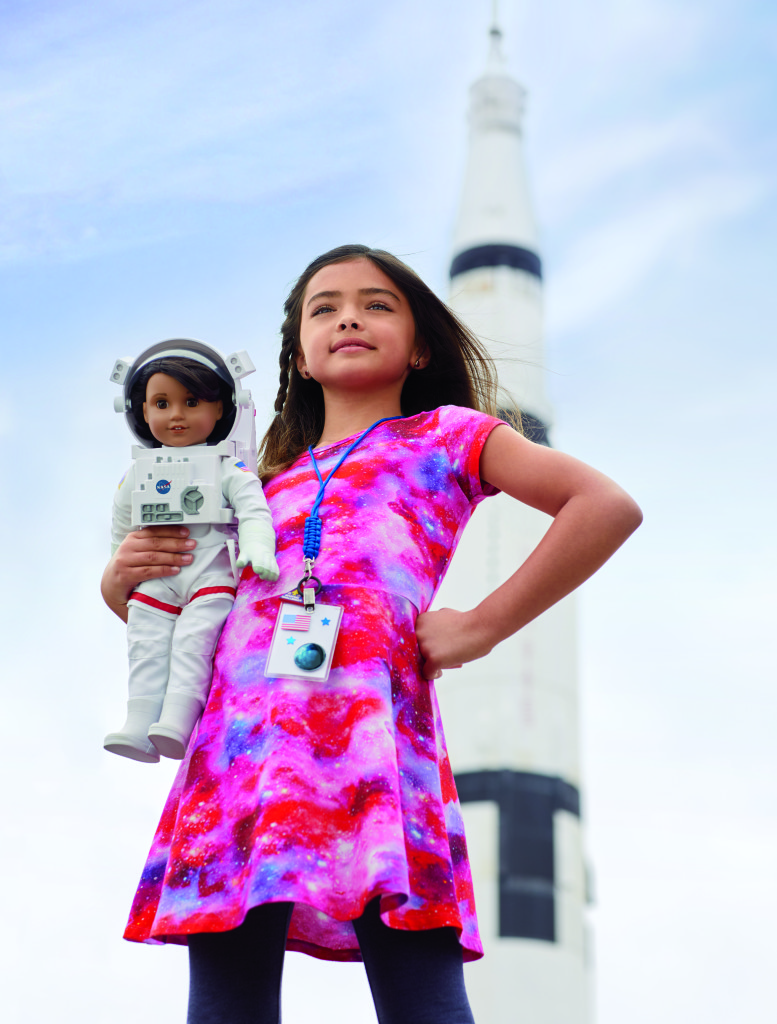 Luciana Vega is the American Girl's 2018 Girl of the Year and the newest addition to American Girl's long line of characters. Luciana is a creative, confident 11-year-old girl and aspiring astronaut who dreams of being the first person to go to Mars. But along the way, she learns that being a good leader and team player on Earth is the first step to achieving her goal.
The 18-inch Luciana doll features brown eyes, medium skin, and dark brown hair with a purple streak. Kids can also purchase additional STEM-inspired outfits, accessories, and products for the doll that reflect Luciana's Space Camp experience, including Luciana's Flight Suit and Space Suit, her Maker Station, and a Mars Habitat loaded with science and research essentials.
For the first time, American Girl has also introduced a companion shopping app to further engage with Luciana's storyline. Using the American Girl app, kids can scan Luciana's catalogue pages and products to unlock exclusive content, including augmented reality, trailers and videos, space simulations, quizzes and challenges, and much more.
Luciana's story is also chronicled in a chapter book series written by Erin Teagan and published by Scholastic. The first two books, available now, introduce readers to Luciana, a young girl of Chilean descent with a love for science and space exploration, after she wins a scholarship to Space Camp in Huntsville, Alabama.
American Girl worked with an advisory board to help ensure the accuracy of Luciana's story and product line. The board included Dr. Ellen Stofan, former NASA chief scientist; Dr. Deborah Barnhart, CEO and executive director of the U.S. Space & Rocket Center; Dr. Megan McArthur Behnken, NASA astronaut; and Maureen O'Brien, manager of strategic alliances at NASA. American Girl editors and product designers also visited Space Camp and NASA's Johnson Space Center in Houston to gain insight into a day in the life of a Space Camp trainee—from putting on space suits and learning about the "right" way to eat in space to conducting a mission in micro-gravity.
American Girl's partnership with NASA was developed through the Space Act Agreement to inform and inspire the wider public about space and STEM careers. American Girl—in partnerships with Scholastic, NASA, and Space Camp—has also funded Blast Off to Discovery, an educational program to help third though fifth grade students explore space through Luciana-inspired content, including STEM-based lesson plans and classroom activities, videos, a game, and more.
The program will be available on www.scholastic.com starting January 31, 2018. In addition, American Girl and Scholastic will host a Mission to Mars Sweepstakes in which families can go on a series of weekly missions for a chance to win prizes, including a grand prize trip to Space Camp.
Other Luciana-related initiatives being held throughout the year include nationwide retail events; online play; the release of the American Girl World App, which lets fans step into the worlds of Luciana and their other American Girl characters in new ways (launching later this month); anda Luciana-themed space camp for summer 2018. To learn more, visit americangirl.com/meetluciana.