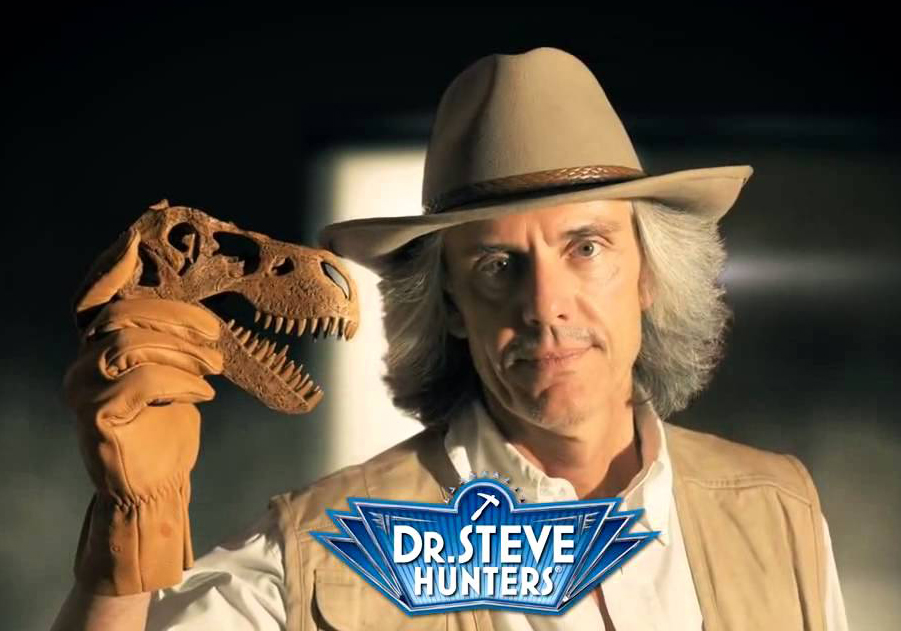 Basic Fun! Acquires Geoworld
Basic Fun! has entered into an agreement to acquire Geoworld and its brand Dr. Steve Hunters, which will become part of the company's Uncle Milton STEM business. Geoworld is an authentic line of excavation and discovery toys, including paleontology and archeology sets designed and developed by owner and geo-paleontologist Dr. Stefano Piccini, who continued to work as a paleontologist while running Geoworld.
"We absolutely love the Geoworld line and its Dr. Steve Hunters brand because it's the most authentic and highest quality line of its kind on the market," says Jay Foreman, CEO of Basic Fun! "It also perfectly complements our line of licensed science and paleontology properties such as Jurassic World and Star Wars, where you excavate and collect bones, relics, creatures and objects depicted in the films."
"I've been looking for the right partner to help me build a stronger global brand and expand our distribution more broadly in the U.S. market," says Geoworld's Piccini. "This opportunity will also free me up to pursue my scientific activities and develop entertainment content around the Dr. Steve Hunters character. As Toys "R" Us was one of Geoworld's largest global customers over the last 10 years, their collapse certainly accelerated my plans. The environment for smaller toy companies like mine has been getting tougher and tougher for many years, and I was looking for the right solution, which I found at Basic Fun!"
While Basic Fun! has taken over day-to-day management of the company, Piccini will remain on as an active member of the team to not only assist in the transition, but also to help expand Basic Fun!'s Uncle Milton STEM business. All the company's products can be found at traditional and online retailers in the U.S. and around the world.
Endeavor Acquires NeuLion
Endeavor (formerly WME|IMG) will acquire NeuLion, a digital broadcaster and distributor of live and on-demand content, in an all-cash deal valued at approximately $250 million.
Under the terms of the agreement, Endeavor will acquire each share of outstanding common stock of NeuLion for $0.84. Upon completion of the transaction, NeuLion will become a privately held subsidiary of Endeavor.
"Through our content portfolio, client base, and broader network of rights holders we've encountered many different platforms for distributing and monetizing content," says Ariel Emanuel, CEO, Endeavor. "NeuLion provides an ideal combination of technology and client services, and we're excited for the value this brings to our existing partners and the foundation it provides for our future digital growth."
The transaction, unanimously approved by NeuLion's Board of Directors and by the written consent of holders of a majority of NeuLion's outstanding common stock, is subject to regulatory approvals and other closing conditions, and is expected to close in the second quarter of 2018.
Paul Weiss, Rifkind, Wharton & Garrison LLP serves as Endeavor's legal counsel, while The Raine Group acted as exclusive financial advisor to Endeavor. NeuLion's legal advisor is Loeb & Loeb LLP, and its financial advisor is Needham & Company.
eOne Launches Peppa Pig Consumer Products in Japan
Entertainment One (eOne) and its master licensee in Japan, Sega Toys, are gearing up for the launch of Peppa Pig product with an exclusive Peppa Pig Goes to London-themed pop-up store this spring. Running March 28–April 3 at Takashimaya (the Shinjuku department store in Tokyo), the pop-up will draw on the property's British heritage with décor and styling inspired by the Peppa Goes to London story book. The shop will feature more than 100 product SKUs available from 23 licensing partners, spanning categories including toys, publishing, novelty, homewares, home entertainment, and stationery.
To support the pop-up, Takashimaya will also host special Peppa Pig screenings March 28– April 10. Alongside select episodes, an exclusive original episode will be shown that will give families the opportunity to watch Peppa and friends enjoying cherry blossom, to coincide with Japan's traditional cherry blossom season. There will also be English language workshops for young visitors and reading sessions of Peppa Pig books in Japanese.
The opening ceremony on March 28 celebrates the start of the activity at Takashimaya and will be attended by the British Ambassador to Japan, Paul Madden CMG, along with the Japanese Peppa and George Pig voice actors.
Following this retail event, Peppa Pig merchandise will launch nationwide at Toys "R" Us stores in June.
Peppa Pig premiered in Japan last October on TV Tokyo and followed on Disney Junior in January. The series now sits in a new time slot to reach more households and Japanese Home Entertainment distributor Nippon Columbia just released the first Peppa Pig DVD, Muddy Puddles.
How The Entertainer is Revamping Its In-Shop Experience
The Entertainer, the fastest growing multichannel toy retailer in the UK, relaunched its global flagship store at Westfield London following a nearly $1 million remodel to create a more immersive in-store experience for children.
The 4,500 square-foot store, which employs 19 people, has been remodeled to feature new technologies such as animated window screens, interactive floor projections, augmented reality mirrors, and 'The Launch Pad' Tech Tables, while maintaining its much-loved counter steps at checkout.
The news follows The Entertainer's recently reported 37 percent year-over-year profit increase. The Entertainer posted an increase in total sales of 6.8 percent in the 12-month period of February 1, 2017 to January 27, 2018, compared to the same period last year, with like-for-like store sales broadly flat. TheToyShop.com, The Entertainer's online platform, reported a 30 percent sales increase in the same period YOY and five-fold growth in the last five years.
Westfield London, The Entertainer's global flagship store, is now open to the public.
Mainframe Studios Unveils New Kids' Series
Mainframe Studios, WOW! Unlimited Media's Vancouver-based animated and live-action television production studio is set to debut two new projects.
Its hybrid live-action/CG-animated series ReBoot: The Guardian Code will premiere as a Netflix Original Series worldwide on March 30, followed by Canadian distribution on YTV in June. Created by Studio Head Michael Hefferon, the action comedy follows the adventures of four teenagers who discover on the first day of high school that they have been selected to become the next generation Guardians of Cyberspace with the help of Vera, an artificially intelligent bio-constructed teenage girl. ReBoot: The Guardian Code is the first television series to create animation using the Unreal Game Engine with 4K resolution. ReBoot: The Guardian Code is distributed by Nelvana and produced by Mainframe Studios.
Mainframe is currently in development on The Anybodies, a 6–11 animated comedy/adventure series about a 12-year-old girl who discovers her powers as a shapeshifter when reunited with her real family after being switched at birth. The series is based on the book trilogy by author Julianna Baggott (aka N.E. Bode), as adapted by writers David H. Steinberg & Keetgi Kogan Steinberg (Yo Kai Watch), who will executive produce. Emmy award-winning director Mark Risley is on board to direct the series.
Mainframe Studios will also continue its longstanding relationship with Mattel and Barbie. It is in production on a 26-episode TV series entitled Barbie Dreamhouse Adventures. The studio has produced 30-plus animated Barbie movies with Mattel over the past 17 years.
12 Finalists Revealed for The World Video Game Hall of Fame
The Strong's World Video Game Hall of Fame announced the 12 finalists for induction: Asteroids, Call of Duty, Dance Dance Revolution, Final Fantasy VII, Half-Life, John Madden Football, King's Quest, Metroid, Minecraft, Ms. Pac-Man, Spacewar!, and Tomb Raider.
The World Video Game Hall of Fame received thousands of nominations from more than 100 countries for consideration for the 2018 class. New this year, fans can vote for their favorite finalists now through April 4 as part of a "Player's Choice" ballot at worldvideogamehalloffame.org. The three games that receive the most public votes will form one ballot and will join the 27 other ballots submitted by members of the International Selection Advisory Committee, which is made up of journalists and scholars familiar with the history of video games and their role in society. The final inductees will be announced during a special ceremony at The Strong museum on Thursday, May 3, at 10:30 a.m.
The World Video Game Hall of Fame recognizes electronic games that meet the following criteria:
Icon-status, the game is widely recognized and remembered
Longevity, the game is more than a passing fad and has enjoyed popularity over time
Geographical reach, the game meets the above criteria across international boundaries
Influence, the game has exerted significant influence on the design and development of other games, on other forms of entertainment, or on popular culture and society in general.
A game may be inducted on the basis of the last criterion without necessarily having met all of the first three.
Inductees to the first three classes of the World Video Game Hall of Fame—Donkey Kong, DOOM, Grand Theft Auto III, Halo: Combat Evolved, The Legend of Zelda, The Oregon Trail, Pac-Man, Pokemon Red and Green, Pong, The Sims, Sonic the Hedgehog, Space Invaders, Street Fighter II, Super Mario Bros., Tetris, and World of Warcraft—are displayed on permanent view at The Strong in Rochester, New York.
Toy Association's Genius of Play Rolls Out PSA Campaign
The Genius of Play announced the release of its "Dear Parents" public service announcement (PSA) campaign. Each PSA takes a unique look at play from a child's perspective and explains to parents how a balanced mix of play offers kids a variety of benefits.
"In order for kids to receive the maximum benefits from play time, they should engage in different types of play that help develop different skills. For example, playing with blocks and puzzles has been found to build spatial awareness, while pretend play with stuffed animals, dolls and action figures has been linked to improved vocabulary," said Nancy Schulman, Head of the Early Learning Center at Avenues: The World School and an expert for The Genius of Play. "The Dear Parents campaign and additional resources available on TheGeniusofPlay.org will help inspire parents and provide ideas they can use to encourage their child's healthy growth through play."
The campaign consists of four PSAs:
"Dear Parents: Crazy" (:60) features a boy reading a letter to parents that highlights the different skills that play provides.
"Dear Parents: Pop Quiz" (:30) a girl pretends to be a teacher, quizzing parents about the best kind of play for kids.
"Dear Parents: Time Out" (:30) portrays a boy dressed as a super hero taking a time out to tell parents how great play is.
"Dear Parents: Rocket Science" (:30) a young scientist discusses how certain kinds of play can provide different benefits than others.