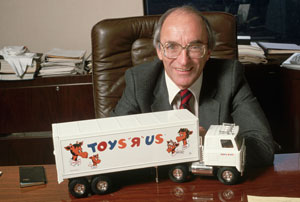 Charles P. Lazarus, founder of Toys "R" Us, has passed away at the age of 94.
The seeds for Lazarus' vision to create a super market-like store just for toys were planted back in 1948 with his children's furniture store, Children's Bargain Town. Intended to cater to the post-war baby boom, over time his focus shifted solely to toys. He restructured the business in the late 1950s and, with the supermarket format, opened the first Toys "R" Us location in 1957.
By 1978, under the Toys "R" Us name (backwards R and all), his business became a public company and his vision, a reality. In the 1980s, TRU was in its prime under Lazarus' watch, with the "Toys R Us Kid" jingle etched into every child's brain. By 1983, TRU diversified its portfolio with the addition of Kids "R" Us clothing stores opening their doors in New Jersey and New York. By the following year, the company had both a nationwide and worldwide presence with wholly-owned locations in Canada and licensed operations in Singapore.
Lazarus stepped down in 1994 but remained a figure on the board as Chairman Emeritus. That year, he handed the reigns off to Michael Goldstein, who ran the company until 1998.
But the toy mogul was known as much within the industry for his work as he was for his giving. In 1985, Lazarus brought industry members together for a benefit gala in New York to raise money to improve the health and well-being of children. By 1992, this came to be known as the Toys "R" Us Children's Fund, which now receives millions in donations that go to nonprofits for child health and safety. He was inducted into the Toy Association Hall of Fame in 1990 and received the National Retail Federation's Gold Medal Award in 1995, recognizing his leadership and his role in revolutionizing the toy and juvenile product industries
Of the news of his passing, Goldstein described Lazarus as not only his mentor but as a second father to him. Goldstein says of the conversations he shared with Lazarus that the only regrets they both had are of the employees who will lose their jobs, the suppliers who will lose their best customer, and the children who will never experience Toys "R" Us.