Moose Readies for Shopkins Lil' Secrets Launch
Moose is engaging its Shopkins fanbase to launch a new product line, Shopkins Lil' Secrets, through an exclusive fans first promotion.
Fans were invited to register their details to receive a top-secret delivery and more than 6,000 children entered the competition.
One thousand fans around the world were randomly selected to be the first to receive a Lil' Secrets playset. The chosen fans were encouraged to unbox it on May 23 and share on social with #SPKFansFirst.
Since then, more than 600 unique pieces of content have been uploaded to social media showcasing the excitement of the recipients.
Shopkins Lil' Secrets will be available in all major retailers starting August 1, and it is currentavailable for pre-sale on Amazon here.
Nintendo Switch Summer of Fun Events Hit Walmart Locations Nationwide
Nintendo is teaming up with GameTruck and Walmart to create a "Summer of Fun" in parking lots at 100 Walmart locations across the country. Launching on June 23 and running until August 19, the Nintendo Switch Summer of Fun will feature demos for Nintendo Switch games such as Super Mario Odyssey, Mario Tennis Aces, Donkey Kong Country: Tropical Freeze, and Mario Kart 8 Deluxe. Visitors will also be able to take part in family photo sessions and meet costumed characters such as Mario at select locations.
Attendees will also have the opportunity to enroll in the My Nintendo Summer of Fun sweepstakes for a chance to win round-trip tickets for a family of four to visit any location to which Southwest Airlines flies.
For a full list of Walmart locations participating in this summer event, visit https://events.nintendo.com/#tour-finder.
Cirque du Soleil is Making It Easier for Families to Join the Circus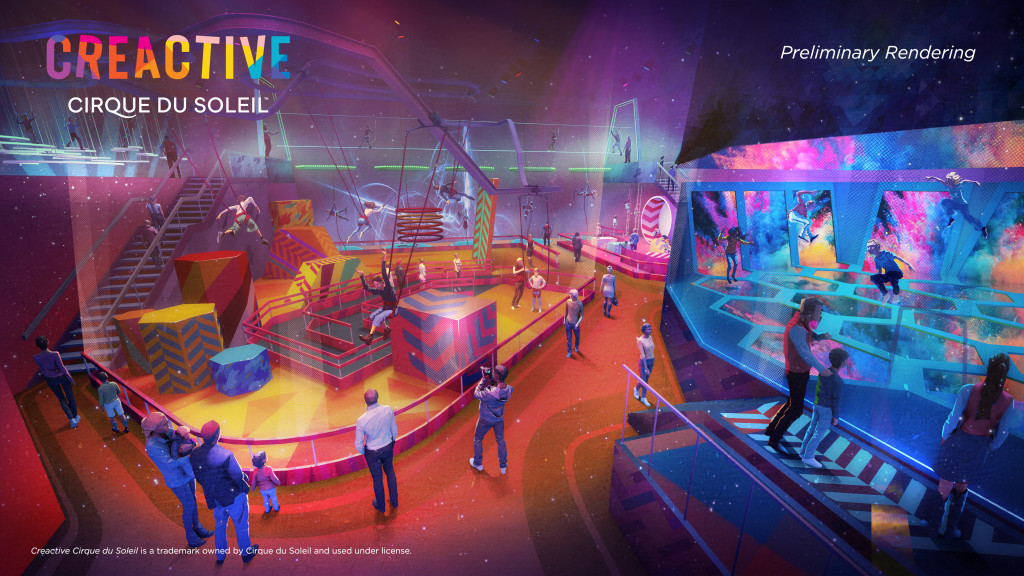 Cirque du Soleil Entertainment Group adds family entertainment centers to its portfolio of creative projects. The company has developed a concept of indoor family entertainment experiences specially designed for retail locations. The recreational centers will offer a brand new immersive and participative family experience, where people can stretch their imagination, flex their muscles, explore newfound circus skills, and take a bow on the virtual Cirque du Soleil stage.
Building on the success of Club Med Creactive by Cirque du Soleil, currently offered at Club Med locations in Punta Cana, Dominican Republic and Opio, France, the new indoor centers will be installed in premium immersive spaces covering approximately 24,000 square-feet. Creative will offer a range of acrobatic, artistic, and other Cirque du Soleil-inspired recreational activities, such as bungee jumping, aerial parkour, wire and trampolines, mask design, juggling, circus track activities, dance, and more.
The company partnered with global real estate leader Ivanhoé Cambridge to launch its first Creactive indoor center in the world, set to open in September 2019 in the greater Toronto area, a collaboration which further consolidates the relationship between Cirque du Soleil and its minority shareholder, the Caisse de dépôt et placement du Québec.
Cirque du Soleil Entertainment Group is currently in discussions with Ivanhoé Cambridge for additional locations in Canada as well as with other partners for international markets.
WIT to Host 2018 Empowerment Day 101 Webinar
Women in Toys, Licensing, and Entertainment (WIT) announced that registration is now open for its 2018 WIT Empowerment Day 101 Webinar.
The interactive webinar will be hosted by WIT Empowerment Co-Chairs Deb de Sherbinin and Nancy Zwiers on Monday, June 25, 12 p.m. EST.
The webinar aims to offer potential attendees information on why to attend, how to prepare for the event, and what you can expect when you get there.
Empowerment Day is a once-a-year event where top industry experts help female entrepreneurs take their business, product or concept to the next level through one-on-one mentoring, information on important trends and insights, and provide you with invaluable education, support, and guidance. Empowerment Day 2018 will be held on October 1 in Dallas prior to Fall Toy Preview.
To find out more about this webinar and how to join, visit the Women in Toys website.
The Genius of Play Provides Educational Content to Pediatric Offices Across U.S.
The Genius of Play, a national movement to raise awareness about play's critical role in child development and encourage more play in children's lives, announced its partnership with Outcome Health, a technology company that provides education at the moment of care to improve health outcomes. Through this partnership, The Genius of Play will provide content to air on waiting room TVs and digital wallboards in exam rooms in more than 200 pediatric offices across the U.S.
As families wait for a doctor to see them, the exam room wallboard will display facts about the importance of play and direct them to The Genius of Play website for play ideas that they can utilize while they wait. TheGeniusofPlay.org/PlayIdeas  features free play ideas, sortable by a child's age and benefit of play.
The program will run now through September 15. For additional information and play ideas, visit TheGeniusofPlay.org.