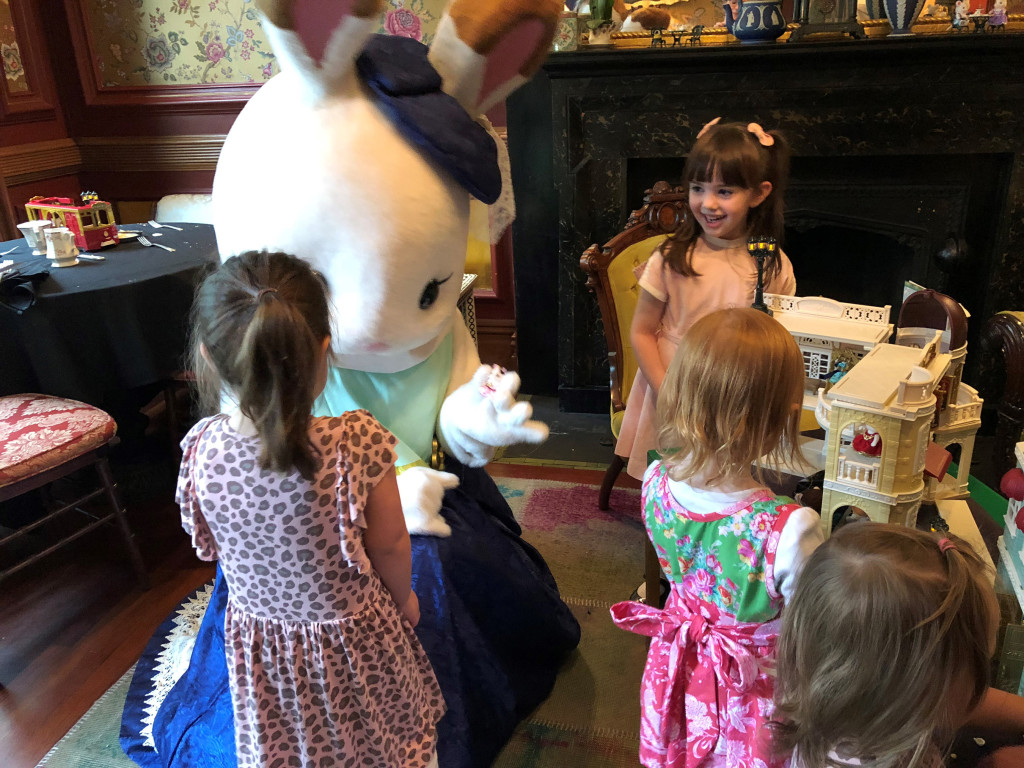 Calico Critters Mini Series, Movies Head to Netflix
Epoch Everlasting Play (EEP) announced a new animated series will launch on Netflix this fall based on its classic Calico Critters toy line. The series will debut on November 1 in the U.S., Canada, the U.K., Australia, New Zealand, and Japan. Other countries in Europe and Asia will launch in their respective languages on December 1, 2018.
The 12-episode series, comprised of mini-episodes each about 3 minutes long, focuses on Bell Hopscotch Rabbit's life in Calico Village, and her sister Stella Hopscotch Rabbit who lives in Calico Town. Content will also include two mini movies. The Treasure of Calico Village Mini Movie is a 22-minute movie about the treasure Bell Hopscotch Rabbit finds in Calico Village. A Town of Dreams Mini Movie is an 11-minute movie about how Stella Hopscotch Rabbit is living out her dreams in Calico Town.
The news was revealed during Stella's Exclusive Town Tea, an exclusive pop-up experience, at Lady Mendl's Tea Salon in New York City. The event also celebrated the retail launch of the Calico Critters new Town series. The series, first introduced in 1985, is now available at specialty stores nationwide and online at Amazon. The interactive day of play featured life-size replicas of the playset including a chance to step inside Stella's Designer Studio and taste-testing at the Chocolate Lounge and Gelato stands.
The introduction of the new Town series is the company's biggest launch in the past 10 years. The new collection aims to move beyond preschool play to the early school years. It features a more sophisticated styling, and a focus on the lives of more grown-up characters.
Epoch is the third largest toy company in Japan and has expanded worldwide, as corporate sales have grown 80 percent in the last three years. The company's U.S. subsidiary, Epoch Everlasting Play, is based in Parsippany, N.J. The popular Calico Critters brand has grown more than 40 percent in unit sales in the past year.
ToyFest 2019 Details Revealed
Plans for ToyFest West 2019 kicked off at the Western Toy and Hobby Representatives Association's (WTHRA) board of directors and ToyFest West's slate of officers' combined meeting this summer.
ToyFest West 2018 events and activities that will continue include 2019 include the ToyFest raffle, the hotel room night promotion, educational seminars, game night, and gala.
The next ToyFest Raffle will feature cash giveaways and toy- or game-related prizes to several ticket holders. Each ticket is earned for every order that is placed. The raffle takes place at the close of show all three days, March 10–12, 2019.
The buy two nights, get one free hotel promotion for the first 300 rooms booked will also continue but new this year, the room must be booked before January 31, 2019.
ToyFest West plans to hold two seminars, which will take place prior to the show 's opening on Sunday and Monday, March 10–11. Speakers will be announced in the coming months.
A new Share the Fair buyers-only event will be held Tuesday morning, March 12. Participants should come prepared to share with other buyers what their favorite products are on the show floor. A list will be compiled, broken down by category and emailed out.
The ToyFest Game Night will continue but will be limited to 15 manufacturers and open exclusively to the first 150 ToyFest West buyers registered for Game Night.
The Gala welcomes all attendees, representatives, and exhibitors attending ToyFest West. It features a hosted dinner, cocktails, a photo booth and an awards ceremony inducting industry members into the WTHRA Hall of Fame.
ToyFest West will also encourage its exhibitors to offer first quarter show specials for which retailers can take advantage.
More details about the show will be made available as plans are finalized such as the 2019 Hall of Fame Inductees, seminar speakers, and Game Night manufacturers.
Date and times for ToyFest West 2019 are as follows:
Sunday, March 10, 10 a.m.–6 p.m.
Monday, March 11, 9 a.m.–6 p.m.
Tuesday, March 12, 9 a.m.–4 p.m.
ToyFest West is hosted by the Western Toy & Hobby Representatives Association.
Epic Story Media Announces Two New Animated Kids Series
Ken Faier's independent production company Epic Story Media (ESM) has signed major co-production agreements for two new animated series, Dolph-N-Fince and Haley & The Hero Heart. Both make their international debut at MIPCOM.
The deals follow ESM's recent investment from Vancouver-based production and finance entity BRON Ventures.
Dolph-N-Fince is a co-production with Canadian independent Neptoon Studios, headed by Todd Kauffman and Mark Thornton (Looped, Grojband, Sidekick) and Paris-based Samka Animation (Jamie's Got Tentacles, The Marsupilami, The Sisters). Aimed at children ages 5–12, Dolph-N-Fince (52 x 11-minute) is a comedy about dolphin brothers who leave the ocean forever to live on land as guardians of Ocean King's rebellious teenage daughter. The brothers' personalities lead to crazy misadventures that always put Coral in the danger zone. If they blow this, their freedom and dolphin souls are on the line.
Haley & The Hero Heart is a co-production with Mowrer Meta-Story, headed by Kevin Mowrer. Aimed at girls ages 4–8, the 52 x 11-minute series follows the adventures and life of Haley Commett, a young girl just turning 7-years-old. Haley is a girl with an extra helping of emotions that often get her into trouble. This all changes for Haley when she is handed down a magical bracelet from her mother, The Hero Heart, which allows her to channel her feelings and transform into a helping hero. With each issue faced, The Hero Heart transforms Haley's world into a big adventure which will help everyone grow up a little more along the way.
ESM will maintain global rights for distribution and merchandise management for both Haley & The Hero Heart and Dolph-N-Fince. For more details on available content and upcoming productions, visit epicstorymedia.com.
YouTube Kids Reveals Exclusive Halloween Content
YouTube Kids will offer a variety of Halloween-themed content now through November 1. This includes Halloween special programming and Halloween-themed playlists from Nickelodeon introduced by Jace Norman, as well as ABC Kids' Giggle and Hoot, and Art for Kids Hub.
Kids can create Halloween costume with the Merrell Twins, make Halloween slime with JoJo Siwa, trick-or-treat taste test with Nickelodeon stars, and more. The Giggle and Hoot playlist features Halloween favorite content, while the Art for Kids Hub's October Month of Making playlist features art projects especially for Halloween including painting, origami, drawing, and paper cutouts.
The Oddbods Halloween Special is an exclusive series created specifically for YouTube Kids viewers
Zombie Hotel Halloween Special: Pass the Fawlty Towers, turn right after the Adams Family's and you'll find the ZOMBIE HOTEL! Wide eyed twins Fungus and Maggot will welcome you, along with their Mom and Dad Zombies, Rictus and Funerella, and a team of wacky employees who never run short of oddities.  But don't worry, the twins and their human school pal Sam will come to the rescue whenever you're served pigs eye soup for lunch or if your room is next to a couple of loud vampires.  A different kind of resort, where there's never a dull day! This is a Halloween special created especially for YouTube Kids. Check it out on YouTube Kids here, or if you are not viewing from a  phone or tablet you can view it here.