Spielwarenmesse Announces Its 2019 Trends to Watch
The Spielwarenmesse and the international TrendCommittee revealed its picks of industry trends to watch for 2019: Ready, Steady, Play!, The WOW Effect and Toys 4 Kidults. Running in Nuremberg from January 30–February 3, 2019, the Spielwarenmesse features around a million products. The TrendGallery serves as an important source of inspiration at the show, featuring new innovations and ideas that are not only brought to life, but it also presented in the context of corresponding products.
Ready, Steady, Play!— physical activity through play
Lifestyles are becoming more sedentary, in part thanks to the influence of mobile tech and everyday aids such as elevators and escalators. And too often, this culminates in a lack of physical activity, poor coordination, and slower reactions. Toys and games are helping counter this by encouraging kids to engage in physical activity through play.
The WOW Effect— a big surprise
Reveal toys continue to grow in popularity, and more manufacturers are adding an element of surprise to their products. It may be the packaging that conceals the collectible or a product that only reveals its functions and play features on closer inspection.
Toys 4 Kidults – for the young at heart
Kidult is a concoction of the words kid and adult. The Toys 4 Kidults trend is a reminder that toys are not just reserved for kids but can still be enjoyed by the older generation. The possibilities range from decorative toys and sophisticated construction sets to rare collectibles and retro licenses.
These trends will be highlighted in the the TrendGallery in Hall 3A. The TrendGallery features other product innovations as well as the winners of the ToyAwards. Talks and presentations on different topics every day will also deliver additional insights for visitors at the Toy Business Forum.
Target Doubles Down on Toys with Larger In-Store Footprint, Exclusives
Target is adding nearly a quarter-million square feet of new space for toys across more than 500 stores and will complete remodels of toy departments in more than 100 stores. Guests will find deals throughout the season, deeper inventory, and more than 2,500 new and exclusive toys—nearly double compared to last year. Target will also host nearly 25,000 hours of family-friendly store events, and is introducing a new toys hub on Target.com, as well as a digitally enabled kids' gifting catalog.
By November 2, Target will complete the expansion across more than 500 stores. The expanded departments will showcase larger items such as electric ride-on vehicles, playhouses, outdoor playsets, and more. New displays will take items out of their packaging and put them into a 360-degree shopping experience. Playful signage will aid shopping and purchasing items directly in-store or have them shipped home via Target.com.
The hundred-store remodel will also be completed in time for the holidays, featuring a refreshed kid-focused toy department with new layout, signs and oversized displays. This includes a three-foot LEGO slide sitting above the aisles and interactive activity walls. Kids' books are now next to the toy department.
The retailer will also host more in-store events for kids and families this year, where kids can test out toys and come face-to-face with their favorite characters from Paw Patrol, Minecraft, L.O.L. Surprise!, and more.
Target's new digital hub for toys on Target.com, launching this month, features a new gift finder. The site will feature content—such as Bullseye's Top Toys List—throughout the season, curating the assortment for guests to shop, whether they choose same-day, next-day or free two-day delivery. The retailer is also putting an increased focus on toys within its marketing, adding nearly 25 percent more pages of toys to its Weekly Ads.
Target's kids' gifting catalog—arriving in homes next week and available in stores on October 28—will include 15 percent more pages for toys than last year and feature a new digital integration within the Target mobile app. Using the barcode scanner on the app, guests simply hover over any page to pull up a complete list of the products featured on that page. From there, they'll find additional product details and can quickly add items to their shopping cart.
Macy's Launches Virtual Reality Shopping Experience Across 70 Stores
Macy's and Marxent have teamed up for the largest virtual reality rollout in retail history, with approximately 70 Macy's VR installations in stores nationwide. The companies expect to add another 20 locations by January 2019. In partnership with Marxent, Macy's is enabling customers to discover products and make buying decisions using the Macy's VR furniture experience.
In the three pilot stores, VR-influenced furniture sales increased by more than 60 percent versus non-VR furniture sales and decreased returns to less than 2 percent. Customers are more accurately visualizing their spaces and adding multiple furnishings with confidence. The program also allows Macy's to offer a full range of furniture in a dramatically smaller space.
Another exciting addition is an AR furniture experience called See Your Space IRL. The technology allows customers to virtually place Macy's furniture products in their actual living spaces. See Your Space IRL is now available on the Macy's mobile app for iOS on the iPhone 7 and newer, and will be available on the Macy's app for Android in 2019.
According to Nielsen, These are the Most In-Demand Video Games for Holiday 2018
Based on overall anticipation levels measured by Nielsen Game Rank, the most sought-after games being served up between September and December 2018 represent a wide variety of offerings.
Call of Duty Black Ops has consistently generated a great deal of excitement from fans, and Activision looks to be replicating that fervor with Call of Duty: Black Ops IIII. The latest installment tops this year's list of highly anticipated games releasing on multiple platforms with a score of 99, indicating that the current overall anticipation for the game based on a combination of key consumer measures is higher than 99 percent of previous games when at that same point in the pre-release cycle. Very close behind, and also reaching extremely high levels of anticipation among gamers, is Red Dead Redemption 2 (97).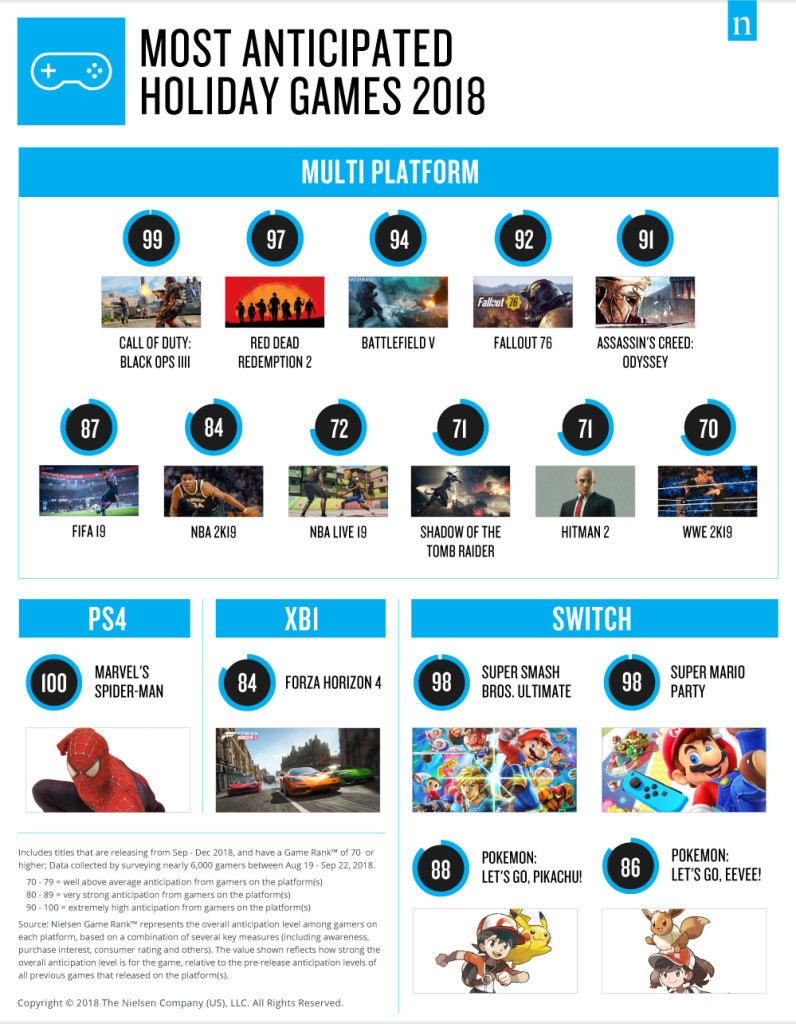 Electronic Arts progresses to World War II in this year's Battlefield V (94), bringing the series full circle back to the original 2002 release in the series, Battlefield 1942. Bethesda goes  back in the timeline for Fallout with Fallout 76 (92), a prequel to the previous games in the series in which players are among the first explorers to venture out of nuclear fallout shelters to recolonize the Wasteland. And Ubisoft has made time-jumps a mainstay of the Assassin's Creed series, with this year's journey transporting players to Ancient Greece in Assassin's Creed: Odyssey (91).
Also among the more eagerly awaited games this holiday season are two installments from rebooted franchises. In 2013, Square Enix relaunched the Tomb Raider series, culminating in this year's Shadow of the Tomb Raider (71). In 2016, Square Enix also revamped the Hitman series, though eventually cut ties with developer IO Interactive after the titular Hitman release. Less than a year later, the franchise was picked up by WB Interactive, leading to this year's Hitman 2 (71).
Additional rollouts include FIFA 19 (87) and NBA Live 19 (72) from EA Sports, and NBA 2K19 (84) and WWE 2K19 (70) from 2K Sports.
Sony has one exclusive release this season, which, according to Game Rank data, was one of the most anticipated games for the PS4 to date leading up to its launch. Marvel's Spider-Man (100) joins God of War, Uncharted 4 and Horizon: Zero Dawn as one of the exclusive games PS4 gamers are most enthusiastic about. Microsoft has one exclusive offering for Xbox One gamers as well in Forza Horizon 4 (84), which expands the racing franchise across a fictionalized representation of the U.K. in more than 450 licensed cars.
Nintendo has four platform-exclusive games coming out this season. Mario comes to Switch for the first time. Super Smash Bros. Ultimate (98) adds more characters to an already abundant roster, and Super Mario Party (98) brings the classic board game design to Switch, while enhancing it with new features such as a screen-sharing mode and online play. This holiday season also presents the first Pokémon games that are exclusive to Switch. Pokemon: Let's Go, Pikachu! (88) and Pokemon: Let's Go, Eevee! (86) look to combine components from previous games in the series with elements of Pokémon Go.
The games included on the list are those that currently have higher levels of anticipation across the broader body of gamers overall. Other games to watch for this holiday shopping season are WB's LEGO DC Super-Villains, Activision's reboot of the Spyro the Dragon series Spyro Reignited Trilogy, and from Ubisoft's Just Dance 2019.