Build-A-Bear Announces Seasonal Pop-Ups, New Permanent Shop-in-Shops
Build-A-Bear Workshop is delivering its signature Make-Your-Own experience to new locations with permanent shops inside the new flagship FAO Schwarz store and inside four Great Wolf Lodge Resorts.
Just before Thanksgiving, Build-A-Bear Workshop will open a permanent shop inside the new FAO Schwarz New York City flagship store, where visitors can make their own furry friends, including exclusive FAO Schwarz plush and New York-themed accessories. A giant Build-A-Bear rocket ship will stand in the center of the staircase between the first and second floors; an animatronic construction bear and two astronaut bears will float around the rocket and provide a view from the second-story overlook.
Build-A-Bear's permanent shops inside four Great Wolf Lodge locations, adding to the growing Build-A-Bear roster of tourist and entertainment-centric locations. The collection of indoor water park resorts will offer a Build-A-Bear experience at its Minneapolis, Minn.; Colorado Springs, Colo.; Boston, Mass.; and Sandusky, Ohio resorts starting in mid-November. Guest can choose from Great Wolf Lodge characters Wiley the Wolf, Brinley Bear, Sammy the Squirrel, and Violet the Wolf, plus coordinating outfits.
Build-A-Bear Workshop will open seasonal shop-in-shops inside six Bass Pro Shops locations in Clarksville, Ind.; Rancho Cucamonga, Calif.; Springfield, Mo.; Fort Meyers, Fla.; Harrisburg, Pa.; and Denver, Colo., and at four Cabela's locations Hamburg, Pa.; Wheeling, W.Va.; Lehi, Utah; and Buda, Texas, starting in early November. The Build-A-Bear pop-ups will be open through Christmas Eve in conjunction with the outdoor retailer's Santa's Wonderland experience—and will feature a variety of holiday-themed plush, a Bass Pro Shops bear, and Bass Pro Shops outfits and accessories.
In St. Louis, where Build-A-Bear Workshop is headquartered, a new holiday pop-up shop will open as part of The Polar Express Train Ride experience at St. Louis Union Station. In addition, for the second consecutive year, a seasonal Build-A-Bear pop-up shop will open in Fairmont Scottsdale Princess in Scottsdale, Ariz., during the resort's annual Christmas at the Princess festival. Build-A-Bear Workshop pop-ups are also returning to Gaylord Hotels resorts in Dallas, Texas; Nashville, Tenn.; Orlando, Fla.; and National Harbor, Md. as part of the resorts' annual holiday events.
Walmart's New Shopping Features Launch in November
Walmart announced new plans to offer shoppers even more convenience this holiday season, including Check Out With Me, new digital Store Maps on the Walmart app, and a redesigned Walmart.com.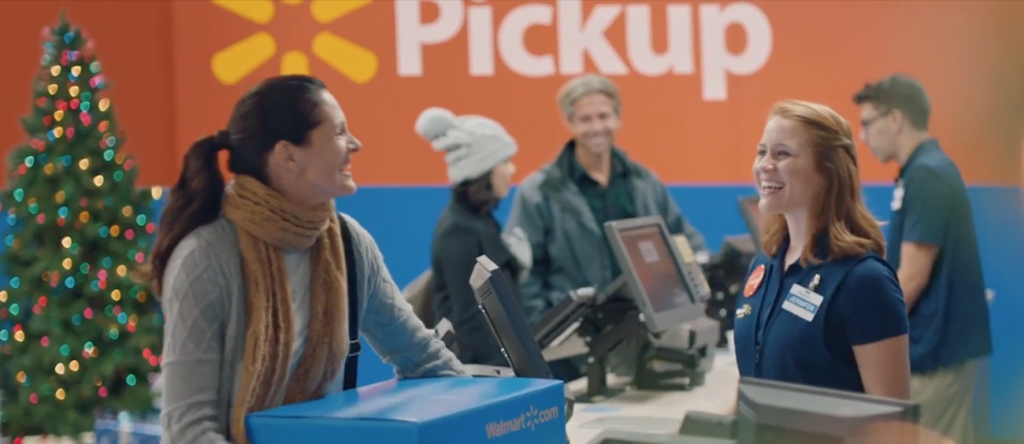 Check Out With Me rolls out November 1, which positions Walmart associates in the busiest areas of its stores, such as the garden center, electronics or in action alley, so customers can bypass regular checkout lines and pay for everything right in the department they are shopping. Associates will help customers pay and go by simply swiping their credit card and providing them with a paper or electronic receipt for their purchase.
The Walmart app now features a store map uniquely created for each Walmart store, helping customers quickly and easily find everything from the hottest holiday toys to everyday essentials. Open the app in store or at home, search for the item, and the map will show the item's exact location. New in-store signage will also help customers orient themselves within the store. Store maps just launched in most Walmart stores and will be available in all stores in early November.
Holiday 2018 marks the first holiday season that customers can shop Walmart's updated website. Walmart.com is introducing curated and editorial content that will make its assortment more discoverable. Content will range from a new deals hub, which will refresh regularly with highlighted deals of the moment, to gift guides and content such as the monthly Ellen's List with Ellen DeGeneres. In home and fashion specifically, Walmart.com is refreshing the category shopping destinations to deliver holiday-specific experiences.
New this holiday, customers can also receive free, two-day shipping on millions of items from marketplace sellers without a membership fee. Walmart is also simplifying the returns process for marketplace items, including allowing customers to bring marketplace items to any one of its 4,700 stores for returns starting in mid-November.
Walmart has spent the last year expanding its assortment in stores and online to offer customers its widest assortment of gifts. On Walmart.com, the retailer has added more than 2,000 brands to offer a wider range of options. These brands include De'Longhi and Braun in home, Sony XBR in electronics (launching in mid-November), and nearly 150 premium fashion brands available through the Lord & Taylor flagship store. In stores and online, customers will find new products from national brands such as Ryan's World and L.O.L. Surprise! in toys, KitchenAid and Keurig in home, EV1 by Ellen DeGeneres in fashion, and Samsung and Bose in entertainment.
For more info on Walmart's toy strategy for holiday, click here. Walmart will host its first event, America's Best Toy Shop Wishlist Event, on Saturday, November 3, from 1–4 p.m. in Walmart stores nationwide.
Five Below Heads to Big Apple
Five Below will open its first Manhattan store on November 2 on Fifth Avenue.
Selling everything from smartphone accessories and Bluetooth speakers to fashion and beauty products to toys and candy, Five Below is making its Manhattan debut at 530 Fifth Avenue, between 44th and 45th streets.
The midtown store will open to the public at 9 a.m., Friday, November 2. Upon entering at street level, customers will be greeted by a giant, 567 square-foot Instagram-worthy mural depicting an iconic New York City scene. While inside the store, customers will be wowed by the vast toy section, including radio-controlled cars and flying heli-balls; thousands of tech accessories; hundreds of sports balls, yoga mats and backpacks; toys for pets; and room décor as well as a Big Apple product area. The store will be open seven days a week.
Five Below has opened more than 30 stores in the outer boroughs and suburbs of New York City, but this is the Philadelphia company's first foray into Manhattan. The Fifth Avenue location will mark the rapidly growing retailer's 746th store nationwide. It has plans to have a total of approximately 750 locations by year-end.
Kroger Outlines New Business Strategy, Toys Could Be Part of That Equation
The Kroger Co.  hosted its annual investor conference in Cincinnati, earlier this week, where the company's executive team outlined its efforts to redefine the grocery customer experience, partner for customer value, develop talent, and live its purpose to create shareholder value.
"We are on a transformation journey and we are making strong progress on redefining the customer experience," said Rodney McMullen, Kroger's chairman and CEO. "Everything we are doing today is creating a truly seamless shopping experience, so we can serve customers anything, anytime and anywhere."
In advance of the meeting, the company reconfirmed its Restock Kroger financial commitments to generate $6.5 billion of Restock free cash flow and $400 million in incremental FIFO operating profit over the three-year-period ending in 2020. Kroger is also exceeding its year-one cost savings goals expected in Restock Kroger.
Kroger has undertaken a series of ambitious space optimization, store remodel, and technology enhancement projects as part of Restock Kroger. This work affects more than 1,000 store locations, which is creating a headwind to sales for the remainder of the year. These stores are gaining strength, giving the company confidence that the investments will produce strong returns.
Part of these investments will allow customers to buy anything, anytime, anywhere from Kroger. In addition, Kroger has seen strong growth in digital sales. Kroger expects an annual digital sales run rate of just over $5 billion at year end 2018, growing to an annual run rate of $9 billion at year end 2019.
Yesterday, The Rock Father Magazine reported that pallet shippers of Toys "R" Us house brand merchandise are arriving at Kroger stores as part of the new Geoffrey's Toy Box collection from Geoffrey, LLC.