ZURU Acquires Sparkle Girlz
ZURU has acquired Sparkle Girlz, the 10-year-old doll brand developed by Danuta Saville as Funville.
The brand features an extensive range of products that includes themed dolls such as fairies and princesses, hair styling unicorns, baby dolls, interactive playsets, castles, surprise collectibles, and more.
The brand also works to integrate environmentally friendly packaging into more of its products, including the use of a cone packaging design, which removed the presence of single-use plastic. The design has been globally recognized as a pioneering example of movement towards sustainable packaging. Sparkle Girlz has seen strong brand growth since its beginnings, now distributing its products globally.
Anna Mowbray, COO of ZURU, explains the strategy behind the acquisition, "The brand is a perfect fit to the ZURU model. Exceptional quality and design at affordable prices. I see so much synergy between what Danuta and John Saville have developed alongside the passion, creativity and business success of Zuru."
ZURU already has product development and marketing plans in the works to rapidly grow and elevate the brand, adds Mowbray.
"The success of Zuru coupled with the drive of a young, dynamic and visionary team makes them a great partner in driving the Sparkle Girlz brand forward," says Funville founder Danuta Saville.
John Saville, director of Funville, adds, "After 49 years in the toy industry I am delighted to see this exciting progression of the Sparkle Girlz brand. I know the brand will grow phenomenally with Zuru behind it."
The dolls category is valued at $1.8 billion and has grown 13.1 percent since 2017. Play patterns surrounding dolls show no sign of slowing down as they continue to hold a key role in instilling creativity, empathy and compassion in children. Sparkle Girlz have a stable presence in all sub-categories providing huge opportunities for ZURU to continue developing the brand in partnership with Danuta.
Bravado Acquires Epic Rights
Universal Music Group's Bravado, the global consumer, lifestyle and brand management company, has acquired Epic Rights, a boutique merchandise and branding company.
Epic Rights works with a diverse group of iconic artists, including KISS, Billy Joel, Aerosmith, Def Leppard, AC/DC, Eric Clapton, Kevin Hart, 21 Savage, Madonna, Celine Dion, Barbra Streisand, Sting, David Bowie, Lionel Richie, Hollywood Vampires, Britney Spears, *NSYNC, Zac Brown Band, ZZ Top, Marc Anthony, the Woodstock festival, and CBGB, among others. As part of the agreement, Epic Rights' CEO and founder Dell Furano, along with his team, will continue to build merchandising opportunities for their roster of artists.
Warner Bros. to Host One-Day LEGO Movie 2 Preview Nationwide
Warner Bros. Pictures will host a one-day advance screening of The LEGO Movie 2: The Second Part at approximately 500 theaters in North America on Saturday, January 26.
The sneak preview event culminates a weeklong celebration of Awesome Week, with movie-themed activities and activations, as anticipation and support builds for this eagerly awaited sequel to the worldwide phenomenon that started it all, "The LEGO Movie."
Tickets for the limited preview go on sale on Wednesday, January 23, at participating theaters and regular online outlets.
Nintendo to Host Nintendo Switch Game Tournaments
Starting in February, Nintendo is hosting a series of online qualifying events for the Splatoon 2 North America Inkling Open 2019 and the Super Smash Bros. Ultimate North America Open 2019. These open qualifiers lead up to a final event at the PAX East video game conference in Boston on March 30. There are multiple ways to play and participate … and players of all experience levels are welcome. You can check out the announcement video here for more details about these exciting events.
"This inclusive pair of tournaments is a great way for anyone to show off their skills while playing two of their favorite Nintendo Switch games," said Doug Bowser, Nintendo of America's Senior Vice President of Sales and Marketing. "Nintendo games are for everyone, and offer a unique combination of social competitive fun. That's why we're opening the qualifying rounds to fans of all skill levels."
The schedule for the online qualifying events for both the Super Smash Bros. Ultimate North America Open 2019 and Splatoon 2 North America Inkling Open 2019 tournaments are below. For the Super Smash Bros. Ultimate North America Open 2019, players will have the chance to qualify in one of four regions across North America. Three individual rounds of qualifying online events will give players three separate chances to represent their region at PAX East.
The finals for each online event will be livestreamed. For more information on either event, click here.
True and the Rainbow Kingdom to Premiere Valentine's Day Special
The Netflix Original series True and the Rainbow Kingdom, produced by Guru Studio (PAW Patrol, Justin Time, The Breadwinner), returns to Netflix February 1 with a new Valentine's Day special episode, "True: Happy Hearts Day."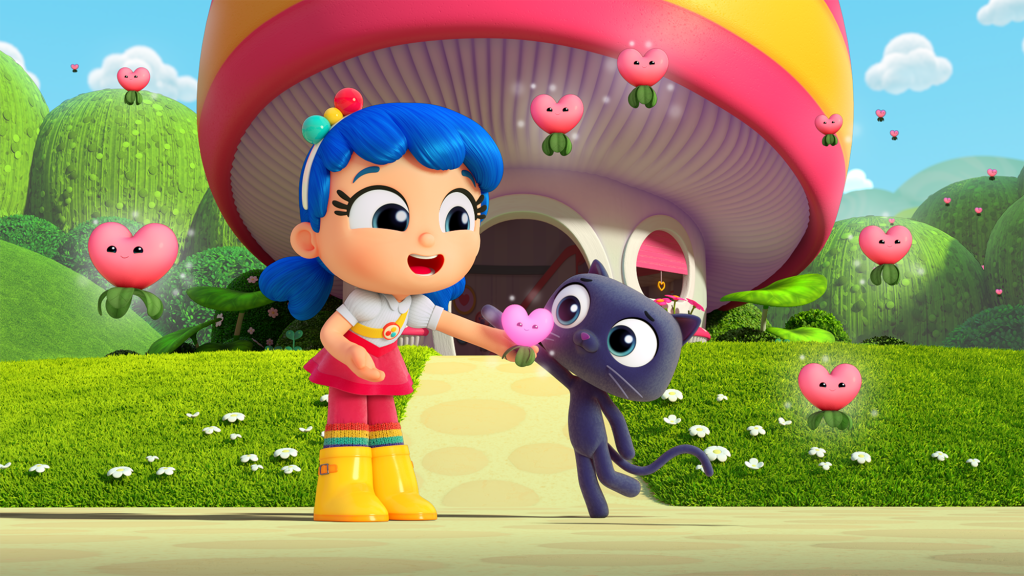 With the help of the magical Wishes, True and Bartleby must cheer up the Rainbow Kingdom when its loneliest citizen Glummy Glooma starts to turn things blue in this 22-minute special.
On the heels of last summer's season two titles "True: Magical Friends" and " True: Wonderful Wishes," and the recent launch of music video compilation "Dance & Sing with True Vol: 2", "True: Happy Hearts Day" is the first release in a lineup of new content which includes all new episodes, seasonal specials, a 44-minute movie and a mix of comedic shorts and musical content rolling out on the service throughout 2019 and 2020.
The series' first line of collectible toys launched last fall at Walmart stores across Canada, and Halloween costumes sold out nationwide at Party City and other online retailers. Additional merchandise will be hitting retail in North America later this year. True and the Rainbow Kingdom is produced by Guru Studio with Pharrell Williams' i am OTHER label, along with fine art collective FriendsWithYou and California-based Home Plate Entertainment.
Watch the full trailer: