It's Official: Margot Robbie to Star in Barbie Movie
Mattel and Warner Bros. Pictures Group to bring Barbie franchise to theaters in its first ever live-action feature film, starring Academy Award-nominated actress Margot Robbie as Barbie. Robbie will also co-produce the film under her LuckyChap Entertainment Banner, alongside Tom Ackerley and Josey McNamara from LuckyChap Entertainment.
Barbie marks the first announced deal coming out of Mattel's newly-established Mattel Films, led by Academy Award-nominated producer Robbie Brenner, as well as the first collaboration between Mattel Films and Warner Bros. Pictures.
News of the deal doesn't come as a surprise after the actress' IMDB was updated last fall listing the film, although the actress nor Mattel would confirm the reports at the time. The news also comes amid the doll brand's 60th anniversary year celebration.
Ynon Kreiz, Chairman and CEO of Mattel said: "Barbie is one of the most iconic franchises in the world and we are excited to partner with Warner Bros. Pictures and Margot Robbie to bring her to life on the big screen. We look forward to building on this collaboration with Warner Bros. Pictures as we tell the stories of our beloved brands. Mattel Films is on a path to demonstrate the enormous potential of our brand portfolio, as we continue to execute on our strategy of transforming Mattel into an IP-driven, high performing toy company."
Margot Robbie said: "Playing with Barbie promotes confidence, curiosity and communication throughout a child's journey to self-discovery. Over the brand's almost 60 years, Barbie has empowered kids to imagine themselves in aspirational roles from a princess to president. I'm so honored to take on this role and produce a film that I believe will have a tremendously positive impact on children and audiences worldwide. I can't imagine better partners than Warner Bros and Mattel to bring this film to the big screen."
Margot Robbie is represented by Management 360, CAA, Aran Michael Management, Attorney Jeff Bernstein and Narrative PR. LuckyChap Entertainment is represented by Management 360, CAA, Attorney Jeff Bernstein and Narrative PR.
NBCUniversal's Blueprint Expands E-Commerce Platform
Bluprint, NBCUniversal Cable Entertainment's lifestyle learning service, announced the expansion of its e-commerce and retail platform. The launch of the online store makes Bluprint the premier destination for creativity and self-expression, offering an extensive breadth of high-quality edu-tainment and editorial content, and a companion e-commerce site all in one convenient hub.
Bluprint (formerly Craftsy) boasts more than 4,000 hours of original content across 22 categories, ranging from sewing, quilting and knitting, to cooking, art, photography, home decor, yoga, and more. The e-commerce platform will offer curated supplies and kits that support many of these creative endeavors.
Beginning today, Bluprint will offer individual supplies and curated project kits which, when paired with Bluprint's expert talent, premier content and enhanced editorial, will streamline the customer experience to help them in their creative pursuits. The expanded suite of commerce and content offerings will allow members to engage with Bluprint in a more personalized way (through the tailored Bluprint Boxes and Project Kits) and will make starting or continuing a new craft more convenient than ever before.
Apart from individual supplies − such as yarn, fabric, and tools − there will be three signature lines of curated boxes and kits available for purchase on shop.mybluprint.com to equip users with everything they need to begin:
Bluprint Boxes will come in seven varieties across seven different categories (Quilt, Knit, Cake, Embroider, Sew, Crochet, and Watercolor) and will link to Bluprint's Startup Library series to make getting started even easier. Pricing will start at $65/box, and the Bluprint Boxes can be combined with an annual membership for $99.
Jump Into Boxes are Bluprint's solution to a family-friendly kit that contains everything you need to start a new craft with your favorite young creatives, coupled with Bluprint's ever-popular Jump Into family series. Jump Into Boxes will come in three varieties across three different categories (Drawing, Knitting, and Embroidery) and pricing will start at $30/box.
Project Kits, starting at $10/kit, contain everything you need to tackle your next Bluprint project. With hundreds of options spanning 10+ categories, such as new and trendy embroidery project kits and a Fremont Tote bag, Project Kits provide the fundamental supplies you need to get started on a specific task at hand.
Every week, Bluprint introduces new content across multiple vertical categories and, later this month, it will launch writing classes, which will feature how-to courses with notable writing experts in a variety of different literary disciplines, such as creative writing, memoirs and children's books as well as classes in pottery, cake decorating, and a healthy eating class in partnership with Whole Foods.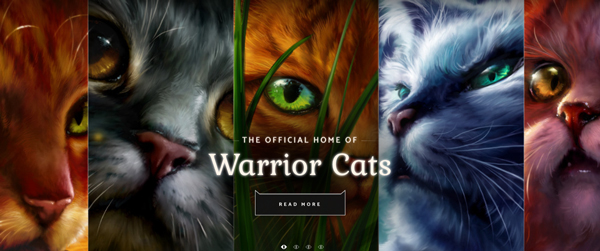 Coolabi Launches Warrior Cats Online Hub, Inspired by the Fantasy Book Series
The Coolabi Group announced the launch of WarriorCats.com, an online hub and merchandise store for its best-selling fantasy brand, Warrior Cats (Warriors).
Warriors is a fantasy adventure book series about five clans of wild cats—ShadowClan, RiverClan, ThunderClan, WindClan and StarClan. The series was created by Working Partners, a Coolabi Group company. More than 40 million Warriors books have been sold to date, including 20 million in the U.S. with Harper Collins.
WarriorCats.com is the official digital destination for Warriors' growing global fan community. Since the book series launched, legions of fans across the globe have created fan art, animation and fiction, with user-generated content receiving more than 400 million views collectively on YouTube. There are also more than 500 dedicated Warriors YouTube channels.
Millions have been fascinated by the fantasy adventure series and the new website will give fans access to a library of never-before-seen content, including news articles and opinion pieces direct from the Erin Hunter team, and also news about the books and other brand extensions – such as the highly anticipated movie adaptation.
Coolabi worked in partnership with some of the brand's super-fans to develop features such as the Family Tree, which shows the relationship between the 450 cats featured in the series, and the Moonpool where users' questions are answered by StarClan.
For the first time, fans will be able to purchase a range of official Warriors merchandise. Character icons for each Clan have been designed specifically for apparel, bags, accessories, canvas prints and stationery and are available now from shop.warriorcats.com.
Meredith Corp. to Launch New Business Unit, New Consumer Products at CES
Meredith Corporation is launching Meredith Innovation Group, the company's new business unit focused on innovation and consumer product development which includes Meredith Product Studio, as well as new consumer products, such as Meredith Voice Network and Meredith Smart Codes, at the Consumer Electronics Show (CES) in Las Vegas this week.
Meredith Product Studio brings together the company's first-party data and insights, editorial authority, retail prowess and creative expertise to help partners rapidly design and develop innovative direct-to-consumer products. The Meredith Product Studio rapidly iterates design and creative concepts with The Foundry, Meredith's in-house creative and content agency, enabling brand partners to reach new markets and achieve growth with new products.
Meredith Voice Network bundles a portfolio of voice and audio experiences based on Meredith's premium editorial content and consumer utilities for advertisers. Meredith Voice Network captures the fast-growing audience for voice experiences across Meredith's more than 40 websites, social media and leading podcast platforms, as well as voice assistants, such as Amazon Alexa and Google Assistant.
Meredith Smart Codes apply QR code technology to enable readers to use their smartphones to scan magazine pages across the Meredith portfolio and connect to a wide range of digital experiences while generating enhanced ad performance and attribution data for advertisers.