CES 2019: Toys & Tech
Educational Insights, Mensa Team Up for Launch of Artie 3000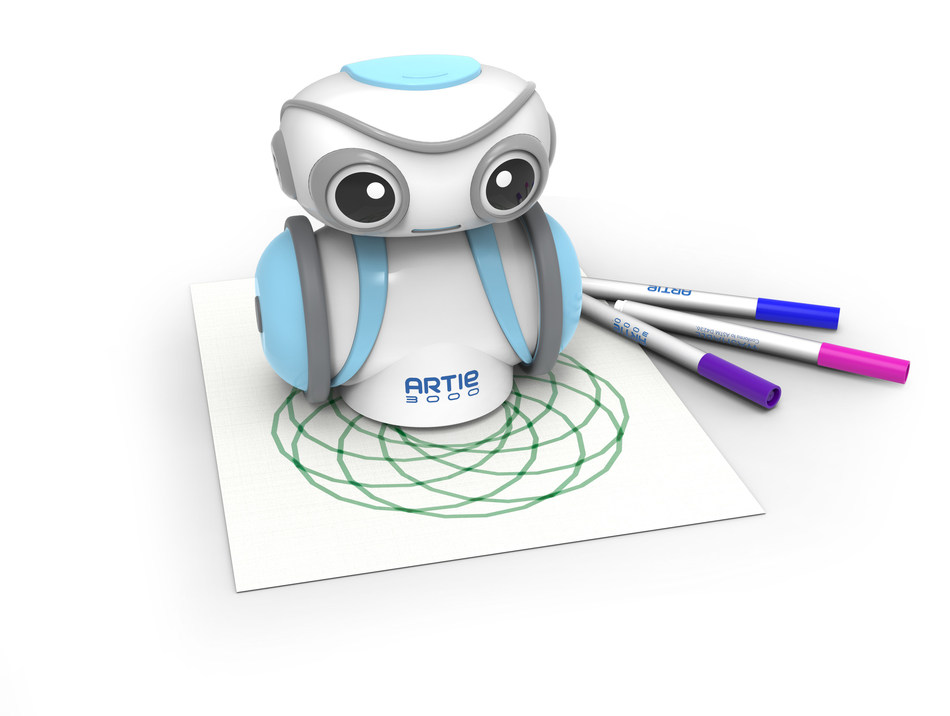 Coding meets creativity in Artie 3000, a new coding robot for kids from Educational Insights debuting at this year's Consumer Electronics Show (CES) in Las Vegas. In a recent survey conducted by Educational Insights and American Mensa, it was found that 96% of parents surveyed stated they believe coding principles will help kids regardless of their future career paths. The need and interest for a robot like Artie has never been higher. Artie helps making coding approachable for every child – from Mensa members to kids who simply love to draw.
Artie 3000 is a drawing robot that helps kids learn to code. They can imagine simple or complex drawings and designs, and translate them into "drag and drop" code on any device. Watch as Artie draws what's been coded, line-by-line, moving forward, backward, and spinning in any direction while lifting and lowering four thin-tip, colored markers. With a built-in WiFi server, Artie is compatible with any desktop computer, laptop, tablet or smart device with no need for an internet connection to play. In addition to freeform coding, Artie comes pre-programmed with a variety of designs such as numbers and letters, shapes, games, and line-art for coloring.
American Mensa, the world-renowned society for high-IQ individuals, has partnered with Educational Insights due to the unique skills that Artie helps teach kids. Artie will be the first robot and only the third character to ever receive an honorary Mensa card, following in the footsteps of Lisa Simpson and Mr. Peabody.
Educational Insights has collaborated with Mensa For Kids and there will be ARTIE activities available on the Mensa website in early 2019 to develop learning activities and STEAM-based challenges that spark curiosity in coding through creativity.
Arcade1Up Announces New Titles, Systems at CES
Tastemakers hit the show floor at CES with a first look at its 2019 lineup, featuring new Arcade1Up cabinets alongside two new offerings: Counter-cades and Wall-cades.
Arcade1Up continues to expand its game library to cover the biggest titles of the era spanning all gaming categories.
New Arcade1Up cabinets are coming as early as February, and each cabinet includes multiple games:
Final Fight Cabinet (Feb):Final Fight, 1944, Ghosts 'N Goblins, Strider
Space Invaders Cabinet (Feb):Space Invaders Color, Space Invaders Black and White
Golden Tee Cabinet (June):GT Classic '01, Golden Tee '2k, Golden Tee '99, Golden Tee '98
Mortal Kombat Cabinet (Sept): Mortal Kombat, Mortal Kombat 2, Mortal Kombat 3
Karate Champ Cabinet (Sept):Karate Champ, Bad Dudes, Burger Time, Caveman Ninja
The company also revealed its new line of Counter-cades and Wall-cades coming in 2019 featuring fan-favorite titles. Wall-cades are portable and designed to be hung on a wall or door delivering authentic gameplay and a showpiece that will be the envy of your friends. Counter-cades are ideal to place on a desk or tabletop to display and play. Both are being introduced to make use of empty space while still providing an authentic arcade experience at home.
Arcade1Up will unveil the Wall-cades and Counter-cades with a full gaming experience at ShowStoppers booth E-15 and E-17 and at Consumer Electronics Show (CES) booth #21454 located in the south hall. More fall titles will be announced at E3.
UBTECH Reveals New Product Lineup at CES
UBTECH Robotics announced its lineup of robotics toys at CES 2019. UBTECH will demonstrate new versions of Walker, a bipedal humanoid robot that now includes fully functional arms and hands; and Cruzr, a customized, cloud-based, humanoid service robot for business environments, as well as the Alpha Mini and JIMU Robot building kits for consumers.
Sphero Showcases Sphero BOLT, Specdrums
Sphero gave CES attendees a first look at two of its newest tech toys launching in 2019.
Sphero BOLT's programmable 8-by-8 light matrix offers an array of coding and gaming capabilities. Using advanced sensors, it tracks speed, acceleration, and direction. Drive BOLT without having to aim your robot thanks to its built-in compass. BOLT also features infrared communication, allowing multiple BOLTs to communicate with one another.
The company also showcased Specdrums. The original product, which uses app-enabled rings to turn colors into music with a simple tap, now offers enhanced features. The Specdrums Music app allows users to assign any notes, chords, and samples to any color and save combinations to create music with hundreds of instruments, drum kits, and other sounds. Sphero acquired Specdrums, the music-based tech startup in 2018. Specdrums originally raised nearly $200,000 in funding through its Kickstarter campaign. Specdrums ships January 15.
Innokind Launches Smart Train Sets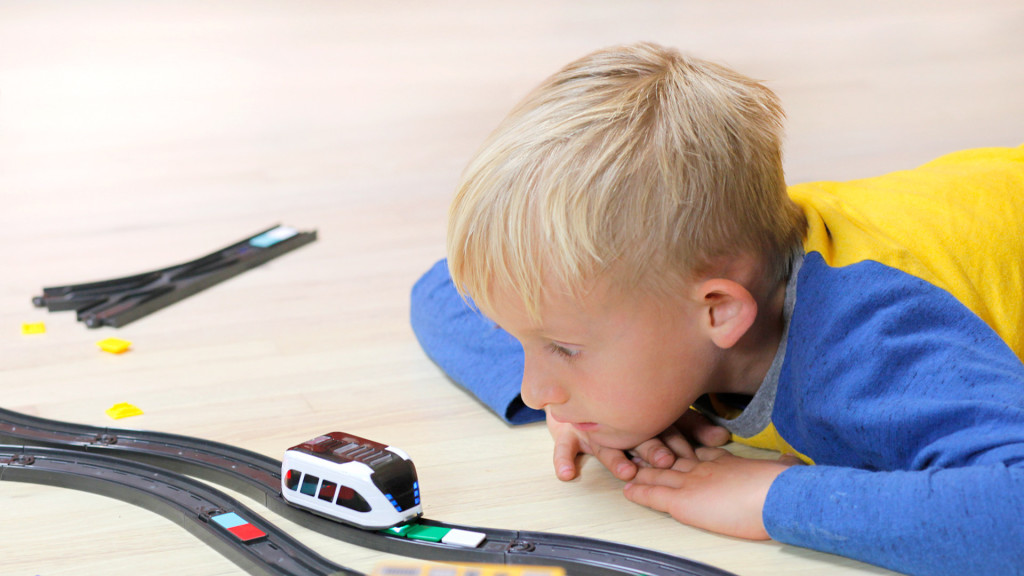 Innokind launched its intelino smart train. The intelino smart train augments the classic toy train experience. It has the simplicity and ease of use of a child's first train set with the sophistication of an advanced robotic toy. This smart train is intuitive, interactive, and intelligent.
Clicks together its dual-sided, interlocking tracks to get the smart train rolling. As a bonus, intelino is retro-compatible with most classic wooden track systems.
The smart engine's built-in sensors enable advanced interactivity and give players control. Made for ages 3 and up, intelino offers both off-screen and app-enabled modes of play. Off-screen, even the youngest of players can control the train's basic functions such as steering at track junctions, speed, movement and the electro-magnetic wagon coupler by using action snap commands—sequences of colored plastic tiles that snap on the tracks with ease. On-screen, older players can use the intelino companion app to turn their smart devices into the train's dashboard with an advanced range of remote-control features and real-time feedback.
The smart engine is powered by a 32-bit ARM micro-controller with BLE wireless connectivity. It controls the train's magnetic steering system, the electro-magnetic coupler, dual color sensors, 3-axis accelerometer, speed and capacitive sensors. This smart hardware is also programmable via the app's Snap Editor which enables players to create custom action snap commands to gain advanced control of the train.
nubia Launches New Gaming Smartphones
nubia is kickstarting 2019 by launching several new, cutting-edge smartphones including the Red Magic Mars and nubia X at CES.
Inspired by Mars, the god of war, nubia'sflagship gaming phone pairs powerful tech specs with exclusive features created specifically with gamers in mind.
The Red Magic Mars is powered by Qualcomm Snapdragon 845 and comes in three variants: 6+64, 8+128, 10+256 GB of RAM and storage, respectively.
Its ICE multi-dimensional cooling system combines air cooling and liquid cooling. Its liquid-filled copper tube directs heat away from the CPU and GPU to boost performance for deliver a smooth gaming experience.
In terms of gamer-centric features, the Mars includes an additional hardware switch to toggle Red Magic Game Space, a gaming-focused software mode. The feature improves performance by minimizing background apps and enhances gameplay with a high-performance mode and 4-D sound+vibration effects, which can be turned on or off in the settings.
Touch-sensitive shoulder buttons provide additional hardware buttons without the need for a gamepad accessory. Users can configure and custom-map these buttons to suit their game of choice.
The Mars also boasts a FHD+ 6-inch display and a 3,800 mAh smart high-density battery for hours of uninterrupted gaming. Users can also customize lighting effects on the rear-facing LED RGB strip, which features 16.8 million colors — perfect for PC or console gamers with a preferred color scheme.
JBL JR Launches Its First Kids' Portable Bluetooth Speakers
Expanding the JBL Jr Line is the brand's first ultra-portable, kid-friendly Bluetooth speaker: JBL Jr Pop. Kids can listen to beats on the playground. The new kid-friendly speakers feature five hours of playtime, high sound quality, and durable and IPX7 waterproof-rated casing.