Kids Preferred, in partnership with Warner Bros Discovery Global Consumer Products, is rolling out an infant and toddler collection to gently introduce the magic of the DC Universe and Harry Potter to Generation Alpha. Zoomers to Boomers will be in awe of the cuddly and adorable plush, blankets, teethers and activity toys including My First Comic Book ($15) with a removable Batman and The Joker, peek-a-boo flaps and tactile ribbons.
Kids Preferred creates products for the crib and nursery with many products priced affordably at $10 and under. The caped crusaders and beloved wizards are transformed into items like soft blankies adorned with Hogwarts crests or adorable plush and even a jack-in-the-box that pops up when you least expect it with Batman. Kids can cuddle with 15" Harley Quinn plush or swaddle the red cape of 10" Superman. Kids Preferred adds little details like Superman's black lock of hair over his forehead or Harry's barely-there lightning bolt scar.
"Warner Bros. Discovery and its rich portfolio of IP and characters like Harry Potter and Batman are a perfect addition to the Kids Preferred collection of iconic, recognizable characters and IP," said President and Chief Revenue Officer Larry Presser. Presser was named President in 2022, so this is an exciting way to step into this role.
Celebrate Hogwarts!
From the Hogwarts House on-the-go blanket to Dobby foot rattles, parents can introduce little ones to the fantastical people, places and animal companions of the Wizarding World franchise. The Golden Snitch Plush offers embroidered wings filled with a crinkle sound to perk up little ears. The beans tucked inside the golden ball can even boost sensory development.
For those teething fans, choose a Harry Potter Teether Blanket to soothe achy gums. Hermione Granger's Teether blankie, like Harry Potters's, offers crinkle sounds. A Ron Weasley Plush Beanbag features the red-haired and freckled wizard with many embroidered details. If you must choose between Gryffindor, Slytherin, Hufflepuff, or Ravenclaw, make sure to have its mascot in plush – Lion, Snake, Badger or Raven.
Gift giving family members might choose the 7" clip-on plush for a diaper bag or preschool backpack. Or go big with the adorable 15" Plush with animal companion featuring Harry Potter and Hedwig, Hermione Granger with her ginger cat Crookshanks and Ron with his whiskered rat Scabbers!
To the Batcave!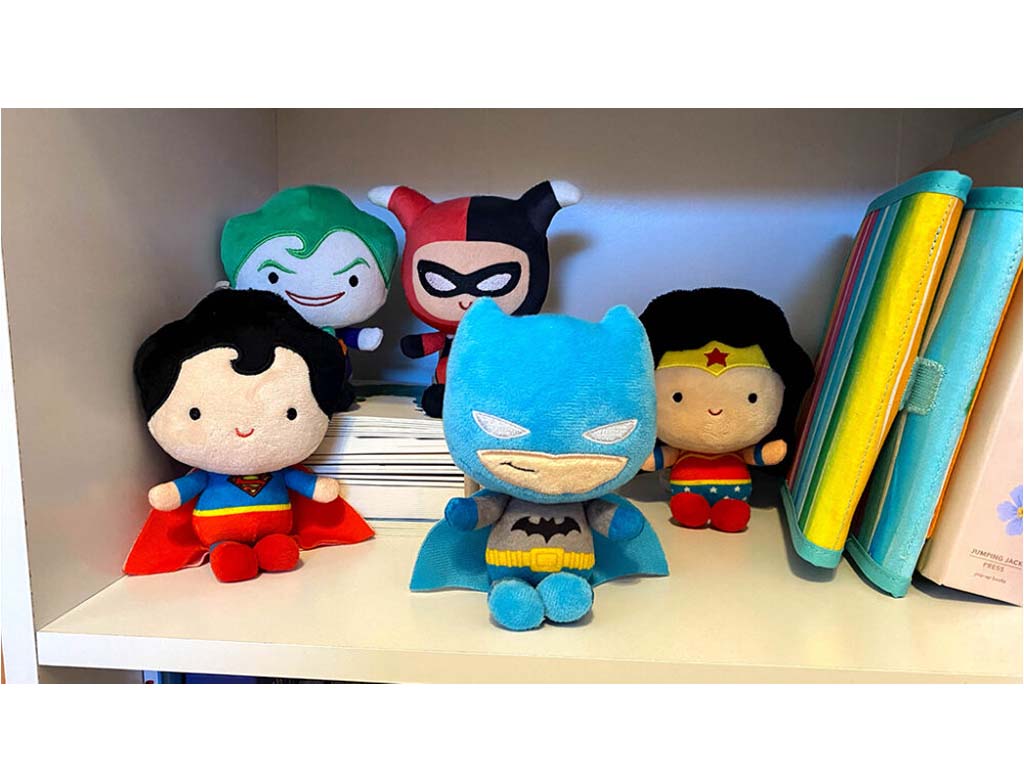 Through playing with Kids Preferred newest soft toys, the youngest members of the family are introduced to the DC Universe. Kids Preferred recreates DC Super Heroes and SuperVillains into pint-size interactive play like the Batman-on-the-go 8'5" clip and pull-down vibrating activity toy. Choose among the Squeak and Peek Soft Book, Batman and The Joker 15" plush or Superman Activity toy with rattle, teether and crinkle sensory textures. Up, up and away!
10" Wonder Woman Plush arrives with a blue and white cape that can be swaddled, encasing her into a bright red blanky. Batman tops off a ribbed textured 12" blanky in blue as Superman heads an 11.5" satin red blanky with a message of the superhero's To Do list!
"We're thrilled with the great response and support from retailers," said Dean Robinson, Chief Product Officer at Kids Preferred. "I've been at this a long time and to see retail partners react with such enthusiasm is truly heartening and exciting."
Look for these Kids Preferred licensed products this summer and fall at retail partners Amazon, Target, Kohl's, Barnes & Noble, Burlington and others across the U.S. and Walmart and Indigo across Canada.