Invisible Universe, the team behind breakout animated hit Qai Qai, inspired by Serena Williams' daughter Olympia's favorite doll, is expanding the hit franchise with a brand-new show, Dance with Qai Qai.  The new series comes as Qai Qai, which debuted on YouTube in January, has reached more than 32 million YouTube views, with an additional 1.5 billion views on her other social channels.  Dance with Qai Qai is now available on YouTube.  The first episode can be found here.
The show invites viewers to get up and dance with Qai Qai as she gets kids moving by teaching them her signature dances.  The new series builds off of Qai Qai's dancing roots on TikTok.  Episodes will feature seasonal and kid-centric themes including back-to-school, holidays, and wellness.
Serena Williams said, "It has been amazing to see how Qai Qai has captured the hearts of so many young fans so we're thrilled to introduce them to Dance with Qai Qai! What better way to keep your kids active than by learning dance moves from Qai Qai herself? As a family who loves to dance, I know I'll be right next to my daughter practicing our new moves. We can't wait for other families to get to watch—and dance—together!" 
Tricia Biggio, Co-Founder & CEO of Invisible Universe,  said, "We've enjoyed collaborating with Serena and Olympia to bring the Qai Qai franchise to life and fans have flocked to this loveable character. Dance with Qai Qai inspires kids to get up and move and it's already inspired some dance parties in my home with my kids. Excited to share that joy with the rest of the world!"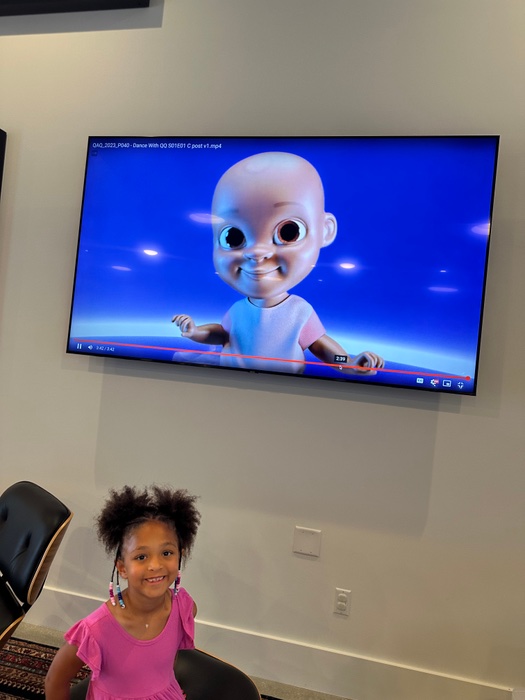 Olympia and Qai Qai
Qai Qai (Pronounced "Kway-kway") started as the favorite doll of tennis superstar Serena Williams' daughter Olympia, and just like her famous family she is driven to be the best.  With 5M+ social media followers, Qai Qai is a doll who came to life to use her superpower of dance to take the world by storm.  A pint-sized powerhouse, Qai Qai was born with the heart of a performer, so naturally, she draws from dance whenever confronting challenges.  Joined by her DJ and trusted confidant Ruff Ruff, Qai Qai inspires the next generation to dream big! Qai Qai embodies confidence, perseverance, empowerment and radical self-love.  A beacon of representation for the most diverse generation of kids in American history, Qai Qai's passion is delivered with a quick wit and a "tell it like it is" persona.  Come along as she saves the day while fulfilling her own destiny to dance.  Qai Qai has been actively developed in partnership with Serena Williams, 23-time grand slam winner and entrepreneur.  Qai Qai has a number of exciting partnerships in place including a book with publisher MacMillan, and more to be announced this year.