Pulse-pounding Hot Wheels rollercoasters and a life-size Barbie Beach House are just a few of the attractions underway at Mattel Adventure Park, which will become Arizona's first fully themed indoor/outdoor amusement park upon opening in 2024. 
Set to open just south of State Farm Stadium in Glendale at VAI Resort, Mattel Adventure Park will welcome guests 365 days a year, serving as a year-round Arizona entertainment destination showcasing the full spectrum of the iconic toymaker's expansive portfolio of brands. The uniquely designed, massive, 9-acre park combines inspiration from Mattel, Epic Resort Destinations, and other industry-leading partners in amusements and entertainment. Substantially indoors, the park's attractions load and unload inside a fully air-conditioned space, making the park a comfortable, family-friendly destination at any time of year. 
Mattel Adventure Park includes two fully themed Hot Wheels rollercoasters – Hot Wheels Bone Shaker: The Ultimate Ride and the Hot Wheels Twin Mill Racer. Designed to delight kids and adults of all ages, the Hot Wheels Bone Shaker themed ride will be the first-ever family coaster to feature the famous hot rod's skull design that climbs 84 feet in the air, while the double-looping Hot Wheels Twin Mill Racer guarantees a serious adrenaline boost for guests seeking an even higher-octane experience. The Hot Wheels Twin Mill Racer features a double loop and two corkscrews, qualifying it as the first coaster of its kind in Arizona.
"Mattel Adventure Park is an amazing opportunity to bring our beloved brands to life," said Julie Freeland, Senior Director of Global Location Based Entertainment at Mattel. "Construction is underway and substantial progress has been made on what will give fans of all ages a day of thrills and nostalgia. We're especially excited for families to experience the Hot Wheels Bone Shaker rollercoaster – a dream come true for any Hot Wheels fan."
"Mattel Adventure Park features a unique and strategic year-round indoor/outdoor design providing acres of air-conditioned space to ensure a cool guest experience all summer long here in the heat of Arizona," said Mark Cornell, President at Epic Resort Destinations. "Our Attractions Development team are simply redefining the entertainment channel by bringing Mattel's powerhouse, evergreen brands to life like never before.  This hand-picked, gifted team continues to find truly innovative ways to create pioneering attractions that are certain to bring continuous fun for the whole family." 
While these and other Hot Wheels-themed attractions promise full-throttle fun for race enthusiasts of all ages, there is also plenty in store for park guests from other favorite Mattel brands, including:
Thomas & Friends: World of Sodor, featuring seven family-friendly experiential attractions and rides including dedicated indoor play space for little adventurers.  

A full-scale Barbie Beach House where Barbie fans can get a closer look inside Barbie's iconic closet in the Barbie Dream Closet Experience, which uses hologram technology to bring Barbie to life before guests' eyes. The attraction also includes a rooftop bar and restaurant that hosts expansive views of the property.  

Masters of the Universe fans can fight for Eternia in a massive, 4,500 square-foot laser tag arena in the likeness of the iconic Castle Grayskull fortress.
A mini golf experience featuring nine holes inspired by Magic 8 Ball, Pictionary and other beloved Mattel games, as well as a larger-than-life custom climb UNO structure that delivers nostalgia and adventure for all ages.  
"Watching the excitement build as these mega attractions are being installed in Glendale has been tremendous, and we promise, you've never seen a park quite like this one," continued Cornell. "Stay tuned for 2024 opening updates, and check out our live construction cam for a sneak peek at a few of our rollercoasters that all load in a cool air-conditioned space. You can actually see the Bone Shaker family rollercoaster lift climb through the roof, peaking at a height of 84 feet for a ride of a lifetime!"
Be the first to see a sneak peek of Hot Wheels Bone Shaker: The Ultimate Ride roller coaster up close and personal only at Hot Wheels Monster Trucks Live Glow Party at Desert Diamond Arena August 19 and 20!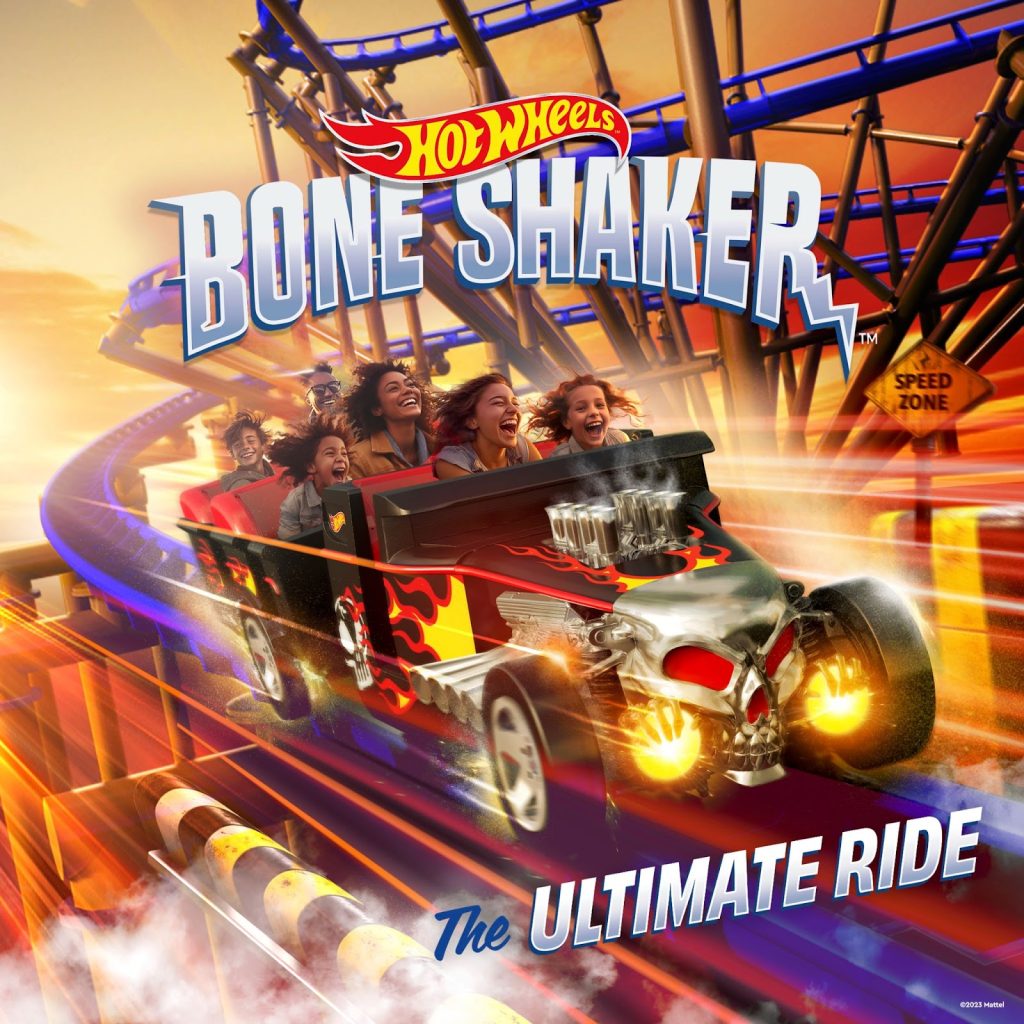 Stay up to date with all the happenings at Mattel Adventure Park by following their social channels: 
https://www.facebook.com/MattelAdventurePark/
@matteladventureparkaz on Instagram
For more information about Mattel Adventure Park, visit MattelAdventurePark.com.