Bandai Namco Entertainment (BNE) and Crunchyroll Games have entered a strategic partnership to give fans a 360 experience with their favorite character IPs, which will include animation, games, comics, and more.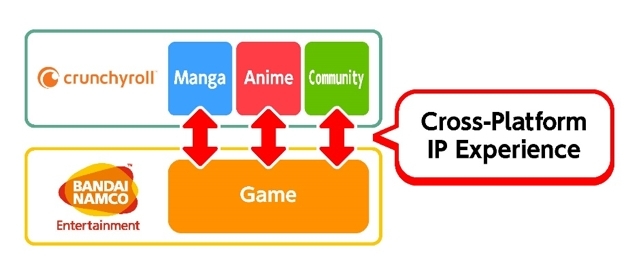 Crunchyroll is the world's largest destination for anime and manga, boasting a global community of more than 50 million registered users and more than 2 million subscribers. This alliance combines BNE's expertise on network content development and Crunchyroll's direct connection to the anime community and robust platform services knowledge, providing a seamless anime and gaming entertainment experience for all.
As a first step in this partnership, BNE's web and mobile game Naruto X Boruto Ninja Tribes will be made available to Crunchyroll users in the U.S. this winter. Naruto X Boruto Ninja Tribes is based on the Naruto and Boruto anime series, and brings together fan-favorite characters spanning multiple generations of both franchises for one-tap team-based battles. Crunchyroll fans who enjoy the anime series of the same IP on its platform can find and instantly play Naruto X Boruto Ninja Tribes directly from Crunchyroll.com. BNE plans to launch the game to additional territories in the future.
"With Crunchyroll's expansive global community and subscribers, this partnership was a strategic fit and critical step in expanding our entertainment business," said Toru Konno, director, BNE. "We have a corporate philosophy of creating 'more fun for everyone' and we are always striving to do that and look forward to seeing what we can build together with Crunchyroll in the coming years."
"Bandai Namco Entertainment is a global force that shares our goal of connecting the anime community to each other through beloved content," said Joanne Waage, general manager, Crunchyroll. "We're looking forward to building on our partnership to offer even more interactive experiences to bring our fans together."