Pajanimals Signs New Licensees in U.S.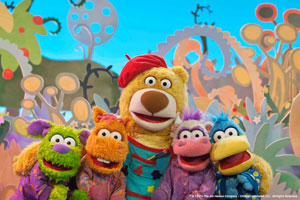 The Jim Henson Company has signed additional U.S. licensees for its Pajanimals' brand and characters. Among the new licensees with product slated for spring 2013 are Briarpatch (My First games and puzzles), BuySeasons (party goods), and Clothworks (Pajanimals-branded fabrics). The Jim Henson Company is also developing a live show around its Pajanimals characters, which will begin touring in spring 2013. In August 2013, Running Press will release a line of picture books and other products, developed to help promote learning, under its Running Press Kids imprint.
Pajanimals, a co-production of Sprout and Sixteen South Television, airs daily on Sprout during The Good Night Show block and on Saturday mornings on NBC.
L'Amy America to Launch Ann Taylor Sunglasses
Ann Taylor has signed its first-ever licensing agreement with L'Amy America for a collection of women's sunglasses, ophthalmic frames, high-end reading glasses, and watches under the Ann Taylor label. L'Amy America, a division of global eyewear group TWC-L'Amy will design, produce, and distribute the product under a multi-year partnership agreement. This also marks the first time the Ann Taylor brand will be sold beyond its own retail and e-commerce channels.
The sunglass collection is set to debut in May 2013 in all Ann Taylor stores throughout the U.S. and Canada as well as at anntaylor.com. The collection will include nine styles of sunglasses for women. The complete eyewear collection will roll out to wholesale accounts in the U.S. in spring 2014. The watch collection is scheduled to launch in fall 2013 in all Ann Taylor stores and online at anntaylor.com. The collections will be designed in close partnership with Ann Taylor's head of design Lisa Axelson.
LMA Adds New Partners for Candy Brands
Lisa Marks Associates, Inc. (LMA), has signed Best Items International to create a line of candy wrapper-inspired bags and accessories for Just Born's Peeps, Hot Tamales, Mike and Ike, and Peanut Chews and Impact Confections' Warheads. Bags and accessories will be crafted by local artisans under fair trade and sweatshop-free practices in Mexico and produced under the company's Nahui Ollin's Arm Candy label.
LMA has also signed Smart Planet to create a line of eco-friendly drink and storage containers for Smarties, scheduled to debut later this year.
Studio Licensing Secures New Deals for Muhammad Ali, Elvis in Canada
Muhammad Ali Enterprises, in partnership with Studio Licensing, Inc., has secured two new deals for apparel with Bulletin Canada and Xtreme Worldwide for Canada.
Bulletin will introduce a range of T-shirts, fleece, activewear, outerwear, and headwear for men and women. This line will be made available exclusively in specialty channels, such as sports retailers and department stores.
Xtreme Worldwide will develop a new line of tops including T-shirts, tanks, sweatshirts, hoodies, and golf shirts for the mass market. Both apparel lines are set to roll out in summer 2013.
Elvis Presley Enterprises, in partnership with Studio Licensing, Inc., has entered into an agreement with Bumblefly Global Enterprises, Inc., to launch Elvis-branded men's health granola and cereal bars. The bars will be made available across Canada in spring 2013.
First Guinness-Flavored Chips Hit UK
Burts Chips and Guinness announced the launch of the world's first Guinness-flavored potato chips. The flavor combination of the Irish stout is blended with Burts' thick cut potato chips. Guinness Burts Chips will target male consumers and capitalize on key sporting events. The chips launched last month in on-trade and grocery retail in the UK. The deal was brokered by Broad Street Licensing Group.
Brand Extensions Russia announces deal with PepsiCo
Brand Extensions Russia JJP, the joint venture licensing company for the Russian market formed by JELC and PJB Brands, has been appointed to license the PepsiCo brands Pepsi and 7UP in Russia and the CIS.