Licensees Fete Mister Rogers' 50th Anniversary
To celebrate the 50th anniversary of Mister Rogers' Neighborhood, Brand Central expands the consumer products program for the classic children's series from Fred Rogers Productions.
In honor of the longest-running PBS children's series, which debuted on February 19, 1968, Brand Central has signed new licensing partners across multiple categories, including:
American Classics for men's and women's T-shirts and loungewear
Aquarius for calendars, playing cards, puzzles, games, buttons, magnets, and tin boxes
boldSOCKS for socks
Funko for Pop! figures and plush
Isaac Morris Limited for sweaters and outerwear
ODM for men's, women's, and juniors' T-shirts and sweatshirts
Philcos for apparel (Canada only)
Surreal Entertainment for drinkware, fleece throws, pins, lanyards, and desk accessories
Trau & Loevner for fashion tops, fleece, and T-shirts
Trevco for apparel, home textiles, and accessories
Unemployed Philosophers Guild for mugs, mints, bar soap, enamel pins, and sticky notes
Wizhead for paper craft models
In addition to the upcoming product launches, activities in honor of the 50th anniversary include Mister Rogers: It's You I Like, a tribute special hosted by Academy Award-nominated actor Michael Keaton, which will air on PBS stations nationwide throughout 2018; a week-long programming event on PBS Kids that featured back-to-back episodes of Mister Rogers' Neighborhood and Daniel Tiger's Neighborhood; a celebration at the Paley Center for Media in New York and Los Angeles; a commemorative Mister Rogers Forever USPS stamp; and the documentary Won't You Be My Neighbor?, which hits theaters on June 8.
Fingerlings Signs New Publishing, Games Partners
WowWee and two children's divisions of Penguin Random House have joined forces to create a global publishing program for the 2018 Toy of the Year, Fingerlings.
Together, Penguin Young Readers and DK will create a library of narrative and non-fiction titles based on the bestselling children's toy property.
The publishing series will be a mixture of formats including handbooks and guides, activity and sticker books, journals, picture books, and Mad Libs. The first three titles, Fingerlings Mad Libs Junior (PYR), Fingerlings Sticker Activity Book (DK), and Fingerlings Meet the Fingerlings Reader (DK), are coming to retail shelves in August 2018, followed by an original story picture book just in time for the holidays. The deal was brokered by Striker Entertainment, the worldwide licensing agency for Fingerlings.
TCG has also partnered with WowWee for a line of puzzles and board games based on Fingerlings. The collection of puzzles and board games is set to arrive at retail nationwide this fall.
Masterchef, MasterChef Junior Whip Up New Deals for Winners
Craftsy, the online destination for craft enthusiasts to learn, create and share will debut the first Masterchef Junior cooking course, Jasmine's Delightful Desserts, featuring season five winner of the FOX reality series produced by Endemol Shine North America, Jasmine Stewart.
Aspiring young chefs and bakers will put their skills to the test as Stewart shares the secrets and steps behind creating her favorite desserts, including her title-winning pineapple upside-down cake. Viewers will also have an opportunity to learn signature techniques that every "Masterchef" should know.
Stewart recently made a guest appearance on the latest season of Masterchef Junior, in advance of the season finale airing Friday, May 18 on FOX.
The course will be available exclusively for members of Craftsy Unlimited, Craftsy's video subscription service, which offers thousands of hours of exclusive video tutorial and classes across 16 different creative pursuits, including art, photography, cooking, baking, knitting, quilting, and more.
In addition, Newcastle Brown Ale is releasing a series of grilling recipes in partnership with MasterChef season 7 champion, Shaun O'Neale.
O'Neale created 10 signature grilling recipes that incorporate Newcastle Brown Ale, from savory dishes such as smoked brisket and oyster Rockefeller, to sweets such as bread pudding and ice cream. O'Neale debuted the partnership and preview the Newcastle Brown Ale summer grilling recipe series during the Vegas Uncork'd Grand Tasting event on May 11, hosted at Garden of the Gods Pool Oasis at Caesars Palace. To amplify the program, O'Neale will make special appearances at select events throughout the summer and support the brand's digital efforts by releasing one of his new recipes every Thursday for 10 weeks.
At retail, custom-designed POS materials including case cards, recipe cards, aprons and Newcastle Brown Ale-branded barbeque grills along with life-size standees of O'Neale himself will be used to promotions.
Smooshy Mushy-Branded Products Revealed
OLO Industries, in partnership with RedwoodVentures, has announced the North American and European licensees for Smooshy Mushy.
Through their efforts as Smooshy Mushy's exclusive licensing and brand management agents, Evolution USA and Lisle Licensing have released the first list of Smooshy Mushy-licensed products to hit at retail in North America, the UK, and Europe:
Fashion apparel, tees, swimwear, and outerwear from The Bentex Group of companies (H.I.S. International, Dreamwave, and Extreme Concepts).
Packaged and hanging underwear from Handcraft Manufacturing Corp
Bags, backpacks, and lunch kits from Fast Forward
Headwear and cold weather accessories from Concept One
Hosiery, tights, and slipper socks from High Point Design
Back-to-school supplies and stationery from Inkology;
Arts, crafts, and activities from The Horizon Group
Games and puzzles from Spin Master and Cardinal (worldwide rights)
Youth electronics from KIDdesigns
Bedding, beach, bath, accessories, and room décor from Franco Manufacturing
Amusement plush and novelty from Fiesta Concession Corp.
Online assortment of digital collectibles from BLMP Network (worldwide rights)
Novelty Candy and confections from Radz II
In Europe, where Smooshy Mushy recently hit retail in the UK, DJ Murphy has been appointed as the magazine publisher in the UK and Ireland. As the collectible line rolls out in Europe, additional licensees in publishing and apparel will soon to be announced.
Other categories in final negotiation for the North American market are sleepwear, plush, health and beauty care, hair accessories and publishing with premiere licensing partners to be announced shortly.
The brand expansion of Smooshy Mushy will also be supported with short-form animation in conjunction with Wild Brain.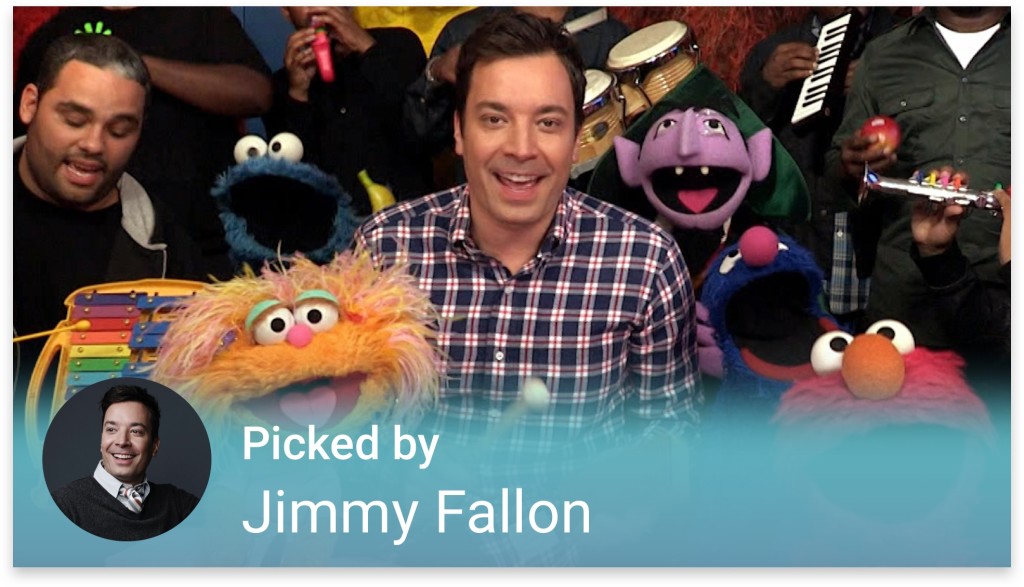 Jimmy Fallon Teams Up With YouTube Kids App
Jimmy Fallon has teamed up with the YouTube Kids app for a curated playlist of videos he enjoys watching with his family. The family-friendly playlist is filled with photobombs with Sesame Street, story time, and more.
Jimmy Fallon's playlist includes a introduction along with clips of his and his kids' favorite moments from The Tonight Show, and other videos watched and re-watched by his family including scenes from Willy Wonka and the Chocolate Factory. Fallon is the latest celebrity to create a special YouTube Kids playlist with Mayim Bialik, NFL star Martellus Bennett, Ellen Degeneres, Geena Davis, and former U.S. Treasury Secretary Rosie Rios previously joining in with their own recommendations.
The YouTube Kids app is the first Google product built from the ground up with kids in mind. The app is available for free on Google Play and the App store. YouTube Kids offers additional parental controls that allow parents to choose what is right for their family.
To start watching now, click here.
Brat Taps Brand Central for Chicken Girls, Total Eclipse for Licensing
Brat has selected global brand consumer products agency Brand Central as its exclusive licensing agency for Chicken Girls and Total Eclipse.
Since opening its studio doors in 2017, Brat has developed teen-based programming targeting Gen-Z consumers. By using digital distribution platforms in line with its audiences, Brat has acquired more than 1.5 million subscribers on YouTube, with its various shows accounting for more than 250M views and one billion minutes of programming watched. In addition to its digital content, Brat has partnered with Lionsgate to release a Chicken Girls major motion picture film this summer.
The two breakout shows, Chicken Girls and Total Eclipse feature popular Gen-Z digital influencers such as Annie LeBlanc, Hayden Summerall, Kenzie Ziegler, Lauren and Johnny Orlando, Emily Skinner and Devenity Perkins.
Bible bb's, Scholastic Partner for Bible-Based Book Series
Bible bb's, a faith-based lifestyle brand, has partnered with Scholastic to create a series of children's books based on the Bible and its stories and characters. The deal was brokered by Bible bb's exclusive licensing agency, Brand Central.
Bible bb's is a 360-degree media and merchandise brand that will include entertainment, digital content, apps, live shows, and consumer products developed.
The first two books, Away in a Manger and Jesus Loves Me, will be published by Little Shepherd Books, an imprint of Scholastic, in October 2018 and January 2019, respectively. The books feature the brand's recognizable artwork and will be available at top retailers, through Scholastic book fairs and clubs, and throughout Christian retailers in the U.S.
Starbucks, Nestlé Form Global Alliance
Starbucks and Nestlé formed a global coffee alliance with Nestlé S.A. to accelerate and grow the global reach of Starbucks brands in CPG and food service.
Under the terms of the agreement, Nestlé will obtain the rights to market, sell, and distribute Starbucks, Seattle's Best Coffee, Starbucks Reserve, Teavana, Starbucks VIA, and Torrefazione Italia packaged coffee and tea in all global at-home and away-from-home channels. Nestlé will pay Starbucks $7.15 billion in closing consideration, and Starbucks will retain a significant stake as licensor and supplier of roast and ground and other products going forward. Additionally, the Starbucks brand portfolio will be represented on Nestlé's single-serve capsule systems.
This global alliance combines the Starbucks brand with the global reach of Nestlé and its coffee brands, creating new growth opportunities in the established North American markets and expansion in international markets. In the U.S., it also enhances Nestlé's retail and Foodservice presence in coffee, complementing its position in instant coffee and super-premium single-serve with Starbucks presence in K-cup pods. As part of this global license agreement, Starbucks will lead in sourcing, roasting and Starbucks global brand management for the alliance, while the two companies will work closely together on innovation and go-to-market strategies to bring the best coffee to customers around the world.
The agreement is subject to customary regulatory approval and is expected to close this summer or early fall. The agreement excludes ready-to-drink coffee, tea and juice products.