Sharper Image, Quirky Partner for Toy Invention Contest
Sharper Image, in partnership with the inventor community, Quirky, has launched an open invitation for inventors to submit new innovative toy ideas as part of the Sharper Image Toy & Game Invention Challenge.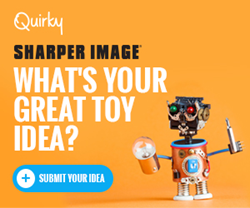 For decades, Sharper Image has brought to market innovative toys and games such as Spinning Stunt RC Cars, Virtual Reality HD Drones, and Remote-Control Boxing Robots.
"It's every inventor's dream to work with a brand like Sharper Image," says Gina Waldhorn, president of Quirky. Waldhorn says to date the platform has received tens of thousands of toy and game ideas, and it's one of the most passionate categories for inventors. With the Sharper Image Challenge the community is now getting a chance to channel their creativity towards building the next great product for one of the most recognizable brands in the world.
"We love working with inventors and are constantly inspired by their leading edge thinking and seemingly unlimited creativity" says David Conn, CEO ThreeSixty Brands. While open to any and all toy and game ideas, Sharper Image is looking for inventors integrating new technologies such as AR/VR into classic toys, and how they might advance their portfolio of R/C products. Tabletop games, indoor play items, and gifting products are also on the top of the list for the challenge.
The challenge is open now through November 18. To learn more, visit learn more and enter at Quirky.com.
Nickelodeon, Walmart Announce Nationwide Contest
Nickelodeon and Walmart team up to present Nickelodeon Toy Run: Family Style in Walmart stores across the country. Hosted by Nickelodeon's JoJo Siwa, Nickelodeon Toy Run: Family Style will give three grand prize winners a shopping spree in the toy aisles of their local Walmart to stock up on holiday toys.
Nickelodeon is inviting kids ages 6–12 and their parents to enter for a chance to win a Nickelodeon Toy Run: Family Style by visiting ToyRunSweeps.com starting today and running through November 4. Three grand prize winners will receive:
a three-minute kid Toy Run up to $3000
transportation for a family of four to the winner's Toy Run
$500 spending money
shipment of product to the winner's home
Ten runner-up winners will get a $500Walmart gift card
The Nickelodeon Toy Run: Family Style will take place in early December. For complete contest rules and a chance to enter, please visit ToyRunSweeps.com.
Hershey's Teams Up with Twitch Influencers for Product Launch Timed to TwitchCon 2018
The Hershey Company announced a partnership with Ninja and DrLupo for TwitchCon 2018. This will be the brand's first foray in the gaming world as they team up with the two influencers for a Twitch stream ahead of TwitchCon 2018, the premier event for streamers, gamers and on-demand content fans.
Ninja and DrLupo will partner with Hershey's to help celebrate the launch of the new Hershey's Milk Chocolate Bar with Reese's Pieces candy, a Hershey's Milk Chocolate Bar infused with Reese's Pieces candy. The gaming legends are live streaming together on October 23 at 4 p.m. PST on their own respective Twitch streams, ahead of the annual conference,.
"TwitchCon is something that I look forward to all year because it gives me an opportunity to see what's in the pipeline and meet up with some of the best the industry has to offer, like DrLupo," said Ninja. "It's exciting to see a brand like Hershey's is getting into the gaming world. Snacking is an essential part of gaming, so partnering with Hershey's at TwitchCon for the release of their new bar was a no-brainer."
Fans will also have the chance to hang out with  Ninja and DrLupo at the Hershey's booth on Saturday, October 27 from 10-11 AM at TwitchCon. Samples of the new Hershey's Milk Chocolate Bar with Reese's Pieces candy will be available while supplies last. The new candy will be available beginning late November 2018 in a standard bar and king-size bar.